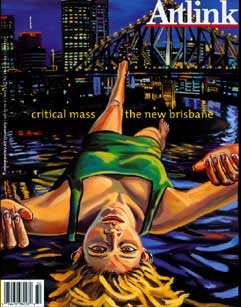 Critical Mass: the new Brisbane
Vol 23 no 2, 2003
An account of how a backward sub-tropical city reinvented itself as a major centre for the arts and creative industries. Guest editor Ian Hamilton.
You are here
»
Artlink
»
Vol 23 no 2, 2003
»
Fuelling Innovation: Starting Young
Fuelling Innovation: Starting Young
Barbara Piscitelli, feature
Over the last two decades, Queensland has generated an arts and innovation culture for children and youth. Brisbane's distinguished reputation in the arts for young audiences rests on several solid foundations, most developed with support from major civic organisations, cultural institutions and successive governments. To understand how critic mass for children's participation in the arts has been achieved, this article looks at a few of the formative events such as Play and Prime held at the Queensland Art Gallery and the popularity of artists such as Yayoi Kusama and Cai Guo Qiang amongst young audiences.
---
Subscribe to the Artlink newsletter now