INDIGENOUS Visualising Sovereignty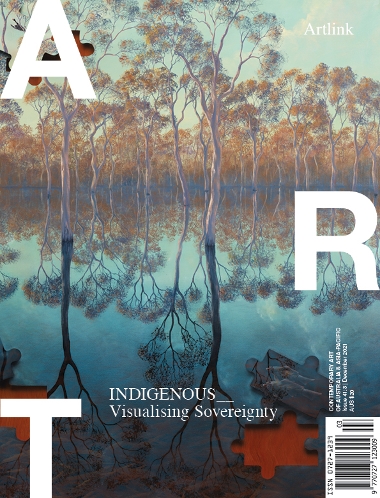 Artlink is an essential element in the nation's visual arts infrastructure and intellectual debate, and that this springs from its South Australian base is no accident.
Catherine Speck
Graduate Programs in Art History, Curatorial and Museum Studies, University of Adelaide and the Art Gallery of South Australia
Current Issue | Issue 41:3 | December 2021
Guest Editors: Ali Gumillya Baker and Paola Balla
This issue is a dynamic response to Tuscarora artist, curator and scholar Jolene Rickard's theory of 'visual sovereignty', a vital, non-Western / Hodinöhsö:ni approach to thinking through Indigenous contemporary art. Co-editors Ali Gumillya Baker and Paola Balla engage with Rickard's ideas in an Australia-Pacific context, inspiring a series of essays and images by emerging and established First Nations writers and artists. These creative forms span the visual, poetic and performative: they articulate powerful expressions of relational sovereignty, political autonomy, renewal and survival strategies in diverse manifestations of visual sovereignties.