Current Issue - vol 35 no 2 | June 2015
Artlink INDIGENOUS Global is guest-edited by Daniel Browning and Djon Mundine OAM. This issue focuses on forging new relationships across the globe in a transnational exchange of ideas, histories and shared concerns to do with the environment, colonialism and the place of Indigenous people in the reframing of world culture.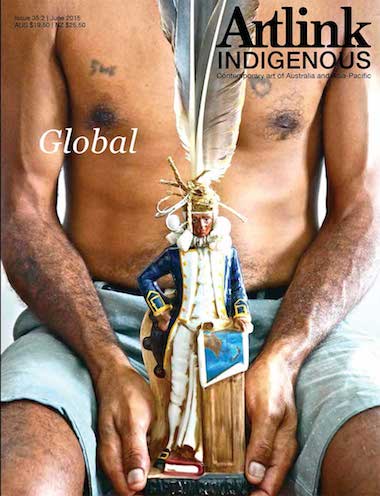 EDITORIALS
Daniel Browning, Djon Mundine OAM
Co-Editors, Artlink Indigenous GLOBAL
This Indigenous edition of Artlink - the sixth - is driven by the need to widen the reach, the retinal surface, the eyeline, of the magazine to include investigations into the largely undocumented recent history of cultural exchange between Indigenous populations here and overseas, of intercultural dialogues about colonialism and the global environment, the 'reframing' of world culture to include Indigenous perspectives and the transnationalism that underpins so much artistic production today.
Daniel Browning Editorial read here ...
Djon Mundine Editorial essay read here ...
---
Future Issues
Issue 35:3 | September 2015 PERFORMATIVE
The term 'performative' has crept into the vocabulary of the visual arts from its origins in the philosophy of language as speech acts. Calling objects or situations into being as a performative, enabling gesture has become a regular strategy for makers and doers of art.
In this edition, we profile artists working with dance and performance to broadly canvas ideas of the social in contemporary art.