Current Issue - vol 35 no 1 | March 2015
This memorial issue coincides with the first wave of cultural programs for the Anzac Centenary. It responds to the legacy of a century and more of conflict, war-related trauma and migration that has shaped the cultural and human landscape of Australia. Taking a broadly historical approach, we profile art and visual culture that documents and responds to the effects of war on service people and civilians, sites of conflict (the 'Badlands') and histories of personal displacement as a result of war.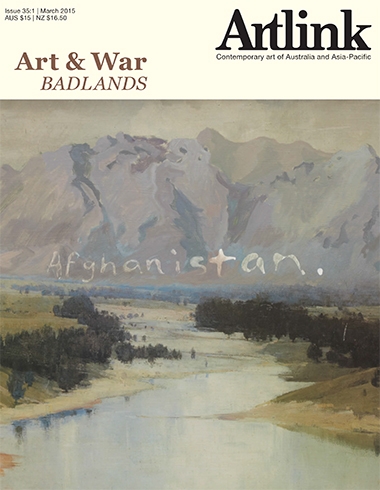 EDITORIAL
Eve Sullivan
Executive Editor, Artlink
This period of reflection on the Anzac Centenary (1914–2014) involves many of us in a fraught relationship to histories of war and remembrance. Indeed, it would be hard to think of a subject that has polarised Australian society more relentlessly than attitudes to both official and unofficial involvement in armed conflict. Anzac Day looms as large in the nation's much-discussed psyche as does our national day, Australia Day. Read more ...
---
Future Issues
Issue 35:2 | June 2015 Artlink INDIGENOUS Global
The much-anticipated annual Artlink INDIGENOUS edition will this year be guest-edited by Daniel Browning and Djon Mundine OAM.
This issue will focus on forging new relationships across the globe in a transnational exchange of ideas, histories and shared concerns to do with environment, colonialism and the place of Indigenous people in the reframing of world culture.