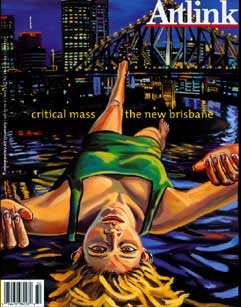 Critical Mass: the new Brisbane
Vol 23 no 2, 2003
An account of how a backward sub-tropical city reinvented itself as a major centre for the arts and creative industries. Guest editor Ian Hamilton.
You are here
»
Artlink
»
Vol 23 no 2, 2003
»
Parallel Precincts
Parallel Precincts
Robert Heather, feature
Once depressed inner-city suburbs that were havens for students, migrants, artists and fringe communities, the high profile precincts of South Brisbane/West End and Fortitude Valley/New Farm have developed into fast-growing centres of urban residential and cultural development. The Millennium Arts Program now underway will see the expenditure of over $100 million on the development of a new Gallery of Modern Art (GOMA) through the Queensland Art Gallery's 'Two Sites-One Vision' strategy. Heather locates the diversity of Brisbane's arts and culture scene through such new and existing precincts, establishments which mark an exciting transformation in the future of the cities art scene.
---
Subscribe to the Artlink newsletter now