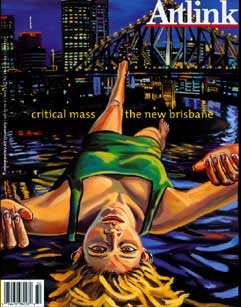 Critical Mass: the new Brisbane
Vol 23 no 2, 2003
An account of how a backward sub-tropical city reinvented itself as a major centre for the arts and creative industries. Guest editor Ian Hamilton.
You are here
»
Artlink
»
Vol 23 no 2, 2003
»
Prime Two
Prime Two
Renai Stoneley, feature
With the redevelopment of many inner-city dwellings which in the past were alternative hot spots for the local youth, Brisbane was left with very few arts venues catering for youth-specific programs, and limited opportunities for young artists to present their work. In 2001 the Queensland Art Gallery appointed an Access and Youth Program Officer and 2003 saw Prime Two, a six-hour long celebration of youth culture for National Youth Week. The intensity of Prime Two transformed the gallery into a festive and lively venue and created an experience that was reminiscent of an adventure rather than a visit to a state institution. Featured artists include Jemima Wyman, Arryn Snowball, Anne Wallace, Brett Whiteley and James Gleeson.
---
Subscribe to the Artlink newsletter now