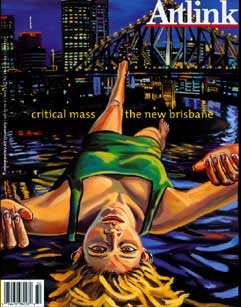 Critical Mass: the new Brisbane
Vol 23 no 2, 2003
An account of how a backward sub-tropical city reinvented itself as a major centre for the arts and creative industries. Guest editor Ian Hamilton.
You are here
»
Artlink
»
Vol 23 no 2, 2003
»
Great White Sharks
Great White Sharks
Artist: Mr Robert Harrison, feature
Holubizky's article deals with the ever present attitude that Brisbane is a city 20 years behind the times in the cultural sector and poses the question as to what this really means? Culture has become a business only within the relative scheme of things, and 'ahead' may only be the false competitive edge and gamesmanship of regional-urban cultural ambition. Comparisons, therefore, should not be made lightly, nor benchmarks for the vitality of a cultural milieu. Discusses the works of Craig Walsh, Eugene Carchesio, Caitlin Reid and Vernon Ah Kee.
---
Subscribe to the Artlink newsletter now