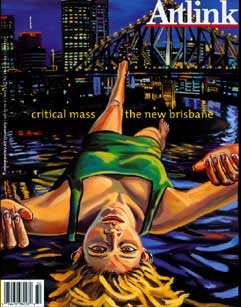 Critical Mass: the new Brisbane
Vol 23 no 2, 2003
An account of how a backward sub-tropical city reinvented itself as a major centre for the arts and creative industries. Guest editor Ian Hamilton.
You are here
»
Artlink
»
Vol 23 no 2, 2003
»
Hybrid Arts, Cultural Policy and Chinese Whispers
Hybrid Arts, Cultural Policy and Chinese Whispers
Zane Trow, feature
Recently some of the individual, performance and new media artists who have been collaborating across borders in Brisbane and Queensland have networked their way out of the city and into Europe and Asia. With cross commissions and research and development for contemporary performance work there is a new and vibrant creative export. This article explores some of these artists and their international work and looks at how such collaborated efforts are contributing to a new examination of what culture actually is for a country steeped in its European heritage. Follows the practice of local performance artist Lisa O'Neil and her collaborations with Keith Armstrong as well as examining The Bonemap Project initiated by artists Russell Milledge and Rebecca Youdell.

---
Subscribe to the Artlink newsletter now