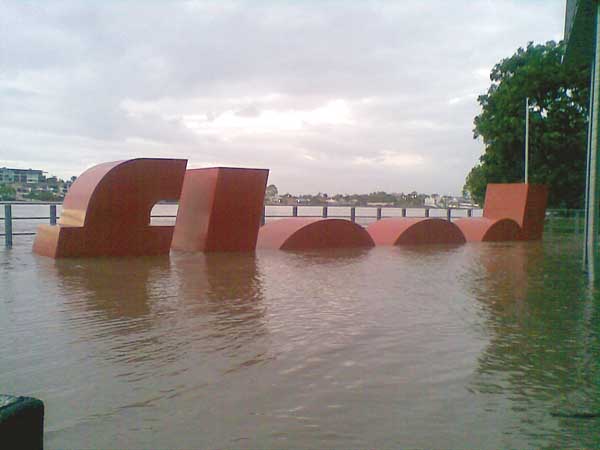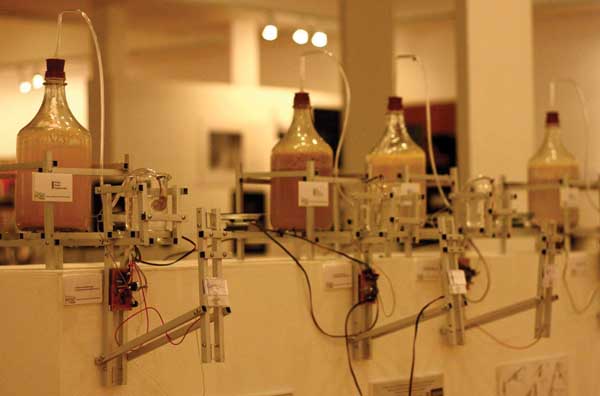 I spent the Sunday before the river peaked at GOMA and 21st Century: Art in the first Decade. Brisbane was being pelted by sudden downpours and we were drenched rushing from the Library back into the Museum. Unthinkably the Queensland Art Gallery and GOMA have both been closed since the flood hit three days later, on January 12th, and web updates indicated a month later that remedial work was being carried out on the lower ground floors, the (too-aptly named) River Café and the carparks, that no artworks were damaged, but that there was no date for reopening yet. That thrilling site on the Brisbane River, like the healing views from the Cairns Hospital right on the foreshore, were chosen in defiance of the knowledge that both spots are in the direct line of Queensland's notoriously fickle elemental forces. The Hospital was evacuated in advance of Category 5 Cyclone Yasi which changed its mind at the last minute and destroyed several small towns further south, but cultural collections cannot easily be evacuated in advance of raging rivers. Museum staff were able to move the work from the ground floor up to higher floors, but like the Hospital this floor was spared damage. GOMA has become more than a museum for Brisbane. The mood on that packed Sunday was more fairground and family fun day out than I have ever witnessed in an art museum. GOMA is starting to be ranked as one of the top collections in the world, and its curatorial verve and blue sky thinking has brought the public along with it in an unprecedented way. Perhaps this ingenuity will find a way to ensure that next time the Brisbane River rears its muddy head it will not mess with the pleasure palace, but short of raising the whole magnificent pile on stilts, like the Queenslanders of old Brisbane, which some planners are now advocating for buildings on the riverfront that have been destroyed, it remains to be seen whether the South Bank cultural precinct is doomed to be flooded out again.
Downriver at the New Farm bend the Brisbane Powerhouse to general amazement escaped with only minor damage. The water lapped at the feet of its famous Watermark sculpture by Richard Tipping, (a conceptual piece made in 2000 to trigger memories of the 1893 and 1974 floods) but retreated again, establishing the base of the work as the new 2011 flood watermark. Artists once more taking the long view.
Tony Albert, whose studio escaped damage, donated an artwork to raise money for flood victims. "Pay Attention" is a mixed media print signed by the artist and made in collaboration with Roundabout, an art collection and art promotion organisation. It is being sold for $2,000 with all proceeds going to the Premier's Disaster Relief Appeal.
Grahame Galleries and Editions in Milton was inundated up to the windows, but Noreen Grahame and volunteers managed to move all the artists' books out in time, and is now facing a huge repair and cleanup bill. Donations to this hard working dealer/collector can be made at www.grahamegalleries.com
PEEPS
• Rae O'Connell previously of KickArts in Townsville, is the new Director of CraftSouth succeeding Anne Robertson who is now EO of the Public Galleries Association of Victoria.
• Alexie Glass-Kantor, Director of Gertrude Contemporary Art Spaces, Melbourne and Natasha Bullock, Curator of Contemporary Art at the Art Gallery of NSW have been appointed curators of the 2012 Adelaide Biennial of Australian Art.
• Thérèse Rein, wife of the Foreign Minister, Kevin Rudd, is the new Patron of Arts Project Australia, the centre in Melbourne which supports artists with intellectual disabilities.
• Jane Scott has left her position as Director of TarraWarra Art Museum.
• Andrew Frost is making an ABC television program about MONA to be screened 10 pm, Tuesday 10 April, ABC 1.
• Barry Pearce is retiring as Senior Curator at the Art Gallery of New South Wales.
• Lisa Havilah has left Campbelltown Arts Centre to be the Director of Carriageworks in Sydney.
• Alida Stanley has been appointed Chief Executive of Viscopy replacing Joanna Cave who is on maternity leave. 
• US conceptual artist Dennis Oppenheim has died aged 73
• Greenaway Art Gallery now represents Santiago Sierra who represented Spain in the 2009 Venice Biennale and Thomas Rentmeister from Berlin.
• Bendigo Art Gallery is getting a redevelopment worth $7.55million jointly funded by the State and the City of Greater Bendigo giving it more temporary exhibition space and storage for the management of international exhibitions.
Awards
• Sydney artist Tim Johnson has won the $50,000 Arthur Guy Memorial Painting Prize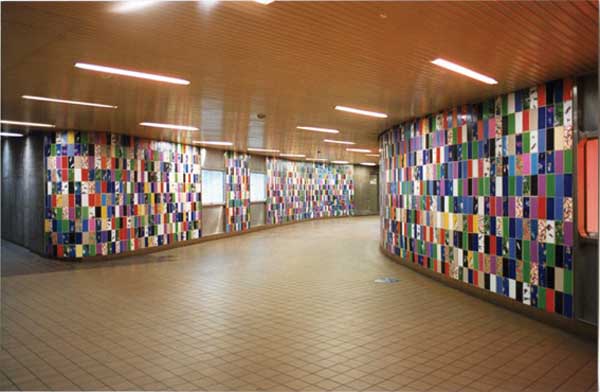 • The House of Natural Fibre in Indonesia received the Berlin "transmediale Award" for their installation "Intelligent Bacteria - Saccharomyces cerevisiae" an artistic research project responding to the high number of poisonings and deaths of alcohol consumers in Indonesia. Religion suppresses public alcohol consumption while culturally alcohol has been traditionally developed by diverse ethnic groups.
• Benjamin Armstrong?and Alex Kershaw have been awarded the inaugural Australia Council for the Arts & Anne & Gordon Samstag ISCP Residencies.
• Christian Capurro and?Bridget Currie are the Anne & Gordon Samstag International Visual Art Scholars for 2011.
• Recipients of awards in the Order of Australia in January for their services to the visual arts include Susan McCulloch OAM as a writer and publisher, and artists Elisabeth Cummings OAM, Robert Juniper AM, Jeffrey Mincham AM and the late Edna McKenzie OAM.
Greening arts
• Sydney Theatre Company switched on a massive solar array on the rooftop of the Company's home-base, The Wharf, on Sydney Harbour. Comprised of 1906 Suntech pluto solar panels covering the length of the roof (enough to power 46 average homes), it is Australia's second-largest rooftop solar array and a major component of STC's comprehensive Greening The Wharf program
Art school news
• Greens Arts spokesperson Sue Pennicuik is quoted on Artshub on her concern about the future of the Victorian College of the Arts . She is not convinced that its long term security has been assured by recent announcements by the Victorian and Federal governments about funds paid into the newly created "VCA Foundation".
• MUMA's brand new museum at Caulfield Campus opened in late 2010 in the heart of Monash University's Art & Design precinct, with a suite of dynamic gallery spaces, an expansive landscaped sculpture court, a major sculptural commission by artist Callum Morton, and a series of distinctive threshold spaces. The total complex was the work of Kerstin Thompson Architects through the philanthropic support of the Ian Potter Foundation, The Sidney Myer Fund, the Helen Macpherson Smith Trust and Marc Besen AO and Eva Besen AO.

Designing minds
The Australian Design Alliance [AdA] was launched late in 2010 as a new national peak body for design which aims to provide evidence-based multi-disciplinary advice to governments and industry. Twelve peak organisations representing all aspects of Australia's design industry and research network have formed the AdA to boost Australia's productivity, sustainability and innovation through design.  Inaugural AdA director is Jo-Ann Kellock, CEO of the Council of Textile and Fashion Industries of Australia.
Get in free and be covered
Another reason for artists and independent curators to join the National Association for the Visual Arts is their latest Professional Membership which not only provides insurance including public liability (a holy grail for NAVA which has finally been reached) but also free or discounted entry to major museums and galleries around the world.
www.visualarts.net.au for the details.
Australian art overseas
• WATTLE, a survey exhibition of the work of 40 contemporary Australian artists opened in Hong Kong on 24 February 2011 at The Cat Street Gallery in Sheung Wan run by Mandy d'Abo who has lived and worked in Hong Kong for over 10 years. She established The Cat Street Gallery in 2006.
• Sarah Bond of Asialink gave a paper on mapping Asia as part of ARCO Madrid in February 2011 with an illustrious panel including Massimiliano Gioni (New Museum, New York).
• Eliza Roberts has just installed the artist portrait exhibition Face to Face to great acclaim in Manila for Asialink.
  
PLATFORM Contemporary Arts Spaces is 20
20 years ago possibly the most marginal of arworld entreprises based in a subway passage, Platform still going strong, and although it has other arms, its original idea of art challenging enough to stop commuters has been vindicated by two decades of anecdotes and experiences underground of pausing the press of hurrying feet. Their birthday was celebrated by the launch of "What Art, Which Public: Platform Artists Group 1990-2010", a 120 page publication, and a special Anniversary Exhibition which occupied the underpass cabinets of the Degraves Street Subway including Ash Keating, Simone LeAmon, Simon Pericich, and the founders of Platform, artists Richard Holt and Andrew Seward. Platform first manifested in the busy commuter subway of Spencer St Station and was host to countless projects including the two founders and helpers covering every tile in the subway with coloured paper. Holt rejoiced in the fact that "It was the perfect project for a bit of low level art world ratbaggery."
An associate,Din Heagney said "People really did pay attention to the art that happened there, it wasn't just for the elite or people in the know, instead it was art for everyone, anyone, no one, it didn't matter. It felt free and a little bit dangerous and that was what really drew me in and kept me there. For Luke Sinclair it was the extension of the subway gallery idea into what became the celebrated zine outlet, Sticky. See http://platformartistsgroup.blogspot.com/ for details on how to order the book.
India on overdrive
A cross-art form delegation led by Asialink's Lesley Alway and Natalie King were in India to attend India Art Summit and Jaipur Literature Festival culminating in roundtable workshops at Lalit Kala Akademi and the Australian High Commission.
The third edition of India Art Summit which opened in New Delhi (just after the closing of Arts Stage Singapore in January) was three days of intensely programmed and lavishly catered events. Asia has become a hub for biennales, triennials and art fairs and the Summit presented an impressive line-up: VIP programme, sculpture park, video lounge, curated walks and a speakers' forum. Visits to leading Indian galleries and not-for-profit spaces including a walk-through of Anish Kapoor's majestically erotic sculptures at the National Gallery of Modern Art were rewarded by a party announcing Mithu Sen as the inaugural winner of the Skoda Prize.
Natalie commented: "The Speakers' Forum was presented in a bunker auditorium in the vast grounds of central Pragati Maidan. Indian and international theorists, thinkers, artists, curators and private sector philanthropists discussed topics from collecting, the paucity of arts policy and funding in India as well as shifting curatorial practices. Some awkwardly mismatched panels of market-driven speakers (Sotheby's and Haunch of Venison) alongside scholars was offset by adept moderation especially Kavita Singh's animated summation and probing. Presentation styles varied from completely scripted talks (Sheena Wagstaff, Tate Modern) to conversational (Hou Hanru). Regional nuances could have been more fully explored as there were no speakers from South-East Asia, North Asia or Australia. At a pivotal moment in the local/global nexus, these voices would have been a welcome addition.
"Hans Ulrich Obrist's spectacle of over eight hours of interviews with Indian intellectuals in an outdoor amphitheatre in Lodi Gardens was orchestrated by Pooja Sood from Khoj. The sound of horns, birds and Obrist's twenty minutes of questions was an ambient experience. Geeta Kapur cheekily inversed Obrist's questions while activist, Dilip Simeon, entranced audiences with his work to reduce violent conflict. Endurance set the scene for Delhi with Raqs Media Collective and Subodh Gupta finishing the marathon."
Asialink is facilitating partnerships and programs for the Australia India friendship year in 2012. Bala Starr, Senior Curator of Ian Potter Museum of Art and Vikki McInnes, Director of VCA Gallery joined the delegation, which received support from Arts Victoria and the Australia India Institute.
SB
AAANZ 2010 conference: Tradition and Transformation
1-4 December 2010, Adelaide
It took a while to get used to some of the language used but once tuned in the latest AAANZ conference was a stimulating affair with a great deal of good humour and networking evident. It was certainly needed. Generally well-planned and well-organised in terms of sites, drinks and lunches, some tutorial rooms were too small to hold the listeners interested in the topic, I overheard someone say their accommodation didn't even have an electric jug (!) and the Freemason's Hall was an untested zone for keynote speakers Professor Evelyn Welch on "Copycat Culture: Creating Fashion in Renaissance Europe", Professor John Paoletti on Michelangelo's "David: Naked Men in Piazza"
and Dr Philip Jones on "The Viewers and the Viewed: Aboriginal Art and Transformed Traditions", all of whom were practically totally inaudible due to bad acoustics.
There were twenty-six sessions ranging from Asian Art Discourses to Painting, Light, Gardens, Decency and Relational Craft. It was thus necessary to follow your interests or swim against them but not at the same time. Many papers were given by artists and students so quality of delivery ranged widely with some people presenting their first literature review, others their more considered journeys into new fields of knowledge and quite a few artists giving intense academic analyses of their own work.
The papers that I enjoyed most told me about what I didn't know, most memorably in the Negotiating the "Ditch: Trans-Tasman Encounters of a Visual Kind" session in which Dr Susan Cochrane spoke about Kambot art (PNG), Giles Peterson about an exhibition called "Tiaho – Contemporary Photography" from Oceania that he took to Mexico and displayed wherever he could, The South Pacific Fern Album of Mrs C C Armstrong by Molly Duggins, Linda Tyler on "Drawing from Nature: the impact of Amateur Botanising on the production of printed textiles in nineteenth century Glasgow" and the fascinating story of the NZ painter Rata Lovell Smith as told by Dr Dorothee Pauli. Smith's husband lost his status as an artist when the Modernism he thought was a fad took hold in Christchurch partly through the work of Toss Woolaston and Colin McCahon but his wife "...seemingly unconcerned about her established artistic reputation, chose to spend what time she had left in the studio devoted to the project of transformation." These papers all presented intimate and complicated stories and all the people in the room drew together to listen and to ask questions. Such moments make conferences live on.
SR
The 'you heard it first here' paper from Helen Ennis, revealing some hitherto secret photographs from the 1940s by Olive Cotton, was part of the Transgressing Decency session. One of Cotton's old university friends Joan Baines whose husband was on active service in New Guinea, asked her to photograph her naked in bush and river settings, images that are charmingly frank, natural and fully frontal. The photographs were sent to Mr Baines and remarkably came back to Sydney in due course in mint condition, the only extant copies as per the women's pact. On the death of Mrs Baines the curator decided it was OK for the world to see them. Such incredibly private moments of separated lovers are rarely seen, and these attained a hybrid status of the classical nude overlaid with a healthy sexual charge.
• The AAANZ conference was the generous host to 30th Birthday launch of Artlink's December issue, with guest speaker Emeritus Professor Donald Brook regaling the large crowd about an ideological magazine of his youth called The Modern Boy. At a celebration the following week, Donald Brook was presented with The Artlink Award for his contribution to the magazine, engraved with amongst others the words, Art Has No History; and The Meme's the Thing.
SB
Elvis has left the building1
Ian Abdulla died on the 29th January 2011 after a brief battle with cancer. He was 63 years old. He will be remembered as a warm family man whose narrative landscape paintings and prints told stories about his own life in ways that resonated well with the wider community. When asked how he would like to be remembered he said "all I want to be seen is a quiet lad, interesting and someone who knows about history along the river, the way I grew up and about family and things like that. Kids are really important, the most important things in my life". The wider community will remember him for his story paintings, as a narrator of events told from an indigenous perspective in ways that speak openly to indigenous and non-indigenous alike. His paintings of naive images in bright colours with relevant text statements tell his stories of growing up as an Aboriginal Australian in a rural area, in such a way that they do not impose guilt for the many recognisable racial inequalities but a sense of recognition within our own lives. This resonance is a powerful tool in developing reconciliation between the cultures. Although absolutely a unique view point, his narratives transcend race and class. His fresh view on the world through his images will remind us of the importance of family and kinship, of laughter and loss and of course the complex and fragile relationships to the land and to the River Murray in particular.
JM
1 From 1992 until 2008, Ian Abdulla used to announce his arrival at Greenaway Gallery saying Elvis has entered the building.
Authors : SB – Stephanie Britton, SR – Stephanie Radok, JM- Janet Maughan.