Andrew Drummond: Observation/ Action/ Reflection by Jennifer Hay et al Christchurch Art Gallery / Te Puna o Waiwhetu, New Zealand, 2010. ISBN 978-1-877375-19-4, rrp NZ $89.99.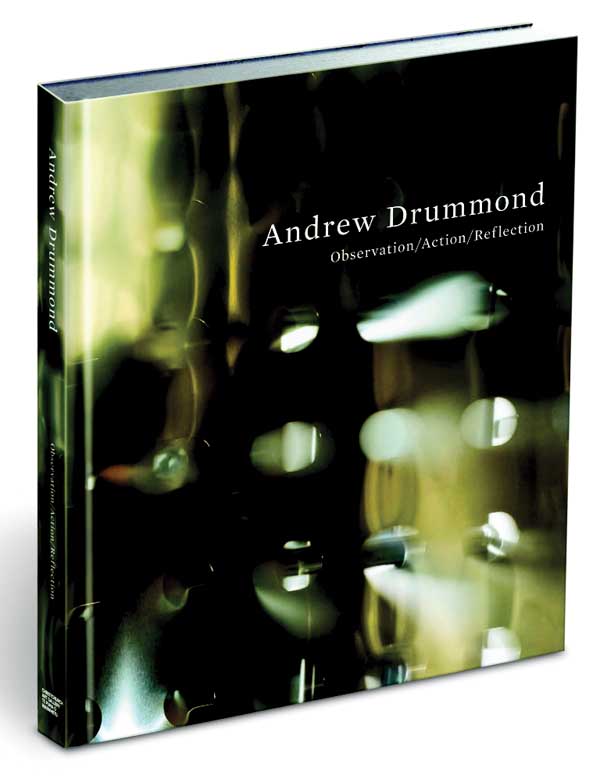 Latest in a run of well-received monographs produced in tandem with survey exhibitions on New Zealand artists by Christchurch Art Gallery (CAG) is that of Andrew Drummond. With a preference for Christchurch-based practitioners, these books include those on Julia Morison (2006), Bill Hammond (2008), Séraphine Pick (2009) and now one of the city's indefatigable sculptors; arguably the most relevant for our mercurial world.
I've known Drummond since 1981, when he was represented in the Trans-Tasman project `ANZART I', a time when, steeped in Beuys (whom he made contact with), he had formed friendships with independent spirits like Richard Demarco from Edinburgh. A salient point about Drummond, which readers will find, is that the reach of his art and creative connections is far beyond New Zealand.
Supporting the exhibition of the same title, "Andrew Drummond: Observation/Action/Reflection", is therefore a welcome publication comprising over 200 pages; it is beautifully designed, with a hard cover. Writers of the five essays have been picked for their intellectual calibre and in-depth knowledge of the artist's multi-dimensional aesthetic language. Jennifer Hay (curator of the exhibition) appropriately starts off the texts with an overview of his life and work during the past three decades. Her opening section nicely sums up the Beuysian notion of arousing a spiritual response through shamanic ritual. What Hay calls "skin-sloughing performances" of the 1970s, such as "Ritual for Summer Solstice, Bones/Whirl/Skin", and "Onto Skin" are described and in some cases supported by documentary photographs. There is Drummond in his white boiler suit interacting with the environment or at places such as the Wellington Artists' Co-op where trussed up like an animal carcass he put his body through extreme stress (as in "Body/Skin Suspension Piece" 1978). One of his most influential performances, Filter Action, took place in the South Island at Aramoana where an aluminium smelter had been proposed. As part of a highly effective activist movement in response to this proposal, Drummond examined through his work the possible effects of exploitation of this estuary environment.
During the 1980s, his ritualistic actions on-site with symbolic materials increasingly informed sculptural installations and stand-alone pieces.
We are told how Drummond's performances and sculpture "evolved into a curious alchemy of opposites, where conflict and healing, the body and the imagination meet and are held in balance." This was reflected in his solo exhibition "Andrew Drummond: Images from Another Archaeology" at the Auckland City Art Gallery in 1989. His unwavering belief that we must tread lightly upon this earth and pay attention to its pulse, resulted in sculptures during the next decade which combined copper coils, mounds and shelters of moss, membranous wax and slate. Installed, they were akin to scientific experiments in a laboratory for testing natural phenomena and were intended to heighten the human senses.
It is small wonder that in the past decade, Drummond has sought to capture the continual metamorphosis of natural materials from one state to another. "Device for absorption and Device for reflection" (2005) both characterise this. Complex transformations are realised by him with an eye for spare and elegant sculptural solutions. The book's overview ends with the artist's large-scale commissioned works. These are most often made of brass and steel with electric motors that enable a kinaesthetic quality. They are engineering feats. It is at this point in the book that John Finlay's insightful 'conversation' with Drummond, termed 'Imperfect Machines and Atmospheres', is introduced.
I was pleased to see that Bruce Barber, a New Zealand artist based in Canada where Drummond did his art degree, wrote on 'Alchemy, Abjection and Allegory' in connection with his friend's performance works of 1975-1983. Fitting too was Peter Leech's philosophical take on Drummond's "metaphorical trace of the body". While there was literality in using himself in his performances up to the early 1980s, more subtle observations have subsequently played out in the sculpture. Leech states that this artist urges us to not merely look at but to transmute into ourselves the experience of bodily awareness in multi-part works such as "Room for Observation" (2002-07). The last essay tackled Drummond's prototypes for large-scale works, including Hanging Device, Counter Rotating (2007) which commanded the CAG foyer during his exhibition.
While the texts are important in appraising a unique career over three decades, the book devotes the largest share of pages to good quality colour illustrations ordered according to Drummond's performances, the works in the exhibition, followed by sculpture commissions. These plates are on occasions accompanied by short commentaries and finally a Chronology completes the monograph. Not surprisingly," Andrew Drummond: Observation/ Action/Reflection" was listed among the "New Zealand Listener's" top books of 2010.
Anne Kirker is an independent curator and writer based in Brisbane.