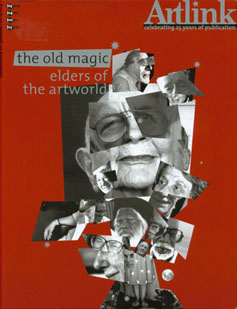 Elders: The Old Magic
Vol 26 no 4, 2006
A group of art practitioners, artists, curators and writers, in their seventh and eighth decades are the subject of our focus. Still actively working, they are charismatic elders whose influence on several generations of young artists has been a crucial part of the development of contemporary practice. The issue of creativity and how it sometimes becomes enhanced in old age, and questions around how we regard our elders, are canvassed. The extreme youth orientation of society today does not always appreciate the value of a fifty year practice.
You are here
»
Artlink
»
Vol 26 no 4, 2006
»
Richard Larter: The Seasons of Art
Richard Larter: The Seasons of Art
Joanna Mendelssohn, feature
For Richard Larter the material act of making paintings is an essential part of his daily life. He has written that 'my first mature paintings were pointillist abstracts done in house paints and enamels on lilac coloured masonite' (Larter, 1998). Larter is an artist well aware of the visceral qualities of paint. Larter's syringe paintings, made by forcing paint in raised lines onto hardboard, became the signature works for his initial Australian success. His role as assistant to the ceramicist Zora Merabek who was restoring the Marabout Tombs in Algiers led to a continuing interest in the visual forms of Islamic culture and a love of strong pure light. This article follows Larter's prominent career and a lifetime of travel throughout Australia, New Zealand and abroad.
---
Subscribe to the Artlink newsletter now