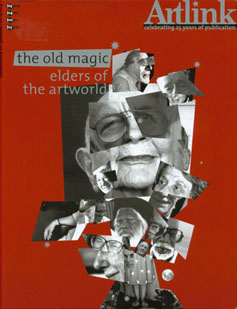 Elders: The Old Magic
Vol 26 no 4, 2006
A group of art practitioners, artists, curators and writers, in their seventh and eighth decades are the subject of our focus. Still actively working, they are charismatic elders whose influence on several generations of young artists has been a crucial part of the development of contemporary practice. The issue of creativity and how it sometimes becomes enhanced in old age, and questions around how we regard our elders, are canvassed. The extreme youth orientation of society today does not always appreciate the value of a fifty year practice.
You are here
»
Artlink
»
Vol 26 no 4, 2006
»
Donald Horne: The Power to Transform
Donald Horne: The Power to Transform
Deborah Mills, feature
While Donald Horne's contributions as a writer and public intellectual are widely known, his contribution to our understanding of the importance of culture in the lives of ordinary people is less so. He was someone who was moved by symbolism and ideas. He publicly championed the importance of cultural life – something no other chairman of the Australia Council, with the possible exception of Nugget Combes, has attempted. Artlink asked Deborah Mills to unpack the ways in which Horne operated in this arena.
---
Subscribe to the Artlink newsletter now