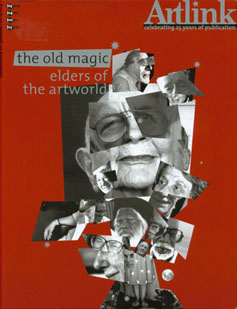 Elders: The Old Magic
Vol 26 no 4, 2006
A group of art practitioners, artists, curators and writers, in their seventh and eighth decades are the subject of our focus. Still actively working, they are charismatic elders whose influence on several generations of young artists has been a crucial part of the development of contemporary practice. The issue of creativity and how it sometimes becomes enhanced in old age, and questions around how we regard our elders, are canvassed. The extreme youth orientation of society today does not always appreciate the value of a fifty year practice.
You are here
»
Artlink
»
Vol 26 no 4, 2006
»
Pioneering Gallerists: Bruce Pollard
Pioneering Gallerists: Bruce Pollard
Trevor Fuller, feature
The spirit of Pinacotheca burst forth in 1967 with Bruce Pollard's opportunistic purchase of an elaborate seafront mansion at St Kilda, Melbourne. After three years Pollard was prompted and moved into a large raw, multi-level former factory in Richmond where Pinacotheca's era erupted with an exhibition of large works by Peter Booth, Mike Brown, Peter Davidson, Bill Gregory, Dale Hickey, Robert Hunter, Kevin Mortensen, Ti Parks, Robert Rooney, Rollin Schlicht and Trevor Vickers. This article goes on to briefly explore the success of Pinacotheca and the many artists who emerged and blossomed here.
---
Subscribe to the Artlink newsletter now