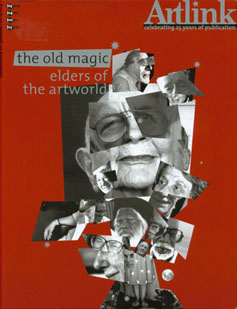 Elders: The Old Magic
Vol 26 no 4, 2006
A group of art practitioners, artists, curators and writers, in their seventh and eighth decades are the subject of our focus. Still actively working, they are charismatic elders whose influence on several generations of young artists has been a crucial part of the development of contemporary practice. The issue of creativity and how it sometimes becomes enhanced in old age, and questions around how we regard our elders, are canvassed. The extreme youth orientation of society today does not always appreciate the value of a fifty year practice.
You are here
»
Artlink
»
Vol 26 no 4, 2006
»
Pioneering Gallerists: Kym Bonython
Pioneering Gallerists: Kym Bonython
Author & Artist: Mr Paul Greenaway, feature
While Kym Bonython AC, DFC, AFC is not in the league of the iconic art dealers Joseph Duveen or Ambroise Vollard, he was as important to the Australian art scene in the 60's as Leo Castelli was to New York. Born in Adelaide in 1920, he chronicled his unusual life in autobiography Ladies' Legs and Lemonade in 1979 which describes his various careers to that point. When Paul Greenaway talked to him for Artlink recently he began by asking him about his collecting activities in the early days, who he bought art from and whether he followed their lead.
---
Subscribe to the Artlink newsletter now