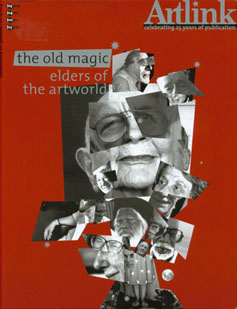 Elders: The Old Magic
Vol 26 no 4, 2006
A group of art practitioners, artists, curators and writers, in their seventh and eighth decades are the subject of our focus. Still actively working, they are charismatic elders whose influence on several generations of young artists has been a crucial part of the development of contemporary practice. The issue of creativity and how it sometimes becomes enhanced in old age, and questions around how we regard our elders, are canvassed. The extreme youth orientation of society today does not always appreciate the value of a fifty year practice.
You are here
»
Artlink
»
Vol 26 no 4, 2006
»
Udo Sellbach: Harsh Truths and Strong Feelings
Udo Sellbach: Harsh Truths and Strong Feelings
Sarah Scott, feature
Artist, educator and arts administrator Udo Sellbach (1927 – 2006) has made, and up until his death in September 2006, continued to make a profound contribution to the fine arts in this country. Born in Cologne in 1927, Udo emigrated to Australia in 1955. His experience as a founding member of the Kolner Presse and printmaker at the Kolner Werkschulen (1947-53) equipped him with the expertise to promote the development of printmaking as a studio practice within Australian art schools, particularly in the areas of etching and lithography. Sarah Scott conducted this interview with Udo in his studio in Taroona, Tasmania shortly after his seventy-ninth birthday in July 2006.
---
Subscribe to the Artlink newsletter now