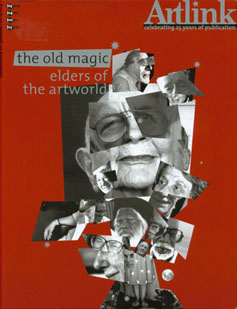 Elders: The Old Magic
Vol 26 no 4, 2006
A group of art practitioners, artists, curators and writers, in their seventh and eighth decades are the subject of our focus. Still actively working, they are charismatic elders whose influence on several generations of young artists has been a crucial part of the development of contemporary practice. The issue of creativity and how it sometimes becomes enhanced in old age, and questions around how we regard our elders, are canvassed. The extreme youth orientation of society today does not always appreciate the value of a fifty year practice.
You are here
»
Artlink
»
Vol 26 no 4, 2006
»
Bert Flugelman: Still Flying
Bert Flugelman: Still Flying
Author: Ms Tamara Winikoff, feature
Bert Flugelman is a sculptor and painter. His influence on generations of students is legendary, in major art schools in Sydney, Adelaide and Wollongong whose sculpture departments suddenly spring into life when he arrives. He has an Honorary Doctorate from the University of Wollongong, whose Friends association raised the money to pay for his gigantic winged sculpture on Mount Ousley overlooking the city an Icarus in the ascendant. At 82, he is still hard at work making large-scale works in his studio and workshop in Bowral, NSW, where Tamara Winikoff interviewed him on 23 June 2006.
---
Subscribe to the Artlink newsletter now