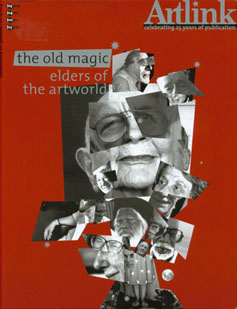 Elders: The Old Magic
Vol 26 no 4, 2006
A group of art practitioners, artists, curators and writers, in their seventh and eighth decades are the subject of our focus. Still actively working, they are charismatic elders whose influence on several generations of young artists has been a crucial part of the development of contemporary practice. The issue of creativity and how it sometimes becomes enhanced in old age, and questions around how we regard our elders, are canvassed. The extreme youth orientation of society today does not always appreciate the value of a fifty year practice.
You are here
»
Artlink
»
Vol 26 no 4, 2006
»
Minyma Tjukurrpa Canvas Project Kintore
Minyma Tjukurrpa Canvas Project Kintore
Marina Strocchi, feature
Minyma Tjukurrpa is the Pintupi term for women's law or story. When the older women of Kintore saw members of their immediate family painting at the Ikuntji Women's Centre at Haasts Bluff they instigated a painting project which was to become known by that name. These same women went on to paint for Papunya Tula and are now represented in public galleries nationally and internationally. This article documents the history of the Ikuntji community, the links between the Pintupi from the Walungurru area and Haasts Bluff and the dancing and painting practices of these twenty-five senior women.
---
Subscribe to the Artlink newsletter now