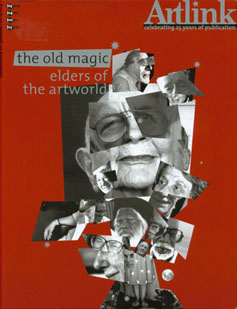 Elders: The Old Magic
Vol 26 no 4, 2006
A group of art practitioners, artists, curators and writers, in their seventh and eighth decades are the subject of our focus. Still actively working, they are charismatic elders whose influence on several generations of young artists has been a crucial part of the development of contemporary practice. The issue of creativity and how it sometimes becomes enhanced in old age, and questions around how we regard our elders, are canvassed. The extreme youth orientation of society today does not always appreciate the value of a fifty year practice.
You are here
»
Artlink
»
Vol 26 no 4, 2006
»
Daphne Williams: The Solid Core
Daphne Williams: The Solid Core
Author: Mr Richard (Dick) Kimber, feature
In 1991 Daphne Williams was awarded the Order of Australia for her contributions to the development of the Aboriginal arts in Central Australia, and more generally for her support to Aboriginal people and their cultures. Now in her late 70's, she remains a friend to all of the Indigenous families she has known and assisted for three generations; a mentor and friendly help to the present generation of Papunya Tula workers and a respected friend to many in both Alice Springs and the wider art world. This interview follows Daphne's career from her first contact with the Indigenous people of Alice Springs in 1960 through an hour of so of discussion, much of it surrounding mutually shared memories of people and country between herself and close friend Dick Kimber.
---
Subscribe to the Artlink newsletter now