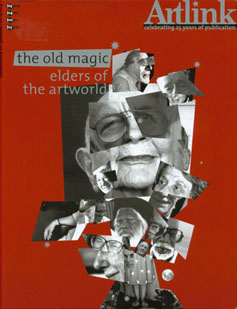 Elders: The Old Magic
Vol 26 no 4, 2006
A group of art practitioners, artists, curators and writers, in their seventh and eighth decades are the subject of our focus. Still actively working, they are charismatic elders whose influence on several generations of young artists has been a crucial part of the development of contemporary practice. The issue of creativity and how it sometimes becomes enhanced in old age, and questions around how we regard our elders, are canvassed. The extreme youth orientation of society today does not always appreciate the value of a fifty year practice.
You are here
»
Artlink
»
Vol 26 no 4, 2006
»
Butcher Cherel Janangoo: Imanara
Butcher Cherel Janangoo: Imanara
Author: Ms Karen Dayman, feature
Butcher Cherel Janangoo's birth took place around eighty-five years ago. His mother was a Gooniyandi and Kija woman and he cites this as his heritage. He is first and foremost a markmaker. The lexicon of dots, dashes, strokes, washes, lines and imprints of brush, carving tool and sponge that Butcher employs are played out on canvas and paper as well as on etching and lithography plates and lino blocks. He is happy to work in any of these media yet regardless of the form or content of Butcher's works, the subjects are all spectres of the same country, his riwi or home country that he calls Imanara.
---
Subscribe to the Artlink newsletter now