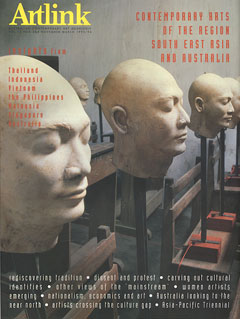 Contemporary Arts of the Region: SE Asia & Australia
Vol 13 no 3&4, 1993
Articles on contemporary art from Vietnam, Thailand, Indonesia, Malaysia and Singapore commissioned by local editors. Surveys of the important movements of modern times up to nineties in each country. Tension between traditional cultural expression and internationalism. Art made in response to political conditions and for its own sake. Dawning of western appreciation of contemporary SE Asian art and the beginning of overseas market for the work. Classic snapshot of this exciting time of pioneering new ventures in SE Asia.
You are here
»
Artlink
»
Vol 13 no 3&4, 1993
»
Artists' Regional Exchange: The Next Wave
Artists' Regional Exchange: The Next Wave
Author: Mr Adrian Jones, feature
The third edition of ARX, the biennial artists' exchange project between Australian and Asian artists, put much energy into promotion, andtravelling the visiting artists around Australia to give lectures and workshops in an effort to create more opportunities for Asian artists. ARX is constantly shifting its focus and is an evolving event but a continuing interest is cultural nuances and the visual manifestations of these.
The full text for this article is yet to be uploaded.
---
Subscribe to the Artlink newsletter now