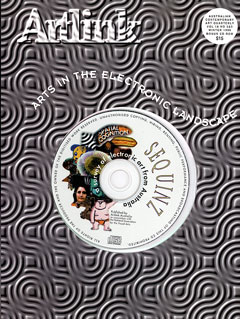 Art in the Electronic Landscape
Vol 16 no 2&3, 1996
Double issue issued with Artlink's CD Rom Sequinz - a survey of electronic art in Australia (Mac users only). The issue examines multimedia and education, frontiers and challenges, the future and audience interaction. Cutting edge issue, opening up many of the ongoing debates about the impact of the digital world on traditional artistic modes of expression.
You are here
»
Artlink
»
Vol 16 no 2&3, 1996
»
Spectres of Cyberspace
Spectres of Cyberspace
Author: Mr Geoffrey Batchen
A new spectre is haunting Western culture- the spectre of virtual reality. For if we are to properly characterise cyberspace as a postmodern phenomenon, it must be as part of a postmodernism that does not come after the modern so much as assertively re-enacts modernismÕs desire to fold back on itself...
---
Subscribe to the Artlink newsletter now