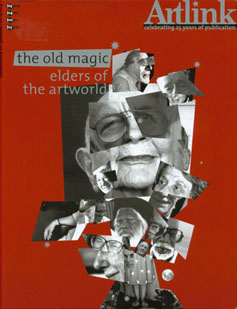 Elders: The Old Magic
Vol 26 no 4, 2006
A group of art practitioners, artists, curators and writers, in their seventh and eighth decades are the subject of our focus. Still actively working, they are charismatic elders whose influence on several generations of young artists has been a crucial part of the development of contemporary practice. The issue of creativity and how it sometimes becomes enhanced in old age, and questions around how we regard our elders, are canvassed. The extreme youth orientation of society today does not always appreciate the value of a fifty year practice.
You are here
»
Artlink
»
Vol 26 no 4, 2006
»
Reunion of Mildura Directors
Reunion of Mildura Directors
Anne Sanders and Pamela Zeplin, feature
A small performance piece was created for the recent 50th anniversary celebrations of the Mildura Arts Centre which brought together six of the seven directors who have overseen the development of this remarkable regional arts complex since 1956. The extraordinary historical line-up of directors was a highlight with each providing personal insights into the galleries collection and their time at the helm. The presenting directors were Rex Bramleigh, Eric Westbrook, Tom McCullough, Michel Sourgnes, Ian Hamilton and Julian Bowron.
---
Subscribe to the Artlink newsletter now