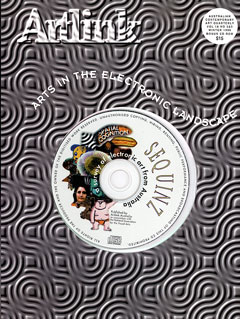 Art in the Electronic Landscape
Vol 16 no 2&3, 1996
Double issue issued with Artlink's CD Rom Sequinz - a survey of electronic art in Australia (Mac users only). The issue examines multimedia and education, frontiers and challenges, the future and audience interaction. Cutting edge issue, opening up many of the ongoing debates about the impact of the digital world on traditional artistic modes of expression.
You are here
»
Artlink
»
Vol 16 no 2&3, 1996
»
Playing with the Planet
Playing with the Planet
Author: Mr Sean Caddy
Digital Arts Film and Television is developing an interactive game based around the filme Epsilon, which award winning director Rolf de Heer produced with Digital Arts in 1995. Producer Sean Caddy previews this most unusual computer game, which has no violence and is a chilling scenario of the crisis in the ecology of planet Earth.
---
Subscribe to the Artlink newsletter now