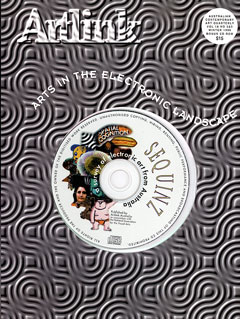 Art in the Electronic Landscape
Vol 16 no 2&3, 1996
Double issue issued with Artlink's CD Rom Sequinz - a survey of electronic art in Australia (Mac users only). The issue examines multimedia and education, frontiers and challenges, the future and audience interaction. Cutting edge issue, opening up many of the ongoing debates about the impact of the digital world on traditional artistic modes of expression.
You are here
»
Artlink
»
Vol 16 no 2&3, 1996
»
Skadada@pica
Skadada@pica
Author & Artist: Ms Dorothy Erickson
Skadada at the Perth Institute of Contemporary Art was an instant success when it was performed in September 1995. It is a dance, music and computer hybrid art performance with works by Katie Lavers, Jon Burtt and John Patterson using innovative MIDI technology with computer graphics, video and manipulated sound keyed in by a live performer.
---
Subscribe to the Artlink newsletter now