Australian Centre for Contemporary Art (ACCA), Melbourne 11 August - 23 September 2012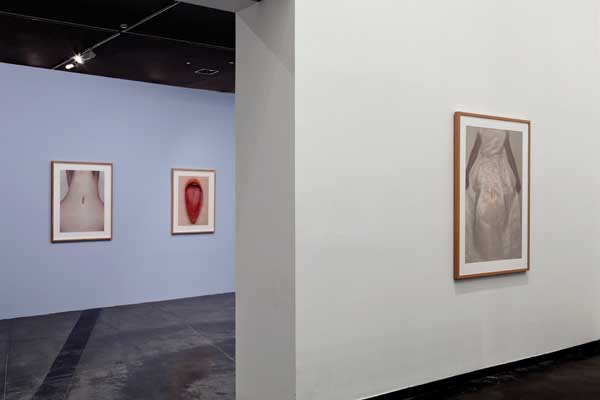 Viewing Á Rebours ('Against Nature' or 'Against the Grain'), Pat Brassington's major survey exhibition at the Australian Centre of Contemporary Art (ACCA), is a disquieting experience. I slip between and around pastel coloured walls that reveal domestic interiors, splayed legs, odd-looking children and distorted tongues. An uneasy erotic tension seeps from the images and into the exhibition space. The visceral beauty of the images is striking, yet my discomfort is overwhelming and I find myself unable to speak.

A pastel blue wall blocks the entrance to the exhibition hall, upon which is hung an image of a frilly-frocked doll with a light bulb for a head (Radar 2010). This opening curatorial statement situates Brassington's imagery firmly within the framework of surrealism - a position that reverberates through the exhibition and in both catalogue texts. Around the corner I discover Cumulus Analysis (1986/87), a combination of 18 silver gelatin prints through which sinister narratives are suggested. The placement of images sees a fish's suction mouth leaning towards the crotch of a writhing woman, or glass shattering to either side of agony-ridden hands. For a younger viewer mostly familiar with Brassington's recent digital work, this piece contextualises her oeuvre within the oft-cited frameworks of psychoanalysis and feminist film theory. More importantly, however, it represents her continued interest in the instability of the image. Cumulus Analysis borrows photographs taken in the 19th century by Jean-Martin Charcot at Paris' infamous female asylum Salpêtrière. Yet these images of hysteria were indeed staged by Charcot – a fact that serves to remind us of the limits of representation itself. Throughout Á Rebours we see that Brassington plays with the image-making process to her own rules, and nothing is an accident. Technical analogue 'mistakes' such as overexposure or blurring, continue to resurface as her practice transfers into digital. Lurid pinks suffocate the image and her Photoshop collages never look quite 'right'.

The installation of Á Rebours is formally considered and intelligently executed in its response to the uncomfortable tone of Brassington's work. The main hall of ACCA has been sectioned off to create a number of intimate viewing experiences. These partitions also block the viewer's line of sight from one side of the room to the other, creating a sense of intrigue about what could be around the next corner. The light blue colour of the wall paint is an important element; it intensifies the black and white images set against it and boldly offsets the pink toned works displayed nearby on white walls. The third room is exceptionally installed as several large pink digital pieces that depict phantasmic mouths, crotches, and lonely figures encircle smaller works from the Cambridge Road series (2007). The eerie stillness embedded in these domestic scenes is heightened by the enclosed installation space; the horizontal line of empty rooms, discarded furniture and oddly dressed people read like a private diary.

Finally, in the last room, a puffy dress with a red slit at the crotch (Akimbo 1999) beckons me closer. I lean forward and see that Socket (2009), which depicts a pale gash in a female neck, has retreated back into my line of sight from the previous room. Such visceral curatorial placements echo Brassington's earlier combination works, creating ambiguous connections between an array of images that span decades.

It surprises me to learn that Á Rebours is the first major exhibition of Pat Brassington's work in Melbourne in over a decade – the most recent was curated by Helen McDonald at the Ian Potter Museum of Art in 2002. Yet her work has a continued relevance to a younger generation of Australian artists who probe the limits of representation and mechanisms of desire, including recent graduates Kotoe Ishii, Jacob Weiss, Anna Leaton, Santina Amato, Bonnie Lane, Drew Pettifer, Clare Rae and Bettina Hamilton. Part of ACCA's ongoing series of Influential Australian Artists, Pat Brassington's Á Rebours is an exceptionally curated exhibition and a timely re-examination of an intriguing practice that never ceases to disturb.

Laura Castagnini