Life is tough in Cambodia if you are not a tourist. Dragonfly Tours is run by a unique partnership model which results in terrific holidays as well as contributing to the betterment of life in Cambodia for its residents.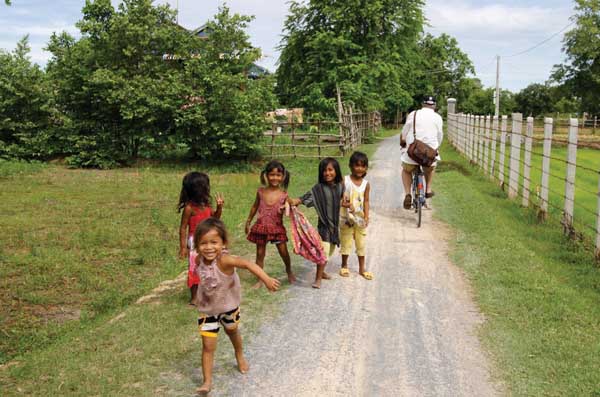 Cambodia has an extraordinarily high percentage of its population under the age of 30 but there is almost no access to either formal or informal arts education for the vast majority of children.
More than 25 years of disruption of civil society included severe bombing of the countryside by the US during the Vietnam War, the Khmer Rouge years and then the Vietnamese invasion in 1979 followed by years of persistently disruptive Khmer Rouge guerrilla activity in rural provinces until the final ceasefire in the mid 1990s. With the death of an estimated 2 million people (in a population of less than 8 million) and widespread food shortages there was a whole decade where birth rates plummeted. The early 1980s saw a population boom that has continued until now but the demographic is heavily skewed.
It is difficult to convey how badly the people of Cambodia have been affected by the legacy described above. The education system was suspended entirely for four years (1975-79) and many teachers were killed along with most tertiary educated citizens. Schools and universities were sacked. Standards of education have only slowly been improving and public school teachers are paid appallingly. Stepping into the breach are a number of civil society organisations, most notably some extraordinary non-government organisations (NGOs) established either by local people or expats in response to unmet needs.
Out of the teaching of Tuy Sobil aka KK, the founder of Tiny Toones (see adjacent article) has grown a Centre that greets more than 200 kids a day who take Khmer and English lessons in split shifts before their breakdancing and beat classes. Epic Arts established in the UK in 2001 with the ethos that Every Person Counts (EPIC) reaches out through workshops in dance, drama, visual arts, crafts, photography, music, and story-telling. Their students and graduates create and perform astonishing and uplifting dance performances. Mayibuye is a youth-led community organisation that uses the arts to facilitate educational opportunities for young people who are vulnerable to negative peer pressures and at risk behaviour. Two young Australian self-funded volunteers brought this model – based on a program developed in South Africa – to a small rural village in Takeo Province. Yodifee –Youth with Disabilities Foundation for Education and Employment – provides accommodation and access to education and vocational opportunities for young physically disabled people in Takhmao. It has a band as well as craft workshops providing stock for its retail outlets Yodicraft, while Phare Ponleu Selpak, an outstanding French-founded Arts and Circus School in Battambang, is an inspiring organisation with superb facilities including a visual arts school, customised circus training gym and performance area. Visitors can see performances by students and graduates who have often returned from travelling internationally.
These five organisations have partnered with Dragonfly Tours Cambodia – ethical, inspired travel, a Cambodian company established by two professional Khmer Tour Leaders, Vuthy Sorn (T) and Somnang Sek (Sky) with whom I work. Dragonfly has developed a unique partnership model with NGOs, community based organisations (CBOs) and social enterprises to create travel experiences that combine superb holidays with raising funds – at least 25% of the price of a fundraising tour is paid directly to the partner organisation.
Felicity Wright finished a 2-year Australian Volunteers International placement in Phnom Penh in 2012 as a Management Advisor to two NGOs Live & Learn and Cambodian Community Based Ecotourism Network. She is known in Australia as a specialist in Indigenous remote community art centres.
See
www.tinytoones.org
www.mayibuye.org.au
www.yodiffe.org