Perth 4 - 23 March 2010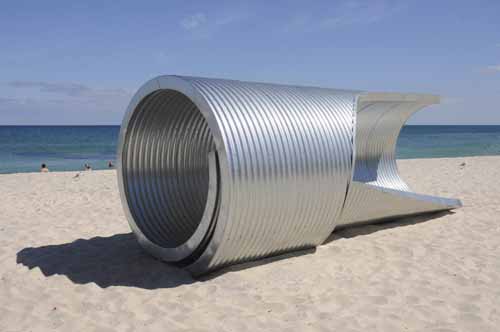 'Sculpture by the Sea' is in its sixth incarnation at Cottesloe Beach in Perth. (Warning: I had not been to Perth before and found the turquoise water, fine white mica sand, elegant pines and curve of the beach so overwhelmingly beautiful that I had to concentrate very hard to look at the sculpture; for me the offshore pylon would have been world enough.)

Noah Birch rendered the pylon as a transparent inflatable retort, a ball with an appendage that was meant to be moored in the water near the pylon; sadly it broke free and was repositioned and washed up on the shoreline with its appendage drooping. A clever and elegant idea that didn't quite get there. Putting sculpture anywhere outside is tricky as there are invariably public safety issues, there is the weather and there are the tides and the swell if you are trying for in the sea not merely by the sea. It raises the question of from the sea and about the sea or indeed of the sea which by the sea neatly avoids. There is no demand that works are site specific although a prize is given for one that is, yet the site is so specific and it is a brave artist who ignores it.
The Japanese sculptors Harayuki Uchida and Keizo Ushio, Koichi Ogino, Zero Higashida and Koichi Ishino are brave and their work stands out, finely wrought, precisely made pieces in highly resistant materials; granite, marine grade stainless steel, magnets but more as object lessons in sculpture asserting itself as placeless thus, in this setting, out of place. 'Distinguished invited artist' Robert Juniper's Plant Form 11 is too strong for its setting in the soft coastal bush. It needs big rocks and stones, magnitude and space to inhabit.
Greg Johns' 'Horizon Figure', previously shown at 'Sculpture by the Sea', Aarhus in Denmark proved its power, and exemplifies Director David Handley's comment that some sculptures 'take on a site'. Positioned at the end of the rocky breakwater it became a rusted remnant of something magnificent, a whale's jaw bone or the ribs of a ship.
More modest pieces worked well in this setting when the artist had something to say that resonated with place and history. Melanie Maclou's 'Elizabeth 1839', a sunken prow buried in the sand, made from aluminium yet looking like cast concrete referenced the Moorish concrete Bathing Pavilion and the ship wrecked off Cottesloe. Peter Hills' campfire columns, transparent white Ionic columns describing a bush temple with a campfire altar brought wit and democratic commentary into the equation.
Recycled materials were a recurrent theme. Kerrie Argent's evidence - was a trail painstakingly made from plastic milk bottle lids and red plastic ties which oozed over the beach as if it had been washed up, while Holly Pepper's Spinifex used sea green PET plastic brick straps to make beautiful filigree forms, but mounted them in a heavy, clunky galvanised steel frame. Denise Pepper and Pierre Capponi's 'Plastic Vortex', brightly coloured polypropelene strapping woven on a steel wire armature into fantastical forms suggested a wonderland of oversize shells and Kathy Aspinall's An uncultured string of pearls used discarded crayfish floats strung on rope and dusted with faux goldleaf to make an exquisite conceit.
Louise Elscot's 'polyhedral net (after Dürer)' made from concrete and red oxide was subtle and seemed to belong on the sand as if an excavation had revealed the true deep structure of a crystal. Jean-Marc Rivalland's 'Breaking Wave' made from corrugated iron and wood, was a wonderful idea that felt overwrought but it won the prize among the sixty exhibits. To my mind making it sit on the sand obviated the original insight Rivalland took from the roll of corrugated iron. It was less a wave and more a pipe(line), too heavy and stuck still.