Penrith Regional Gallery and The Lewers Bequest 13 February 2010 - 4 April 2010 Museum of Contemporary Art 17 February 2010 - 25 April 2010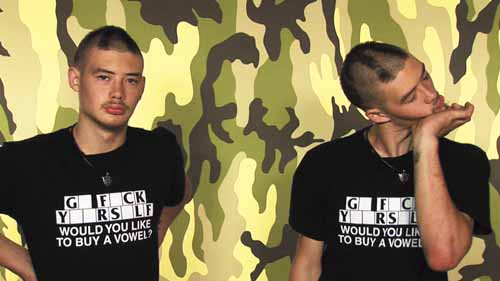 Sometimes it can take a stranger to make you see what's going on in your own backyard, or to get you to step out into it. For me, it was French multimedia artist Sylvie Blocher who enticed me to the Western Sydney city of Penrith for the first time.
Blocher is an artist who believes in the political responsibility of art. She travels the world asking people questions about their hopes, dreams and desires for her 'Living Picture' series. This latest instalment finds her asking seventeen residents of Penrith questions like 'What Is Missing?', or better yet 'What Is Missing in being Australian?'. Standing in front of a green camouflaged artificial background, and next to a still image of themselves, the Penrithian's responses ranged from forgetting the words to the national anthem; to missing a stolen brother; to believing in lacking a culture or a future as a nation. This snapshot of Penrith becomes a snapshot of Australia today, with a broad cross-section of age, culture, emotions and intellect.
'What Is Missing?' is a double feature of an exhibition experience, running also at the Museum of Contemporary Art in Sydney. While the Penrith leg of the exhibition was a site-specific piece about the suburb, and its people, the MCA instalment was a retrospective exhibition, including other pieces from Blocher's Living Picture series, including the disturbingly humorous 'Living Pictures: Men In Gold', a peek into the bizarre and ludicrous world of the self-made millionaires from Silicone Valley, and the controversial Men In Ecstasy. The two exhibitions complement each other, as seeing how other cultures of the world are reflected in Blocher's camera allows the viewer to really listen to what is being said in the recounted narratives in the Australian pictures. The videos have an almost ironic tinge; the people presented could easily be mistaken for stereotypical scripted characters - the angry Nazi supporter or the reality TV fan young guy in his white disco suit, yet they are completely real.
Blocher uses the medium of video in a 2D way, creating portraits that document people with a unifying flatness somehow emphasising that they could be from everywhere and anywhere. Their wants, desires and fears are all human and thus ultimately all the same, as evident in the silent 'Living Pictures: I & US', where people gaze at the camera with personal statements printed on their shirts in English and French: "Torn between Here and There; Badly tended fields don't give beautiful fruit; I am Beautiful and Sublime."
Also at the MCA an accompanying project by Campement Urbain, an artistic collective formed by Blocher and architect Francois Duane, looks at exploring new fictions in urban settings. They were invited to participate in the C3West project that aims to engage artists in collaborative projects exploring Western Sydney communities and commerce. While Blocher collaborated and connected with the people of Penrith, Campement Urbain did it with the Penrith Panthers. The final result is a mix-up of many little projects coming together to complete the bigger project. A Twitter account inviting people to leave their dreams and comments on how to make Penrith a better place; the 'Tale for Adults' is recounted, a fantastical story about a magical place which shares many similarities to the magical city of Penrith; and Urban Scenario where the 'Golden Galaxy' is spoken about in the dulcet tones of a late night infomercial, making the whole visionary presentation slightly offcentre and out of this world.
The unifying element in all of the separate pieces is Blocher's way of presenting simple reality in hyper-real forms. Intimate tales are presented in constructed dramatic settings giving them a power and purpose that makes them come across as more than a straightforward documentation of people and places.