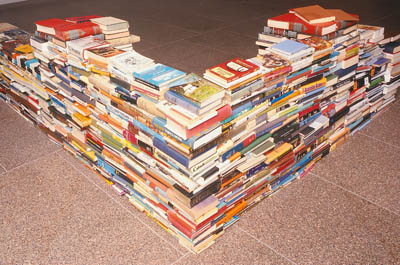 "Some things we bring back have a forensic loading of information, they're catalysts, expressing what we can't articulate; it's like clinging to an old auntie." Helen Fuller and I discussing op-shop-mania, which afflicts us both, are in her studio, surrounded by finds and some of what they've inspired. Strolling through personal histories in those museums of domesticity provides a desired thrill, the "kill" of a purchase, the chance to mend chips and tears back home. For Fuller, domestic arcana, with which generations of homemakers have armed themselves, may be said to have been the lynchpin of a body of work now outstripping the cataloguer's reach.
An Adelaide child of the 1950s, Fuller used a photo of her 1961 classmates at Glenelg Primary as the basis of her contribution to Hazy Days, at the Bay Discovery Centre, tucking replies to her "Where are they now?" investigation into dangling teacups, alongside works on paper, red, white, black and orange grids dubbed gingham gouaches. Fuller's pieces in In the World: Head, Hand, Heart (the 17th Tamworth Textile Biennial) are a set of cheap, red plastic mesh baskets through whose holes white rags with tape streamers attached have been forced, to form the letters P-A-I-N-T. An actual red painting, scratched through with a fine white grid, sits alongside. Or consider this: a slatted wooden table, through which spear-points of bundled white cloth have been forced into the shape of a cross, the table hoisted up on red bucket supports, a gilt mirror below reflecting the flapping, dripping underbelly. Presented to the world is neatness order and sacrifice; hidden is the straining, the bulging out of categories.
Bundled cloth, grids, saucepans and strainers, containment and spillage: flywire, tea-towels, gingham uniforms, cross-stitched red-and-white-checked tablecloths, paper dress-patterns made up into fragile paper dresses, chewed slippers, white socks forming a ruffled border round a wicker basket on a green lawn. Buckets in a circle, tied lozenges of coloured fabric making a fence along a path, massed-teacup aggregates, her recent dozens of painted grids. In the studio, a growing collection of 1960s bud vases sits on a window ledge. Like calls to like. Multiples "tickle within", says Fuller, like families and faces in the street. "I go in groups; stop, start again, in groups." Helen Fuller lovingly toys with a nostalgic agenda, but retreats from it as often into pattern and abstraction. Currently, painting is edging installation work aside. "When I die, I don't want to leave a shed of hoardings." (The first work of Helen Fuller's I remember seeing was an installation of items from her father ("BCF")'s shed, files suspended between tables, dymoed initials, khakis and browns.)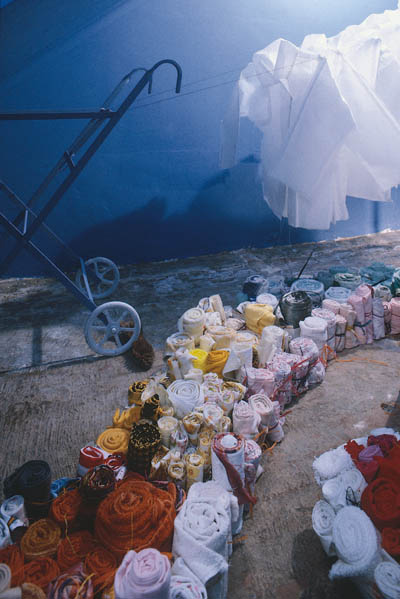 Even on the new paintings, childhood casts a long shadow. Old gingham dresses, never frilly or floral, "woven patterns, meshy ones and staring at the flywire (locked up in my room)". Fuller recalls a South Australian School of Art teacher, "Miss Mack", Helen Mackintosh, who, she later discovered, lived nearby in Goodwood. "We were ruled by the men. Now I just want to know women's stories." Making herself known to a niece, after Miss Mackintosh's death, Fuller was presented with a set of her gouaches, tubes whose contents had dried out. She has painstakingly ground and reconstituted these to make her grids, notably a flood of irresistible blues. Some have had old buttons (grandmother's button jar) attached, some made of scraps of pinafore fabric. We consider a black grid with orange and yellow bits, an apron pocket attached: a high-rise, a night cityscape, with buttons providing spatial separation. They are also like work-frocks for housework (serviceable, no frills, no temptation attached).
Asked for titles for these as yet unshown pieces, Fuller hovers around the notions of stain, cosmos, stars, space. In the making of each, she will often try for a Buddhist immersion in process, sinking into each drop as it comes off the brush – and there's another frame of reference, breathing, spores, lungs, breath, condensation, droplets. The resulting piece is a square, thence wrapping, supper-cloths, like rice shoots in paddy-fields. Newer still are oil paintings, smaller and finer, still gridded, with Klee-like scratchings. Fuller acknowledges an early love of Klee, a visit to the Klee Museum in Switzerland, but sees the noteworthy feature of these oils as the palette: "the aspect of orange, green, red reminds me of an auntie's beach house in Rosebud … plastic tablecloths impregnated with fibre mesh." The oils are called Muslin and Strings, these paper and canvas paintings as likely to be process-driven as programmatic, Strings suggesting not only woven threads but the musician's technique: "When you paint a line, it's like … bowing, when you brush with the paint only so much comes off, then you reload" (she mimes the arm movement). Fuller points to a spiderweb of lines on an easel; "so thready, so tight … I go loose, then tight, then I have to let go again."
In the flight from tight to free, Fuller is digging her hands into the dirt: a leaning clay vessel, only her second pot, into which is scored a gingko leaf, sits drying on a table. Most recent of all are small paintings on torn corrugated cardboard, to be shown at the Victorian Tapestry Workshop where Fuller was recently artist-in-residence. Red and white, these are very loose, a pomegranate, a dog walking, a black line of stitching leading the eye upwards. Helen Fuller feels herself at another crossroads, although she doesn't see the history of her own work as a definable lineage or a straight path; spirals, rather. Squeezing clay between the hands forces the controlling head onto the back burner, "I think it would be nice to paint in a juicy way, like Soutine."
As a student, Fuller coincided with the hard-edge colour-field era, teachers dictating technique, instructing students in the use of masking-tape around blocks of colour. "We never explored our own juicy bits." She ponders some more over the grids, executed on Chinese paper, a gift from her partner's brother, which she feels compelled to use up. She spends "an intense couple of days" per page. The holes in the grids: "punching holes with a hole-puncher; us kids used to play tram conductors, punching with Dad's stapler … cross-stitch, collage, some of the blobs are more like flowers than holes … drip and splat … it's like the Big Bang, or the order of nature, pattern, spontaneity."
Thumbing through magazines as I write, I choose one with an Emily Kame Kngwarreye cover, a grid of blacks and greys on white. Fuller's recent gouaches constitute a series whose patterning chimes resonatingly with Indigenous representations of country to which we have been exposed over recent decades; both styles represent a mapping, a reduction to the elements of its design of a material body, of land, of cloth, of a life – perhaps one that may be measured out in coffee spoons or teacups or loads of washing, but which only looks orderly if it is viewed from a sufficient distance.
My local op-shop yesterday offered up, in the discard bin, a 1990 account of the History and Politics of Home Economics, uncompromisingly titled Wasting Girls' Time. As a curriculum subject (from 1874 on), it never much altered patterns of home management, but did differentiate the education of middle-class girls from that of boys. Feminism convulsed the rhetoric, but not the ideology; no one was fooled by textbooks describing "cake experiments", nor did boys respond to the invitation to use the home science room at lunchtime, "freedoms girls have always had". Yet the practice of home management by our mothers affected us closely. Of P-A-I-N-T (see above), Fuller notes the marriage of art and shopping as therapy, along with her mother's practice of fashioning bandages, handkerchiefs and dolls' clothes from her ragbag "which lay on the floor of the linen cupboard (and) held hacked, mutilated garments and failed sewing projects to magpie from." In P-A-I-N-T, streams of ribbon mimic "silent streams of tears", but the word "pain" extends into "paint", pink gives way to celebratory red in honour of "my return to a painting practice."
Return to painting is also return to gender-neutrality, or as close as it gets. All but one of the Textile Biennial artists are female. Fuller's installation work has often been seen in group shows with female collaborators, with titles referencing home and housework. Of All this and Heaven too, the 1998 Adelaide Biennial, Kevin Murray posited a solipsistic curatiorial gambit: "(the artists') purely personal reverie as public reality" (when is it ever otherwise?), the "quotidian world … blessed with the authority of a museum", querying Fuller's reconfigured BCF Shed for juxtaposing a joky barbecue bench made of books with the reverent hang, a "scientific display" of her father's tools. (Artlink 18:2, p. 85) Mightn't the bench be an altar, a man's self-immolation in the quest for knowledge? For all Fuller's awareness of discordance in the world's messages to women, her tribute to her father is full of affection.
How angry an artist is she? Not at all, in any toxic way, but spurred, or goaded always, by consciousness of the constructed nature of our identities. She has often, no doubt, enjoyed the fact of having been collected in the same year in shows of Women Artists and inclusively anonymous ones like South Australian Paperwork (Art Gallery of South Australia, 1982). "Bless this mess" is the title of the 1998 Biennial catalogue essay. Helen Fuller's eye for reverberations emanating from a plethora of objects with a past is voracious. This is partly the ongoing struggle of "locating myself properly in my own past so I can leap off", partly a reclamation exercise whose tools are whimsy and humour as well as the gut-punch.
Her recent preoccupation, it seems, is with structure, with warp and weft, the nets that hold all matter together, the web of life, as our 1960s biology text had it. The gouache grids are a close focus on resilient weaves that will bear our weight, like trampolines, even when stress is applied, even when stress is applied to us. And herein lies freedom, trusting the web, to tear holes in it and patch them up again, believing we won't fall through the gaps in the mesh, or if we do, it will be to explore dizzyingly inviting dark places we secretly long to enter.
Cath Kenneally is a novelist, arts broadcaster and journalist in Adelaide.

Helen Fuller is represented by Sullivan & Stumpf Fine Art, Sydney. Place Gallery, Melbourne, and Helen Maxwell Gallery, Canberra.