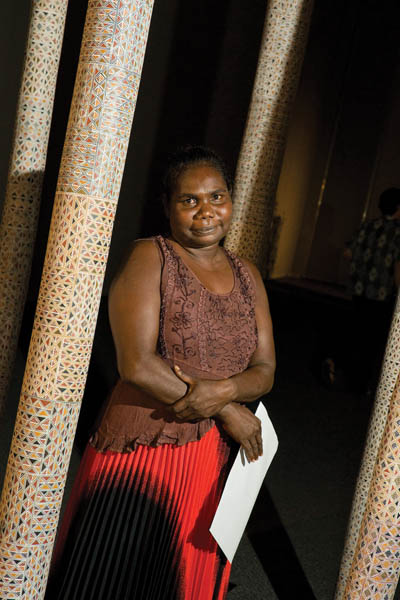 Rod Rampant and those pesky royalties
The 2008 Federal budget allocated $1.5m over three years to the establishment of resale royalties in Australia, a result greeted with relief and joy by the field, after 20 years of lobbying. Before the ABC television program Four Corners in late July that publicly exposed blatant price ramping practices within the Menzies Brand auction house there was a sense that the art auction houses, flush with their recent astonishing sales figures, would be pressing their advantage and banding together to try to prevent a resale royalties scheme moving towards legislation. After all, if you are putting up at your own auction house a painting which you already own and buying it back again yourself, not once but several times, and if the price goes up each time by a hefty percentage, the last thing you want is to pay a royalty to the original artist every time around. But now that the other auction houses, in a flurry of righteousness, are demanding the head of Rod Menzies on a plate engraved with the words Trade Practices Act, it seems that their new-found unity of purpose may be history. In the meantime we await the findings of the ACCC.
The taming of the skull
And talking of heads and history, we have declared 2008 the Year of the Skull. Exhibitions and events recently including three 2008 art fairs, Beijing, Hong Kong and Melbourne have been a positive killing field of grinning jawbones and sunken eyes, knitted, crocheted, embroidered, in chrome, plaster, paint, wire and polystyrene, carved, cast, shaped, stretched, compressed actually or digitally, exploding, disappearing, hanging, piled up, miniature or gigantic. No longer looking or feeling like a portent, or even a reminder, of the Grim Reaper, it seems that the skull, after its history of representation in various cultural contexts going back to the year dot, up to and including its recent proliferation in popular and sub-cultures like tattooing, is finally reduced to a trendy collectible. And it's just the right size for limited editions.
Frog in throat
Many would agree that a sweaty white man running through the streets of Manila for a day carrying a fibreglass Jesus and dumping it in a slum for locals to retrieve and hang up on in the tarpaulin lean-to they call home is quite a silly thing to do. It looks a bit more than silly when you put the video of all of this in a large tent made out of painted copies of photos of slum dwellers. disabled or otherwise, taken by Sydney artist David Griggs, and executed by a local billboard painter and his mates, and then bingo place it in the middle of the glitterati at the Melbourne Art Fair. Frog boy's dissertation into a new karaoke cult looks, well, a bit colonialist. Funny that nothing about this finished project seems to take note of how it might appear to Filipinos. It was obvious that many visitors felt uneasy about what they were seeing. Griggs went to the Philippines for the first time in 2005 on a residency out of which came a small picture book titled The Buko Police. This comprised photographs of local tattoo styles (presented without commentary). The long-running body of work sustained over fifteen years by Pat Hoffie in association with one family of Filipino billboard painters, Fully Exploited Labour, interestingly addresses the very thing that Griggs seems to be unaware that he is doing. The book of Hoffie's recent show documenting this work at the University of Queensland Art Museum will be launched shortly. David Griggs' short video Blood on the Streets (more skulls) was part of Under my skin, an Asialink touring show which opened in Manila recently, where the feedback loop is usefully completed. One suspects that Frog boy may be an example of how artists can get caught up in the glamour of big art events, and the work goes off in a direction that without the commissioning and the funding it may never have followed.
Mad max in Venice 09
Shaun Gladwell has enjoyed some favourable international artworld attention in recent years for a figure normally regarded as an emerging artist with a young video oeuvre trademarked around skateboarding, so his choice as Australia's main artist for the Venice Biennale in 2009 could either help him to flower or expose him prematurely. MADDESTMAXIMVS, the suite of five videos with sculptural and photographic elements on which he is working hard at the moment, draws on desert landscapes, Mad Max movies, and outback Australia as source material. Certainly sounds promising and possibly the first installation to capitalise on the 'shack' architecture of the Australian Pavilion, currently regarded as déclassé and overdue for a makeover. The other Australian component, curated by Felicity Fenner and entitled Once Removed, will be at the Ludoteca and is a lively series of installations by Vernon Ah Kee, Ken Yonetani, and Claire Healy/Sean Cordeiro, dealing with cultural displacement.
" Two very different artists, Judy Millar (established painter) and Francis Upritchard (emerging installation artist) will represent New Zealand at the 2009 Venice Biennale with a suite of large paintings and an imaginary landscape populated by mixed media figures respectively. The cost of the two exhibitions over six months will be more than $1m.
Biennials old and new
" Two independent curators from Melbourne, Sarah Tutton and Charlotte Day are the joint curators of the 2010 Adelaide Biennial. Both have been involved in some adventurous projects, Tutton with a background at Asialink and currently working on a big Papunya show for the US. Day who cut her teeth at Gertrude St, has project-managed two Venice Biennale shows and her well-crafted and clever Tarrawarra Biennial opened in August.
" Optimism is the first In a series of regular national survey exhibitions titled Contemporary Australia organised by the Queensland Art Gallery who promise that like the APT it will be big and spectacular and include moving image and performance as well as traditional media. Julie Ewington is the in-house curator. Book your tickets to Brisvegas now. 15 November 2008 – 22 February 2009

OzCo managers on the move
More senior staff have left or have announced their imminent departure from the Australia Council over the past two months than seems natural. Visual Arts has lost its Director Anna Waldmann, as well as Billy Crawford, well-known visual arts specialist Manager within Key Organisations, both of whom spent thirteen productive years at the Council. These individuals made creative and logistical contributions to the field through good years and bad and collectively represent years of hard-won experience and corporate memory which may disappear before it has a chance to be imparted to new staff. The blood loss doesn't stop at visual arts. Directors of Dance, Theatre, and Literature have gone or are going. The last senior art form board manager left standing, no doubt playing a melancholy tune, is the Director of Music. And to top it all the much respected Director of Funding, Ben Strout, is on his way out. The power of the Australia Council is vested in its external Council Members, who are appointed by the government to steer its policies and colour the way the arts connect with government. In the past these Council Members have had strong connections with the arts. During the Howard years the movement of conservatives and business people into these key positions, has seen a cultural shift at the helm.
Donor fever
Our last issue noted the donation of large private collections to the Art Gallery of NSW and the National Gallery of Victoria. The University of WA has now become the fortunate beneficiary of a large and high quality collection of women's art donated by Sir James and Lady Sheila Cruthers – around 400 paintings, works on paper, craft objects, sculpture, installations and including more than 50 self-portraits. Ranging from the 1890s to the present, there are major works by Grace Cossington Smith, Margaret Preston, Joy Hester, Grace Crowley and Clarice Beckett. Contemporary artists include Rosalie Gascoigne, Susan Norrie, Narelle Jubelin, Tracey Moffatt and Julie Dowling.

Real Estate
" Famous When Dead is a new addition to Melbourne's contemporary art spaces with a focus on street,stencil, design and urban art. 207 Victoria St, West Melbourne 3003. Ph 0401 199 344 www.famouswhendead.com.au
" artroom5 is a new gallery in Henley Beach, Adelaide, directed by Vivonne Thwaites phone 08 8356 3090, 0414 225 846, vivonne@adam.com.au
www.artroom5.com.au
" The new National Portrait Gallery building in Canberra opens in December 2008. www.portrait.gov.au
Prize entry dates coming up
" Entries for the National Portrait Gallery's second biennial National Photographic Portrait Prize close 2 November, winner announced March. VISA International is sponsoring the exhibition and prize money $25,000.
" Charles Darwin University is celebrating the 200th anniversary of the birth of Mr D. with an acquisitive sculpture competition which will form the beginning of a new sculpture park. A new biennial sculpture exhibition will also be inaugurated. Enter by 28 November, $20,000 prize announced September 2009, info: www.cdu.edu.au/sculpturepark
Celebrity judge for Walters Prize
Catherine David, celebrated Paris-based curator of Documenta and the ground-breaking Contemporary Arab Representations is to judge the Walters Prize in October which is awarded for an outstanding contribution to contemporary art in New Zealand in the past two years. One of the four finalists: Edith Amituanai, Lisa Reihana, John Reynolds and Peter Robinson will win $50,000 plus an all expenses paid trip to New York with an opportunity to exhibit their work at Saatchi & Saatchi. Exhibition 13 Sept - 23 Nov 2008 at Auckland Art Gallery.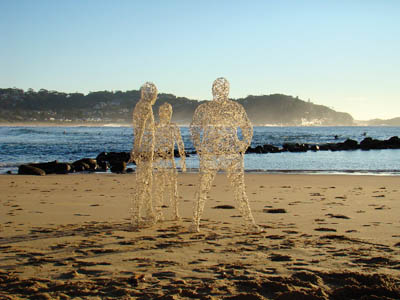 Winners
" Inaugural Basil Sellers Art Prize of $100,000 for a single work on a theme of art and sport was won by Daniel Crooks for his video artwork Static No. 11 (man running) 2008 (see Artlink's Screen Deep issue 2007)
" The Fremantle Art Prize has been won by Joel Gailer with his conceptual piece Hot process in the pages of Art Almanac ($10,000 Acquisitive Prize), and Alick Tipoti, for his large linocut Kuyku Garpathamai Mabaig ($3,000 Non-acquisitive Prize)
" Djirrirra Wunungmurra, from Arnhem Land won the Toga Art $15,000 prize for her work Gapu 5 Memorial Poles. The Toga Group are the developers, with the NT Government, of the new Waterfront development in Darwin and the first of 33 pieces of public art to be installed there under a joint partnership between Toga and the Government was unveiled in June.
Festivals and events coming up
Artspace 24/25 celebrate 25 years of the existence of this iconic Sydney institution with one humungous weekend of art. 24 artists including Julie Rrap, Brook Andrew and Hany Armanious will present twenty-four exhibitions each lasting just one hour on the weekend of 1 - 2 November, 11am 5pm each day.
" Swell Sculpture Festival runs from 12 – 21 September on marvellous Currumbin Beach on the Gold Coast. With Elephant Rock as a backdrop, the 50 new sculptures on the beach sited along a 1km walkway should be a very rich and special experience. A Public Art Symposium on 16 September will explore the topic with speakers Pat Wise, Yenda Carson and Andrew Trump. Artist Antone Bruisma and Austrade's Ian Brazier will join the panel discussion. More information at www.swellsculpture.com.au
" Urban Screens Melbourne 08, 3 - 8 October hosted by Federation Square, is the third international conference and exhibition examining the impact on cities of those omnipresent public displays such as LED, LCD, plasma screens, large-scale projections and media facades. Mobile Publics and Connected Communities include keynote lectures, panel sessions and an outdoor multimedia program by leading Australian and international screen practitioners, presenting examples of how a relationship can be built with the citizens of a vibrant, modern and environmentally conscious city in a global context.. www.urbanscreens08.net
" Melbourne International Arts Festival 9 - 25 October visual arts include Ecstatic City, an extraordinary four-part project from USA's Chris Doyle, featuring a public film shoot, 3 floating cinemas and massive projections on the NGV; 100 artworks from 100 sound artists feature in 21:100:100; USA's Alex Stahl brings Echolocation, a remarkable electro-acoustic sound installation along the walkway of the Princes Bridge; Italian photographer Rita Antonioli presents her photographic exhibition B-Sides which features icons such as Laurie Anderson, Merce Cunningham and Patti Smith (many of which she shot at the 07 Festival); Eve Sussman's film The Rape of the Sabine Women has been creating a buzz across the globe and will screen at ACMI.
" The annual OzAsia Festival (second edition) opens 14 September at the Adelaide Festival Centre with an array of Asian-Australian performing arts treats. Visual arts include Indonesian artist Heri Dono's satirical artworks and emerging artist Jumaadi's grass sculptural forms and wayang puppetry. In Confluence Gus Clutterbuck's drawings from a residency in India connect with traditional Rajasthani terracottas and miniatures by Pramod Kumar. Also demonstrations of Ikebana by Japanese-born specialist, Master Yoshiro Umemura. www.ozasiafestival.com.au
" The Daylesford Foto Biennale, under its Director Jan Moorfoot, is moving to Ballarat because it needs larger and better exhibiting venues. Its next edition will be held in October 2009.
Mentoring
The Ashington Mentorship Scheme enables South Australian graduates in their first two years out of art school to work with professional artists. With the help of new sponsor, Ashington Investment Management, eight emerging artists are paired with established professional artists from Adelaide, Sydney and Melbourne. Since 2002 the mentorship scheme, run under the umbrella of the Helpmann Academy with assistance from Arts SA and others, has supported over 90 graduate artists in a mentorship relationship with an established artist.
Knowledge base for artists
Just arrived in the Artlink e-mailbox is artistcareer eNews, the first bi-monthly e-newsletter for artistcareer, a new website developed jointly by NAVA and the Australia Business Arts Foundation to help visual arts, craft and design practitioners sustain successful careers. This site has to be the most extraordinarily rich and comprehensive source of useful information in existence on the planet. Check it out. www.artistcareer.com.au/ and subscribe to the newsletter, it's free. Artistcareer is so nicely designed that it is easy to find the area you need to know more about. It then links you through to relevant pages for specialist knowledge. Full marks to the team that worked this one out.
Archives on the loose
Fulfilling a 2007 election commitment by the federal government, the National Film and Sound Archive of Australia, based in Canberra, has begun its new future as an independent statutory authority, with the aim of increasing Australian public access to preserved moving images and sound recordings. Its independence from direct government control will free it up to develop creative projects to interpret and explain the vision and sound materials that it holds and collects. As well as national, regional and international projects, it will offer broadband interactive web-based projects such as 12 Canoes a new media work by Rolf de Heer and Molly Reynolds and the Ramingining Community of Arnhem Land which will be online soon.
People
" Shaune Lakin is the new Gallery Director of the Monash Gallery of Art.
" Alex Baker is the new Senior Curator of Contemporary Art at the National Gallery of Victoria.
Asia and Australia
In the absence of the equivalent of a British Council or Goethe Institute for Australia, it is Asialink that fills the Australia-shaped hole that is our cultural export strategy – at least for this part of the world – and it does a remarkable job. The aim of Asialink's series of touring exhibitions is to strengthen the cultural links between Australia and Asia. (They are wisely keeping well away from China this Olympic year) And as usual Australian-based audiences also get to enjoy some of the excellent work they develop for the overseas programs
" Trace Elements: Spirit and Memory in Japanese and Australian Photomedia, with Philip Brophy, Jane Burton, Alex Davies, Genevieve Grieves, Sophie Khan, Teiji Furuhashi, Seiichi Furuya, Chie Matsui, Lieko Shiga and Kazuna Taguchi, opened at the Tokyo Opera City Gallery in July and will land at Performance Space in Sydney in April 2009.
" the dazzling Brook Andrew: Eye to Eye is touring south and south-east Asia. " The World in Painting, twelve artists from Australia, Thailand, the Philippines and Vietnam, and is on at Heide Museum of Modern Art from July to November, touring to some Australian regional centres in 2009.
" Streetworks: Inside Outside Yokohama, Australian video artists, Shaun Gladwell and Craig Walsh, toured Indonesia from July to September 2008. (see our Craig Walsh feature page 50).
" Under my skin in Singapore celebrates the artistic journeys of five distinguished Australian artists who have been involved with the Asialink Arts' residency program, Emil Goh, David Griggs, Pat Hoffie, Megan Keating and Louise Paramor.
Quality stuff
Outstanding in Adelaide this season were two exhibitions in the City West precinct, both at tertiary education galleries, and both left barely a trace on the public record. The Melbourne-based artist Gosia Wlodarcek's Cinderella II – The Dreamer at the SASA Gallery was a museum class installation by this rigorous, multi-talented artist. Three large wall-based images each made up of scores of numbered 'tiles' covered in finely made drawings, major installations in themselves, were further elaborated by parallel expressions in musical scores and video sequences where the images were 'played' in sound. Wlodarcek also created a new mural drawing in the space as students and public wandered in and out, and, together with Professor Ian McLean from University of WA, spoke eloquently at the opening event.
A minute's walk away, is Light Square Gallery at the TAFE's Centre for the Arts, where a totally different kind of installation lurked menacingly in the gloom. Métaphysique d éphémères used a vast number of discarded objects, including old technology and medical paraphernalia, bibles, hair, teeth, cutlery, old tablecloths etc collected by the artists Gregory Amber and Evangeline Feary over the past 20 years. They have arranged, manipulated, re-combined and added to these worn and battered things to create an overall feeling of melancholy, even dread, and a sense that time can work some strange effects on objects in conjunction with the state of the human psyche. Kantor's Dead Class, the theatre of the absurd and some aspects of surrealism all came to mind, but the complexity and black humour in the way the objects were labelled and juxtaposed was original and very much in its own class. Visitors were observed spending long periods of time in the gallery. It would certainly be worth mounting this exhibition again somewhere, sometime.
" The Museum of Contemporary Art in Sydney this year recorded its most popular Australian exhibition to date, with Fiona Hall: Force Field attended by more than 108,000 people. The previous record was held by an exhibition of work by Tracey Moffatt in 2002/03.
" The Melbourne Art Fair clocked up 30,000 visitors (up by 14%) and despite the art scandals and concerns about the economy, sales totaled $12.1m – up by 16%.
" Melenti Pandilovski who attended the annual new media event ISEA this year held in Singapore gave a paper about teleportation and launched the Experimental Art Foundation's book Art in the Biotech Era at the National Museum. Singapore. He had to get there by plane.

The Bill Henson Art Censorship Debate
It was good to see NAVA and The Monthly magazine in partnership to provide rapid online access to the transcripts of the public forum organised by Watch on Censorship and NAVA on 12 June at the Museum of Contemporary Art titled Art Censorship: the Bigger Picture. http://www.themonthly.com.au/tm/node/1056
As The Monthly says in its intro: 'In this informed, thoughtful and sometimes passionate debate, Julian Burnside, David Marr, Clive Hamilton, Hetty Johnston, Ian Howard and Tony Bond addressed the topic in light of the furore surrounding recent censorship of the work of well-known artist Bill Henson. The forum, introduced by Margaret Pomeranz, was presented by Watch on Censorship in association with the National Association for the Visual Arts (NAVA). Sydney, June 2008'
Edited versions will also be published in the September issue of the NAVA Quarterly.
The riveting Bill Henson drama, involving a police raid on Roslyn Oxley9 gallery and denunciations of the celebrated artist's work from senior politicians, rocked the artworld to its foundations and was flashed around the world, captivating the media for weeks. It prompted another public debate in the form of an episode of Insight on SBS Television, where presenter Jenny Brockie skilfully managed a very polarised set of positions. This can be viewed online at: http://news.sbs.com.au/insight/the_naked_eye_549822
Although the artworld closed ranks in support of the artist, there were private reservations expressed by many insiders about his representations of pre-teens. Art Monthly Australia which came out bravely in defiance of self censorship with a provocative cover, seems to have become a scapegoat with establishment figures, including DFAT, distancing themselves and cancelling advertising and subscriptions.
The voice of reason rests with NAVA's prompt commitment to produce an arts censorship guide for artists, their website says: '&'The aims of that project are to:(" depoliticise the discussion and see art practice as a legitimate area of visual research, production and publication which, for the most part, is carried out ethically and responsibly(" strengthen the protection for individual artists against undue community or political conservatism& ensuring that the environment in which Australian artists produce and distribute their work is not unnecessarily restrictive....'
NAVA had also made the decision to develop a checklist for artists working with children in their art practice, to be available separately and also incorporated into the NAVA Code of Practice for the Visual Arts and Crafts Sector. However, after police charges against Bill Henson were dropped, the Prime Minister, whose personal judgements on the case were widely thought to be out of line, instructed the Australia Council to produce a set of guidelines themselves. These will apply across all art forms and will no doubt become, for practising artists, essentially another box to tick before a grant application can be sent off.
Barry Humphries' comment on the fracas, after his Arthur Boyd lecture at the Australian High Commission in London, was to raise an eyebrow and say: 'Oh yes, yes, I followed it. What did I think? It reminded me that the Prime Minister is from Queensland.'
Coming soon to the Artlink Shop!
A new book by Donald Brook titled The awful truth about what art is is to be published by Artlink and will be available on order from the Artlink shop www.artlink.com.au Check the website for more details and how to place an advance order.
The awful truth was commissioned by Artlink to provide the general art interested reader with an accessible, pocket sized book which will answer all those annoying questions about whether a video of someone on a skateboard upside down, or a person turning a light switch on and off are art. This naturally involves a definition of what art is, rather than what it is not, and it is exciting to reveal that although dedicated Brook-watchers may have a few inklings of the general direction of his thinking not many of us are prepared for what we will read in this book. It will help place art and cultural evolution within the larger social realm in the way that Richard Dawkins' writings on genetics allowed ordinary punters to grasp the significance of biological evolution for modern humans.
But it's a lot funnier.