Tim Acker, an independent arts consultant working with Aboriginal artists in remote and regional Australia, writes about the current situation. Questions of ethics in the sale, and making, of Aboriginal art are under review and an Australian Indigenous Art Commercial Code of Conduct has been developed though the 2008 Federal budget failed to fund its roll-out. Acker suggests that consumers become more educated about the art and about the provenance of the works they buy.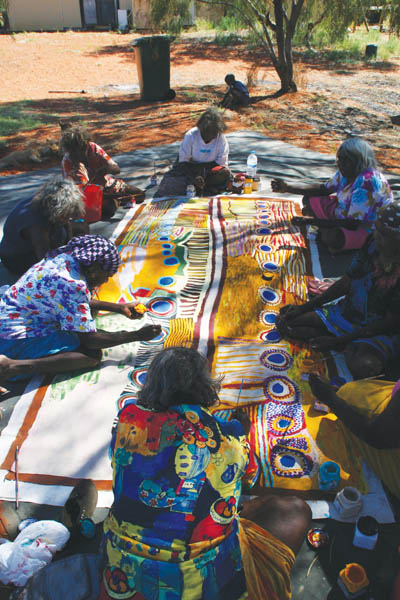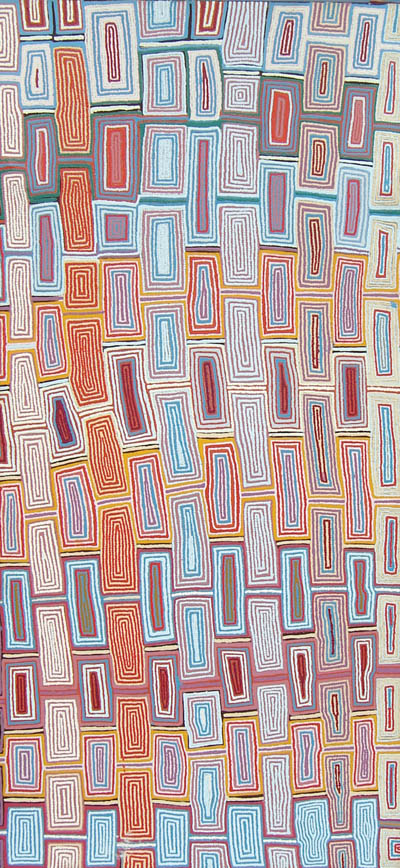 While the art dazzles the eye and the prices make headlines, there is a fundamental disconnect at work within the Aboriginal art industry. The market's focus on the consumption of art and the profitability of its players has smothered serious and confronting issues of artist and community livelihoods, of ethics, of the art's source and the impact of market forces on this complex, shifting spectrum.
This complexity appears to be an inoculation against criticism. There is a national deficiency of clear-eyed assessment of contemporary Aboriginal artists' oeuvres, resulting in a severely limited language to assess, judge and understand works of art and their relationship to, and place within, the commercial art market. This limited critical examination has a major impact on the always intricate and often vexed Aboriginal art marketplace, resulting in very few sources of information or authority on works of art and consequently considerable opportunity for misinformation or ignorance. The result? The national narrative of Aboriginal art is often reduced to an accessible and digestible discussion of profitability; complexity and richness distilled to economics. This simplification conceals powerful questions about commerce in Aboriginal art, about its creative and cultural imperatives, its successes and its underbelly.
One of the biggest challenges in putting forward a topic as intricate as the intersection between commerce and Aboriginal artists is that for each example of unconscionable or illegal practice, there is a balancing example of collaboration or mutual benefit (even in these first paragraphs, each statement can be challenged; the sector's diversity ensures that nothing is true for all Aboriginal artists, all of the time – but there is enough wrong, enough of the time to worry many industry participants).
Unpacking the layers at work only builds the complexity – the inter-cultural terrain and resulting fraught communications ensure that the already different starting points in any commercial transaction remain far apart. Vastly different concepts of finance mean that Aboriginal artists are often willing (or, by virtue of family obligation or personal circumstance, forced to be willing) participants in transactions that are grossly unfair; yet trying to assess or compare the decisions of worldviews as different as desert artist and consumer are confounding. Compounding this is the terminology itself: Aboriginal art covers such a diversity of practice, yet issues of unethical commercial practice are largely (but, of course, not always) the domain of remote community artists, particularly from desert regions and in direct proportion to the 'fine art' qualities of the artist and their art. As another dimension in the swirling mix, commenting on the market forces at work, as both a non-artist and non-Aboriginal person, opens the way to being sideswiped by a whole other set of criticism.
The absence of accessible, informed commentary on the Aboriginal art marketplace and the strength of the profitability narrative are two of the critical drivers of the industry's imbalance, an instability with acute implications in the longer term for the ongoing inventiveness of artistic practice and the resulting livelihood choices in remote areas. Art creates critical pathways for some remote community residents; in an environment of intense marginalisation and economic disadvantage, the opportunity for equitable access to independent income, self employment, small business and the resultant nurturing of leadership and motivation is astounding, particularly as it is the only marketplace in which Aboriginal people enjoy an advantage. This enables individuals and communities to create a career or enterprise that succeeds because of its cultural distinctiveness, not despite it.
Driving the market success is the extraordinary diversity of Aboriginal art, yet the acknowledgement of the importance and difficulty of developing artistic practice, nurturing new talent, building skills and confidence, the adaptability needed to engage younger people and the stamina and resources needed to see it through are rare, elbowed aside by the focus on commerce. Without this nurturing – as varied and locally specific as it may be – the future of remote area arts practice is bleak. Current success and recognition repays the investment of money and time in past years; a real fear is that the reductionist approach by the industry now, this shift away from a deeper narrative about the many layers that make up 'Aboriginal art', will be repaid with diminishing artistic expression, diluted cultural vitality and a shrivelled marketplace.
Since the genesis of contemporary Aboriginal art in the mid 1970s and the extraordinary artistic achievements across the continent since, the greatest artistic success and most stable enterprise outcomes have been achieved by art centres. Art centres are community owned and managed cooperatives, located in remote Aboriginal communities and the more isolated towns in northern and central Australia. Art centres are usually not-for-profit organisations, filling an enormous number of social, cultural, artistic and economic roles and, between them, have facilitated many of the greatest works of Aboriginal art. They continue to produce innovative works of the highest calibre. While the marketplace has multiplied and mutated and the choices for artist and consumer are now manifold, art centres still provide innovative art enterprise services in demanding conditions. Aside from the crucial brokering and mediation role between remote area artist and (inter)national marketplace, art centres offer a fully integrated system of professional development – from identifying young artists, cultivating their talents through to marketing and career support of the highest quality.
One of the most critical services art centres provide is full accountability: financial, operational and artistic. This accountability is focussed on ensuring that the different cultural starting points, the unequal power relationships at work, are not to the disadvantage of Aboriginal artists and the non-Aboriginal art marketplace. These accountabilities deliver a unifying philosophy and practice of ethical trading and high quality, respectful trade practices.
The key arena in which industry imbalances are playing out is that of trade practices – a bewildering, interrelated array of topics and terminology: authenticity, provenance, forgery, 'carpet-bagging', fair trade, private dealers, sweatshops, secondary markets and auction houses. These are profoundly entangled factors, with historical precedents almost as long as contemporary Aboriginal art.
The profit motive is an important driver of Aboriginal art, from remote community to city consumer. Early desert paintings were almost immediately recognised as a way of addressing extreme economic inequality, a tenet still critical today. Today, however, the fascination with a work's sale price has usurped questions of equity and provenance. 'Much of the market is akin to slavery – people working in physical and economic circumstances of severe disadvantage,' says Cecilia Alfonso, Manager of Warlukurlangu Artists in Yuendumu. Tamara Winikoff, Executive Director of the National Association for the Visual Arts (NAVA) agrees: 'An industry that currently operates in a feral and unregulated environment.' 'There are regular reports of sweatshops in places like Alice Springs, highlighting the genuine reality of exploitation', says Martin Wardrop, Director of Aboriginal Art Online, Australia's leading online Aboriginal gallery and current President of Art.Trade, an industry body for commercial Aboriginal art galleries.
Australia has strong legal and civil processes that deal with issues of misleading, deceptive and unconscionable trade conduct, but the differences in Aboriginal and non-Aboriginal worldviews and the lack of financial or English literacy make the application of such specific laws both difficult and rare, a situation used to great effect by 'grey market' dealers and galleries. Additionally, artists need to be free to make their own professional and career choices – options that may then be counteracted by the fickleness of the market, so that artists (or their families) can readily contribute to their professional demise. There are, of course, many artist-to-consumer relationships, whether via an art centre or gallery, that are fair, accountable, principled, respectful, but operating in a wider industry that is 'a classic example of market failure and a clear case for intervention,' says Wardrop.
The disturbing levels of unethical, unscrupulous and illegal practice in the Aboriginal art industry highlighted in consistent media reports, occasional legal cases and the lobbying of Aboriginal art advocates, resulted in a Federal Parliamentary Inquiry, in 2006-07. The Inquiry into Australia's Indigenous visual arts and craft sector's brief was broad, but 'about one-third of the recommendations in the Parliamentary Inquiry are related to a Code of Conduct,' says Winikoff. In response the Aboriginal art industry has developed the Australian Indigenous Art Commercial Code of Conduct. An initiative as overdue as the Code received a big setback, however, when the 2008 Federal budget failed to fund the rollout of the completed Code, a confusing decision at best.
The diversity of unethical (and illegal) practice reported to the Inquiry and elsewhere ranges from operating in a cash-only system or otherwise bypassing the tax system, underpaying artists or overselling to customers, crippling legitimate community enterprises, entering into unconscionable contracts, bartering art for cars, drugs or alcohol or manipulating the social obligations within Aboriginal systems to 'kidnap' artists. The Code of Conduct and other legislative, enforcement and policy initiatives proposed may provide, for the first time, a coordinated approach to addressing the legal loopholes that make exploitative practices possible.
A challenging but immediate way of addressing unethical dealing is consumer education. Informed buyers, asking specific questions of galleries and dealers about commercial practice and provenance become powerful agents for change. These buyers assert the place of ethics and morals in the relationship between Aboriginal artist and non-Aboriginal consumer and broaden the language and understanding of Aboriginal art, artists and their enterprise, advocating for a richer narrative of the complexity of the art's creation. 'There's a power relationship arising from the difference in wealth between buyer and artist, but there's also human interaction in this relationship and the more human that interaction the more responsibility to engage ethically' says Wardrop.
Perhaps the most succinct concept that sets out the terrain for consumer education is provenance. At its simplest, provenance is a 'chronology' of a work of art – where, when and how it was made and the journey since. Provenance opens up questions about the manner in which the work was made or acquired, requiring accountability from the dealer, agent or gallery. If the provenance of a work is uncertain or unconvincing, if there is limited evidence of equity and fair trade principles at work, then the buyer simply chooses to spend their money elsewhere. Of course, this is no protection against those who are intent on deceit: witness the 2007 court case in which a Melbourne couple were convicted and jailed for selling four forged paintings by Rover Thomas to auction houses, including big name institutions Sotheby's, Lawson Menzies and Christies. The lack of investigation into the provenance of the works, at a time when Thomas' works were achieving record prices, burnt the auction houses and their customers and was described by Judge Roland Williams as 'absurd.' The result was the unedifying process of influential international buyers being refunded money for works of appalling provenance, with unknown impacts on long term market confidence.
The industry standard for quality provenance is art centre-based. Art centres have the accountability that provides security for buyers, collectors and the secondary market, reflecting their ethical and community development focus. However, the diversity of the contemporary industry means art comes to market by many channels; some channels honour artist and consumer equally – the conversation embodied by the art is reciprocated – while some channels do not. 'Do you want a painting on your wall that's tainted, where you don't know how much the artist got paid and the conditions it was produced under?' says Alfonso.
Provenance is also a way of inserting a clearer and more critical voice into national conversations about Aboriginal art. Articulating the circumstances of an artwork's journey from maker to market, the integrity of its creation and the equity of transactions along the way, in parallel to its aesthetic qualities, should be the criteria for assessing value and place in the commercial domain, positioning morality and ethics alongside profitability.