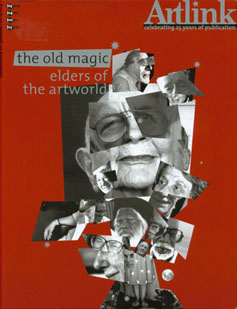 Elders: The Old Magic
Vol 26 no 4, 2006
A group of art practitioners, artists, curators and writers, in their seventh and eighth decades are the subject of our focus. Still actively working, they are charismatic elders whose influence on several generations of young artists has been a crucial part of the development of contemporary practice. The issue of creativity and how it sometimes becomes enhanced in old age, and questions around how we regard our elders, are canvassed. The extreme youth orientation of society today does not always appreciate the value of a fifty year practice.
You are here
»
Artlink
»
Vol 26 no 4, 2006
»
Ernest Orel: Master of the Press
Ernest Orel: Master of the Press
Irene Previn, feature
The relationship of the artworld with the world of mass production printing has always been a very important one. Graphic designers and their clients have been blessed in Adelaide by the presence here of Ernest Orel whose commitment to quality, attention to detail and willingness to experiment has helped and inspired many people and set a very high benchmark for the whole of Australia. Here Irene Previn looks at the prominent career of Ernest Orel now aged 74 and the outstanding achievements of his printing company Finsbury in the production of environmentally friendly products and processes.
---
Subscribe to the Artlink newsletter now