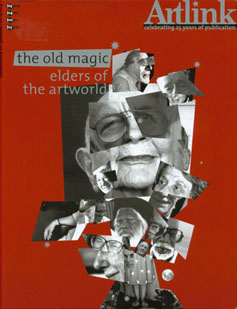 Elders: The Old Magic
Vol 26 no 4, 2006
A group of art practitioners, artists, curators and writers, in their seventh and eighth decades are the subject of our focus. Still actively working, they are charismatic elders whose influence on several generations of young artists has been a crucial part of the development of contemporary practice. The issue of creativity and how it sometimes becomes enhanced in old age, and questions around how we regard our elders, are canvassed. The extreme youth orientation of society today does not always appreciate the value of a fifty year practice.
You are here
»
Artlink
»
Vol 26 no 4, 2006
»
Ray Crooke: The Stillness and the Colour
Ray Crooke: The Stillness and the Colour
Dr Anneke Silver, feature
Though born and educated in Melbourne, Ray Crooke spent most of his career in the tropics away from the metropolis, risking anonymity, at a time when equity funding and regional issues were unheard of. Despite these odds he is recognised as one of Australia's visionary artists, his tropical and outback paintings suffused with a contemplative stillness. What are some of the pivotal points that shaped his independent career? What is he involved in at present? These were some of the questions put to him in Cairns where he and his wife June, now in their early eighties, live. Some of Crooke's artistic influences and contemporaries here discussed are Arthur Boyd, Charles Blackman, Russell Drysdale and Sidney Nolan.
---
Subscribe to the Artlink newsletter now