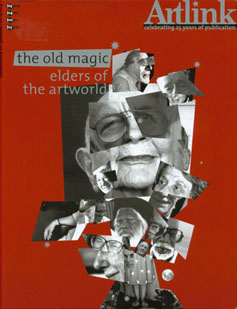 Elders: The Old Magic
Vol 26 no 4, 2006
A group of art practitioners, artists, curators and writers, in their seventh and eighth decades are the subject of our focus. Still actively working, they are charismatic elders whose influence on several generations of young artists has been a crucial part of the development of contemporary practice. The issue of creativity and how it sometimes becomes enhanced in old age, and questions around how we regard our elders, are canvassed. The extreme youth orientation of society today does not always appreciate the value of a fifty year practice.
You are here
»
Artlink
»
Vol 26 no 4, 2006
»
Joan Brassil: Force and Tension
Joan Brassil: Force and Tension
Anneke Sanders, feature
Joan Brassil was a rare spirit, a charismatic and immensely generous artist. She died at age 86 on 19 April 2005. Anne Sanders interviewed Brassil in July and August 2004 questioning her about her remarkable practice, her collaborations with scientists and her views on the cosmos. How did she conceive of the nature of art and what makes a person become an artist? Key figures here discussed include Malevich, Darwin, John Pollack and Brian Robinson.
---
Subscribe to the Artlink newsletter now