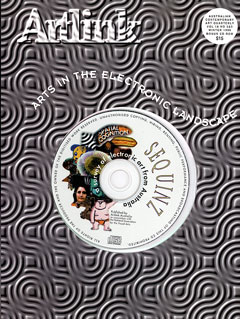 Art in the Electronic Landscape
Vol 16 no 2&3, 1996
Double issue issued with Artlink's CD Rom Sequinz - a survey of electronic art in Australia (Mac users only). The issue examines multimedia and education, frontiers and challenges, the future and audience interaction. Cutting edge issue, opening up many of the ongoing debates about the impact of the digital world on traditional artistic modes of expression.
You are here
»
Artlink
»
Vol 16 no 2&3, 1996
»
Fax me your head (in 3D)
Fax me your head (in 3D)
Author & Artist: Ms Dorothy Erickson
Collaborative article by Dorothy Erickson, Jill Smith, Stephanie Britton and Phil Dench. The process of scanning in 2D images of manipulating and combining them in electronic paintboxes and of printing the results is familiar to many artists. Techniques are now being developed that will allow us to do the same thing with three dimensional objects.
---
Subscribe to the Artlink newsletter now