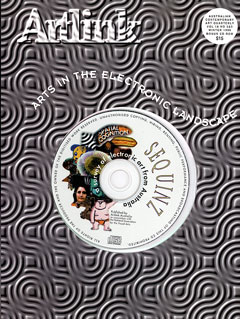 Art in the Electronic Landscape
Vol 16 no 2&3, 1996
Double issue issued with Artlink's CD Rom Sequinz - a survey of electronic art in Australia (Mac users only). The issue examines multimedia and education, frontiers and challenges, the future and audience interaction. Cutting edge issue, opening up many of the ongoing debates about the impact of the digital world on traditional artistic modes of expression.
You are here
»
Artlink
»
Vol 16 no 2&3, 1996
»
The Artists Interface 1/0
The Artists Interface 1/0
Author: Mr Mike Leggett
The interface paradigm is at the core of current work by artists in the area of interactive multimedia. All the works in the exhibition Burning the Interface at the Museum of Contemporary Art, Sydney, approach the issues of interface design and interaction with the audience or user or interactor in different ways.
---
Subscribe to the Artlink newsletter now