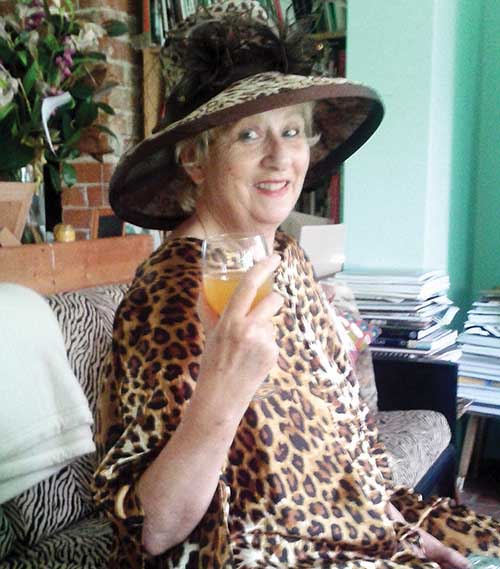 Pamela Zeplin (19 January 1949 – 9 August 2013)
Pamela Zeplin was a much loved and highly regarded academic at the School of Art, Architecture & Design, University of South Australia.
After undertaking studies at Monash University Pam moved to Adelaide in 1981 to take up a position at the South Australian School of Art, at Underdale. Working in the Department of Art History and Theory for 32 years, she influenced generations of South Australian artists, writers and curators. Pam considered teaching and post-graduate supervision an essential part of her art practice. Unconventional and delivered with wit, her lectures were legendary. Pam was a widely published researcher and taught courses that drew on her expertise including Asia-Pacific Art, Australian Art, Craft and Design, Research Methodologies, Arts Writing, and Performance.
A ''lapsed'' pilot, Pam's research interests were aligned to her passion for flying. She travelled extensively across the Pacific and Asia as well as Europe, South America and South Africa, and frequently presented at international conferences. Her research and teaching were recognised and valued by her peers. She undertook residencies with the Australian Flying Arts School, Queensland in 1989; was a visiting research scholar at Otago School of Art, New Zealand in 1995, and at the Centre for Cross-Cultural Research, ANU, in 1999 and 2000. Her PhD titled ''Re-orienting Australia: Art & the Asia-Pacific 1970 – 1987'', undertaken at COFA, was conferred by the University of New South Wales in 2005; and she was awarded an ACUADS Distinguished Research Award and an Australian Award for University Teaching: Citation for Outstanding Contribution to Student Learning in 2008.
Pam held many leadership roles within the university and in the arts sector, most recently that of Portfolio Leader: Research Education in Art, Architecture and Design (2010 – 2012). As a leader Pam was inspirational. She led by example, railed against injustice and was a great advocate for students. She supervised numerous PhD and MA research students in theory and studio programs, always encouraging them to take risks, collaborate, and push themselves beyond their comfort zones.

Pam was a life-long member of the Art Army – holding the rank of Wing Commander and maintained a subversive and often clandestine art practice that challenged the status-quo around issues of surveillance, sexuality, security and oppression. In response to the prosecution of Lindy Chamberlain in the early eighties, Pam chartered a light plane to fly over Uluru and documented a performance that involved her throwing dozens of matinee jackets cut with pinking shears into the air (according to Pam the pilot refused to open the window). As a tribute to her late father who had been employed for decades as a public servant, she exhibited a roll of toilet paper neatly wrapped in old newspaper – one of a collection of hundreds he had pinched from his department and neatly stacked in his shed – not from need but as a mute act of rebellion. Over decades Pam amassed her own vast collections: one of bathroom snapshots taken secretly in homes and hotels, and another, a collection of all manner of things covered with leopard skin print, from knickers to travel luggage.
One of her on-going art projects involved documenting restricted zones of international airports, such as border control and quarantine areas. As a result she was interrogated a number of times by airport security officers, but somehow, always managed to talk her way out of sticky situations. Her exuberant humour dissolved boundaries and enabled her to collaborate in the most unexpected ways such as a choreographed performance that Pam devised with security guards who agreed to wear accessories such as pink hearts, fluffy hand-cuffs and plastic guns and march manoeuvres in goose step on campus during Artists Week at the 2009 Adelaide Festival.
Pam was audacious, warm, brilliant, generous and courageous. She had a terrific sense of humour and a marvellous sense of the ridiculous. She will be greatly missed.
Mary Knights is Director, SASA Gallery, Art, Architecture & Design, University of South Australia.