New Zealand-based Sara Hughes considers colour has been degraded throughout Western history. She uses coloured vinyl applied to architecture to "articulate social meaning".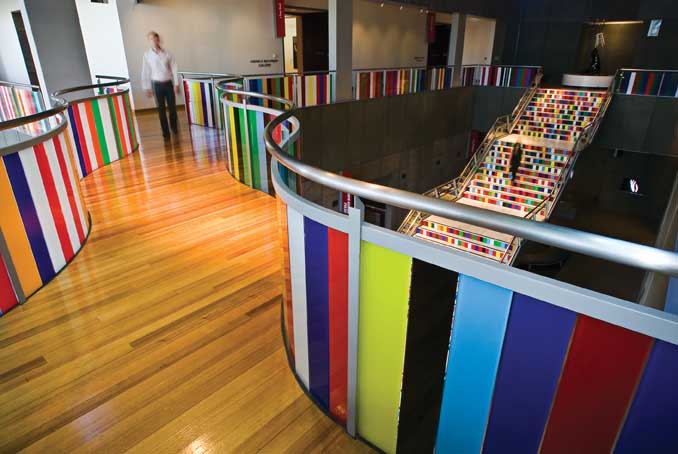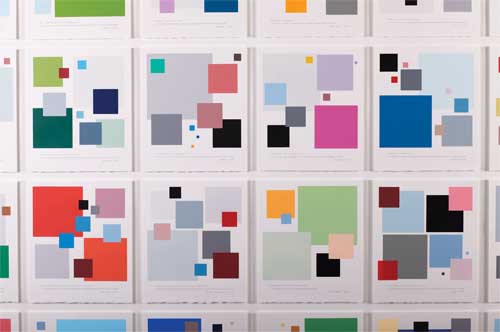 The complexity of colour and the relationships between colour in art and colour in everyday life are ongoing concerns for Sara Hughes. She has written prolifically about why she is so interested in it, and has agreed to share her reflections on recent bodies of work for this issue of Artlink.
Colour codes and big banks
Contemporary knowledge of colour has become very screen focused. My exhibition Colour codes (2010) focused on ways colour is used on the internet and specifically investigated how financial institutions create an interface of image and information via colour on their websites. Investigating the language of diagrams and data graphics in relation to economic and social data has led to an examination of the way financial institutions present themselves and the colour codes they use.
I identified the largest commercial bank (by assets) in every country and took the ten predominant colours of each of these websites to create a palette of 1,950 paint colours. I mixed each colour so that its pigmentation matches its hexadecimal value as closely as possible. Each online colour exists as a six-digit code created from a combination of letters and numbers that refer to the red, green and blue components of the colour. These codes are interpreted by HTML allowing for more than sixteen million colours to be created for online visualisation. This method of colour matching has highlighted to me the contrast between the additive process of mixing light and the subtractive process of mixing paint and emphasised the differences of seeing colour on screen or in a painting.
I approach the paintings as schemas for thinking - they can be seen as gauges influenced by art, design, taste, advertising, politics and power. The work oscillates between visual image and visual information and is driven by my desire to articulate social meaning by utilizing aspects of perception and semiology.

United We Fall, unpicking the flag
In 2008 I had returned to New Zealand after spending a year in America where I was influenced by the US political climate and the issues surrounding the hotly contested Primary Elections and the pending economic crisis. Responding to the ways colour and power are intertwined, United We Fall (2008) at the Christchurch Art Gallery makes use of statistical data that I gathered, by breaking down the proportions of all the world flags into colour groups; red, white, blue, green, yellow, black etc. From this data I generated a random number computer read-out that provided the placement for each colour. I didn't want to dictate the placement. If I had made the decisions I would never have allowed green, white and orange to appear together. This representation of the Irish flag would have felt too mannered in relation to the concept of the installation, yet this combination appears twice in a row in a particular section of the installation, which is rather surprising considering the very small percentage of orange in the whole work.
Then I cut each piece of coloured vinyl and applied it to the stairs and first floor glass railing. The work was installed during the Beijing Olympic Games, which was also an important context for the work in relation to colour. Here my methodology was clinical, yet also highly emotive both in its essence and in its saturation. I wanted the work to tackle the austere cavernous lobby of the art museum and create cascades of colour that questioned both the local and global space it occupies.
I am also interested in how colour can operate in space – my pigmentation may be on or within the architecture yet it has its own independent presence and effect, it's not just bound to the walls or floors. In a work like Flower House (2007) at Te Manawathe a large PVC curtain that filled the entrance to the space acts as a perceptual intervention as the flower wall is first viewed through transparent red, yellow and blue. These primary colours are designed to have certain functionality – yellow is used in areas to repel insects – as colour is not just a surface but something that can be looked through and entered into.
The Golden Grain, wheat under the feet
An invitation from the Govett Brewster Art Gallery to create a new work for their café as part of the exhibition Steeling the Senses was both an exciting and daunting prospect. I was particularly interested in the site of the café as a container for the senses. In The Golden Grain (2011) the painted floor and artificial grass floor outside forms a large pie chart beneath your feet. Paintings are in the form of pie charts, coloured bar graphs are seen on the glass door and windows of the courtyard, and umbrellas are stitched as large pie charts. You sit on embroidered pillows with the names of the four largest agricultural corporations that control the international seed market. You eat from a plate I have designed that rotates throughout the work from the kitchen to your table depicting the 'largest wheat growing countries'. You read my menu/index as both a listing of food and a listing of the information that informs the work. A site visit to New Plymouth and a trip to Egypt made me think a lot about food, its production, its consumption, its economics and the political aspects of subsidies, tariffs and embargos that affect it. It is my aim that the work oscillates between the artwork becoming the information and the information becoming the artwork.
I remember reading David Batchelor's Chromophobia in 2001 soon after it was published – it became my little black book for a while (except it has a bright pink cover!) – and it really resonated with my thinking. Colour has been 'degraded' throughout Western history as being feminine, decorative, frivolous, unstable, irrational ... rather like attributes given to women in the nineteenth century, which is when many of these ideas on colour were finding strong ground. While I don't view those descriptors as negative in themselves, they impose a very limited view on what colour is. I approach black, white and grey as colours and several installations use only these hues.
A fear of colour is still persistent in the visual arts (though of course there are many interesting artists who use colour); I guess it's hard to shake that engrained notion of colour as having a secondary value whose only use is to supplement form and line. Yet like women, colour can also be powerful and grounded – I like these contrasting views. Where would we be without the irrational in art?
Colour codes, at Gow Langsford Gallery, 2010
http://www.gowlangsfordgallery.co.nz/exhibitions/pastexhibitions/2010/sarahughes.asp
United We Fall temporary installation at Christchurch Art Gallery Te Puna o Waiwhetu, 2008.
Flower House was installed at Te Manawa museum, Palmerston North, 2007.
Sara Hughes is represented by Gow Langsford in Auckland and Sutton Gallery in Melbourne and lives in New Zealand.
Some excerpts in this text are taken from an interview between the artist and curator Charlotte Huddleston for an interview that appeared in Art New Zealand, Spring edition 2010.