Katherine Moline Yuill / Crowley, Sydney 10 July 2 August 2008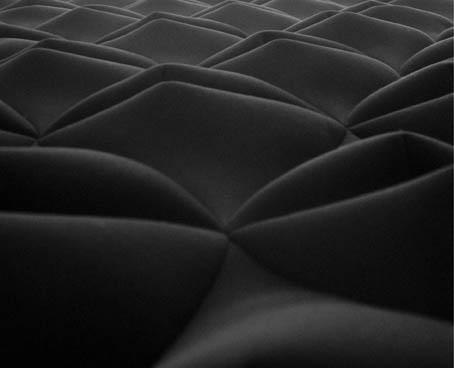 Neoprene is a versatile synthetic rubber designed to act flexibly, durably, and to resist breakdown. Commonly employed for industrial applications including building insulation, neoprene, being form-fitting and resilient, is also widely used to make wetsuits, fly fishing waders, mouse pads and iPod covers. Not usually associated with art, neoprene has expanded beyond its conventional functions in Katherine Moline's solo exhibition; six, black angular sculptural forms of sharp edges and smooth, shiny surfaces bridge the nexus between fine art and design.
Moline, a contemporary artist, graphic designer and design lecturer, is best known for her exploration into high Modernism and Minimalism through monochrome and geometric abstract paintings as well as sculptures reminiscent of Lygia Clark's 1950s Neo-Constructivist forms. However, Moline's new work moves forward into interrogating the realm of post-Minimalism. Here, we see the blending of sculptural models of the geometric with expressive, organic sensibilities, creating anthropomorphic-like objects.
In Moline's quest for the perfect abstract condition of an everyday material, she has hand-stapled hundreds of triangular-shaped neoprene pieces into springy forms resembling convex and concave bra cups, which are then joined together side by side, or overlapped on top of each other resulting in large, curvaceous, blanket-like relief sculptures. This redesign or new approach to an industrial object becomes an icon now contemplated in a different manner. The motif of triangular diamond-shaped mountains or valleys evokes experiences of fragmentation and continuation; seriality is mingled with a disruption of perception.
Moline's aesthetic trajectory brings to mind the organic and bodily sculptures of Eva Hesse, the floating felt forms of Robert Morris, German architecture of the 1910s, the shaped canvases of Frank Stella, the all-black paintings of Ad Reinhardt and the clean Japanese design of Rei Kawakubo. Despite these historical references and being located within a long lineage, Moline's practice is by no means derivative, but entirely refreshing. It is her skilled design-based background that brings new meaning to this dialogue through her use of neoprene and exploration of its materiality. In 2008, Moline reinterprets the paradigms of Minimalism, serial production, repetition, reduction of subjectivity, and the use of industrial methods and materials of production, with an expressive, organic language based on the material, which now takes on phantasmic and anthropomorphic qualities, thus eliciting a strong psychological and phenomenological response from the viewer.
Existing in a space between outsourced production and handcrafted, labour-intensive processes, Moline's practice conflates the vocabulary of industrial mass production and the unique, humanised object. Furthermore, her work is invested in exploring the concept of uselessness in art, and here, neoprene is made functionless on one level -– you could not comfortably wear the bra-shaped cups -– however, you can experience these fully realised forms as art.
The smooth surfaced, pointy-edged forms appear to float weightless on the walls, hung seamlessly, some with framing supports in the shape of the Seagram Building, others without. The standout piece in the exhibition was Cascade Room (Pattern of Sensation) 2008. Here a 3 by 3 metre square-shaped 'blanket' of bra-cups has been elegantly draped over the end of a three quarter high gallery wall that protrudes into the space. The black blanket hangs; undulating forms flow upwards and downwards as the eye travels back and forth over the piece, searching for a resting point. It is sensual post-Minimalism; voluminous, repetitive, corporeal, tactile and full of detail. Humour and whimsy are also at play, in works such as How Art Made the World 2008 and Fashion v. Style (Losing the Ability to Say No) 2008 – Moline's comments on art, life and culture in quirky shapes akin to a duck, a manta ray with chicken legs, a seahorse and a centipede which emerge from the gallery walls and entice, begging the viewer to touch, tickle and play. This is elegant and whimsical fetishism at its best.
These bulbous, beautiful yet tough, forms are minimally installed in the gallery, appearing to have been perfectly conceived of in terms of the space. The sculptures appear to twist, turn, push and pull against the surrounding space, creating foreshortening visual effects; the illusion of their spatial depth and form is challenged. The industrial gallery is transformed into a realm of Zen-like formalist meditation and cool aestheticism. Surprisingly, Moline's dynamic use of this seemingly banal material makes the viewer stop, engage and reflect; the body of work is sophisticated, fresh and arguably one of the most stunning exhibitions in Sydney this year.