Anthony Kelly, Pilar Mata Dupont & Tarryn Gill, Bennett Miller, Tom Muller, Anna Nazzari, Mark Parfitt, Ric Spencer, Brendan van Hek (WA) Curator: Consuelo Cavaniglia PICA 1 - 25th November 2007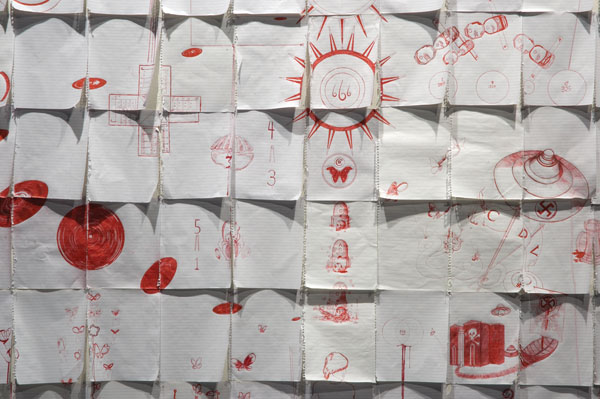 It's a rare breed of artist that is capable of sustaining their practice while undertaking curatorial projects. Consuelo Cavaniglia is one such artist who succeeds in striking a balance between these competing interests.
Cavaniglia's artwork focuses on relationships between form and function, often utilising domestic and architectural space to interrogate emotional and social structures. She draws material from a range of historical and literary sources, particularly the writings of Machiavelli, Calvino and Borges. Machiavelli informs an interest in power, structure and strategy, Cavaniglia's works are game pieces which enable her to explore larger systems. Calvino and Borges manipulate narrative conventions to create expectations in their readers, only to subvert them again and again. Similarly, while Cavaniglia's work speaks in materials of the everyday, she proposes unfamiliar ways of apprehending the matter of our daily lives.
This group exhibition is the latest of Cavaniglia's curatorial investigations, and considers efficiency as a tactic to deal with conflict. In a game of strategy, as in a military manoeuvre, the player aims to disarm their opponent through a minimal sequence of movements. Thus an economical approach to problem solving entails the smallest effort required to return the greatest possible outcome. True to Cavaniglia's characteristic game strategies of rule making and task allocation, Economy imposes a simple restriction upon the nine artists. They must construct a work that can fit into a 60 x 60 cm packing crate, a symbol of utility, thrift and movement. As may be expected, the artists resist Cavaniglia's dogmatic restrictions through the traditional tactics of the downtrodden: evasion, subterfuge and parody. Although effective, these strategies are anything but economical, as in fables, we see that it is the diminutive trickster who triumphs over brute force through a sequence of zigzags and deceptions.
The crate is utilised in a variety of ways: in Carlisle Buffalo project, Mark Parfitt has transformed the crate into a small garden station. The leather handled inserts in which unhealthy-looking samples of lawn grow, reference outmoded DIY manuals and practices of self-sufficiency. Brendan van Hek has broken down the crate to reveal a pink neon centre, referring to the covert but ever-resilient underbelly of polite society. Pilar Mata Dupont and Tarryn Gill have abandoned the crate altogether in their video work Heart of Gold Project 4, a fable of hunter and hunted performed in dance, alluding to Communist ballets.
Overplan 6103 is the latest in Anthony Kelly's series of covert tactics by the intelligence unit Central Bureau. The ambiguous organisation is a mixture of Cold War conspiracy and Masonic mysticism. Kelly furnishes this fictional universe with the Bureau's machinery: surveillance apparatus, obsessive notes, meetings behind closed doors, 'Public Oracles' and even an ancient Doomsday Device. It is as if enemies of the Bureau have cracked open the crate, leaking a flurry of handwritten notes and painstaking diagrams. The compulsive repetition of bees, hives and skulls rendered in red biro on blue lined paper appears to be an impenetrable code - however it reeks of a double bluff. By extending his work beyond the confines of the crate, Kelly resists the boundaries imposed upon him.
Anna Nazzari's untitled foos ball table investigates economy as a struggle for dominance between opposing forces. Economically constructed to fold in on itself and fit inside the crate, the table speaks in the luxurious language of the Victorian gentlemen's club. Sporting hand-turned handles, a parquetry floor, netted goals and drawers on either end, it refers to a highly ornamental aesthetic of male leisure. However, the conventional foos ball men have been replaced by identical articulated scoops which resemble tractor parts. Any player's attempt to score a point against their opponent is thwarted, the ball is thrown in unpredictable directions, making it far more likely for the player to score a point for the enemy side. The work proposes the absurdity of any quest for power. Through its materials and mechanisms it references the twin values of nineteenth century modernism - industrialisation and craft. The combination of opposing traditions, both utopian in purpose, cancels the legitimacy of either. Nazzari's response to Cavaniglia's challenge is fatalistic (the outcome is always mutual defeat) but diffuses the conflict once and for all.
Thea Constantino