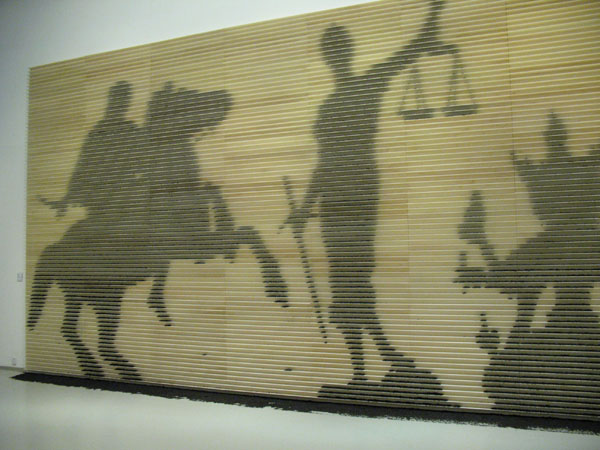 Art Intrusions Shanghai
366 cultural events, one for every day of 2008, are happening somewhere in the city of Shanghai thanks to 'Intrude: Art & Life 366', an ambitious interdisciplinary cultural project organised by the Shanghai Zendai Museum of Modern Art. It aims to intervene in the daily lives of the people of Shanghai with perspectives on art and culture to which they would otherwise not be exposed and in making the mundane spectacular give them some very unusual and rich cultural experiences. The first project was 'Lantern from Heaven', a media work by artist Gu Wenda. With the goals of one cultural headline a day, this is an enormously ambitious project master-minded by the Director of the Shanghai Zendai MoMA Shen Qibin. After attending a large number of biennales and museums around the world his thoughts turned to the grand look, feel and placement of the exhibits and how many people are excluded from enjoying them. In a very unusual move for an art museum, he decided to instigate this massive project, with all its implications, including a series of rolling calls for proposals from China and abroad, (100 Chinese and 266 international artists will participate), publishing a monthly bulletin on completed projects, planning for web archives and touring projects in other countries, and of course, putting on more staff.
The Zendai Museum of Modern Art is in the Pudong New Area, set amongst boulevards, parks, formal gardens, squares, modern residential and business tower blocks, shopping centres, a museum of science and technology as well as a massive opera house and theatre complex. Pudong is connected by fast underground trains with the north side of the Huangpu River, where some of the old Shanghai still survives.
Financing the museum is the gently-spoken Mr Dai, philanthropist and Chairman of the Zendai Group, reportedly the fifth largest corporation in China, whose business includes resources, energy and property development. He spoke informally and at length at the 'Intrude' Press conference in December 2007 about his personal enthusiasm for contemporary art and ways in which art can alter one's philosophy of life. A few blocks from the current Museum the Zendai Group's next-generation super-art-museum is under construction. This will be the centerpiece of the new integrated Himalaya Centre melded with a 5-star hotel, artists' studios, offices for creative industries and shopping. The old Zendai Museum will remain as the art archive centre. On show there in December was 'Soft Power', a version of the 'Asian Attitude' half of the 2007 Biennial in Poznan, Poland. This collection of work from various Asian countries denoting the idea that subtle messages can pack a punch, included large installations, video works, sculpture and photography. 'Shadow of Statues', a wall piece by Changwon Lee was a fragrant image created from tea leaves on shallow wooden shelves. For more information www.intrude366.org.
My honoured friend
There are various theories about why it is almost impossible to get more than a couple of practising artists, however brilliant, distinguished and inspirational, nominated for Australian Honours each year. The process of nomination is long-winded and requires groups of people to get together to agree on whom to nominate and then to prepare the paperwork, which is cloaked in great secrecy. Artists, by the nature of their work, tend not to be part of effective networks of communicators and most would never think of nominating a fellow artist, mainly because they have no idea how to go about it. Getting artists into the Honours system is not the only way society comes to recognise the value of the arts but it can be effective. And it's free. Visual arts people receiving orders of Australia on Australia Day 2008 included Dick Bett AM gallerist, Dr Anne Galbally AM art historian, William Kelly OAM artist, Jennifer Lamb OAM curator Goulburn Regional Gallery, Jackie Menzies OAM curator Asian art Art Gallery of NSW, Geoff Parr AM artist and leader, Libby Raupach OAM arts education, Peter Travis AM artist, Deidre Williams OAM arts administrator, all outstanding achievers but only three are artists.
The Oz art wikipedia
The much-anticipated Dictionary of Australian Artists Online was recently launched in Sydney. www.daao.org.au is an entirely free service to any internet user, and has the interactive attributes of Wikipedia in that it is open to contributors creating or expanding on entries, except that DAAO entries are vetted and checked by art historians before going live. Still in early stages, the main content of the DAAO to date comprises the major works of the late Joan Kerr – the 'Dictionary of Australian Artists to 1870', and 'Heritage', a dictionary of 500 Australian women artists. Which explains why when you put in 'Sidney Nolan' you don't get a result – yet. The emphasis is on building a comprehensive history of art which recognises the fact that artists can be important without being famous.
Politics
"Now you see it now you don't. $20m of new funding for international arts projects hard-won for the cultural arm of the Dept of Foreign Affairs by the Australian International Cultural Council, was whipped away just before the November 07 federal election to help fund $31bn of promised tax cuts. After an eternity of enforced penny pinching there had been great rejoicing at the prospect of realising some of the excellent projects waiting to be mounted overseas by a huge range of entrepreneurs and institutions, so its loss is doubly cruel. The first round of grants, including an Australian focus in Indonesia in 2008, will be the last, unless the fund is reinstated. Future 'year of Australia' programs planned for China, Korea and the USA have been shelved. Indonesia will thus enjoy some big events from Australia this year across various art forms, including a showing of 'Streetworks', 'Inside Outside Yokohama', the video work of Sean Gladwell and Craig Walsh, originally curated for the Yokohama Triennial for Asialink by David Broker.
" With the election of a Labor government in November 07, the field is looking forward to action on their various election promises such as passing legislation for Resale Royalties. With a succession of price records broken each quarter for Australian art on the secondary market, including Indigenous art, the share going back to the artist (was 4% mentioned?) will be a trifle off the huge profits being made by the auction houses. Perhaps the appointment of Lesley Alway (ex-Artbank) to Sothebys flags a new culture of caring in this sector.
" There is also a good chance that 'visuacy' will become a new core part of Labor's promised 'Education Revolution' with the delivery of a government funded Visual Education Review by the end of 2008. And those dumb Sedition Laws – will someone up there please drag Australia back from the loony fringe by removing them.
Homeless and artists
Members of the online community for artists, Artforums.co.uk, have started to organise amongst themselves the creation of a collective huge work of art to represent the problems of homelessness. It is planned that this work, entitled 'The Homeless State', be housed in a large venue such as the turbine hall at the Tate Modern in London. Artforums.co.uk has members around the world who will all be able to contribute to the project. Volunteers from any country are welcome and can get involved via the special project sub-forum at Artforums.co.uk. Bruce Everiss (owner) says: 'This project comes out of the fantastic community spirit that the artists here have. I am sure that we can create a unique art event that will capture the public's imagination.'
Art Addiction
Art Compass 2008 is a collaboration between the Sydney, Gwangju, Shanghai and Singapore Biennales and the Yokohama Triennale. Starting with the closing weeks of Sydney in early September, these five exhibitions will work together for the first time to offer a staged week-plus art crawl across the Asia-Pacific region comparable to the Venice/Documenta/Munster pilgrimage in 2007, where art lovers and tourists alike can binge on contemporary art and if they have the stamina and a tolerance of airports, enjoy an exceptional view of world art and issues.
Calendar 08
" NAVA and Arts Law are staging a forum on the interesting topic 'Disarming the Gatekeepers: Revolution or Backwards Step' with speakers James Dodd, Michael Keighery, Daniel Boyd, Jon Altman, Julie Copeland and John Martin of the ACCC. Part of this year's Artists' Week program at the Adelaide Bank Festival of Arts. 6 March, Elder Hall, 10.00am - 1.30pm.
" 'Contempora', the City of Melbourne's public art festival at Docklands, 6 March – 30 April, covers the waterfront with 30+ spectacular commissioned new sculptures, big screen works, events, forums, fireworks and a $5000 prize.
" Melbourne Art Fair 2008 opens on 30 July at the Royal Exhibition Building in Fitzroy.
" 'FEHVA', lively visual arts talkfest, workshops and art auction held in the Arts & Industry Hall in Bangalow, in the Byron Bay hinterland, will run May 24 – 1 June 2008. www.fehva.com.au
" The 6th biennial Regional Arts Australia national conference art at the heart will be held in Alice Springs 3 - 5 October 2008.
" '10th Festival of Pacific Arts' will be in American Samoa 20 July – 2 August 2008. http://www.festival-pacific-arts.org/
Funds for action
Members of the Yirrkala community in NE Arnhem Land have approached the Aboriginal Benefits Foundation for funding for a healing centre for family breakdown, youth addictions, women's stress and to assist general well-being. In February NG Gallery (www.ngart.com.au) in Sydney, assisted by Coo-ee Aboriginal Art, Dacou Gallery, Galleries Australis and Lauraine Diggins Fine Art, and encouraged by guest speaker Jennifer Isaacs, got behind the Foundation in its quest to raise $1,000,000 for the centre with an exhibition of Aboriginal art, 'Utopia Revisited'. Mission Restaurant Bar hosted two fundraising dinners with speakers Djon Mundine, Curator at Campbelltown, and Adrian Newstead, Director Coo-ee Aboriginal Art Gallery and a trustee of the Foundation. The latter can be contacted by anyone interested in contributing to the fund. www.arttrade.com.au/Foundation.pdf.
" The Carpenter Government of WA will inject $73 million of new funding into the arts over the next four years. The visual arts get: a $10 million Special Acquisition Fund for purchasing contemporary art for the Art Gallery of WA, and if matching funds are achieved from the corporate or private sector, a further $5million will be added; $1.1 million over four years to create the richest Indigenous art award in Australia; $1.5 million over four years for a prestigious international competition to build two major sculptural works to enrich the Perth cityscape; $350,000 over four years for a Philanthropy Incentive Fund to encourage individuals, trusts, organisations or foundations to donate to the arts.
" Queensland has re-committed to public art with art+place, a $12m over three years program replacing Art Built-In, the exemplary 2% for art policy which put Queensland on the map as the public art state. A government review last year recommended that a more flexible set of criteria for financing art should replace the old fixed percentage of the cost of state government buildings. The funds will now be available to Queensland Government departments and agencies, local government, not-for-profit arts organisations and, significantly, private developers. The know-how and confidence built up amongst artists, agencies, managers as well as the bureaucracy through many years of Art Built-In and the rigours of trial and error, means that commissions can be both better conceived and more daring.
UK/Heide exchange
Heide Museum of Modern Art has entered into an artist exchange with Stour Valley Arts and Kings Wood Forest. UK-based Mexican artist, Fernando Palma Rodriguez brings elements of pre-Columbian art and industrial engineering to his predominantly sculptural practice during a two months residency at Heide from late February 2008. A Victorian artist yet to be announced will do an exchange residency in Kings Wood Forest in 2008.
Bikes and art
Thrilling diverse audiences in 15 international locations for the past seven years, the 'Bicycle Film Festival' rolled into Melbourne 5 - 9 December 2007. A gridlock-free program of art, music, films and parties, the BFF encouraged young and old to get off their seats and onto their bikes, exploring the city and its offerings in unique and exciting ways. The bicycle's social, environmental and political salience has never been so high on the cultural agenda. More bicycles than cars are sold in Australia each year, and experts insist a 'quantum leap' in attitudes to cycling is integral to Melbourne's future as a sustainable and liveable city. The program included the 'Spoke Art Exhibition' at the Meat Market Art Centre exploring the relationship of man and machine with an emphasis upon the energy, magic and freedom that this bond can create. What about commissioning some public art around bicycles as a way to get people thinking about getting out and about on a bike?
Real Estate
" Abu Dhabi will soon have not only its own Guggenheim but its own Louvre. For a detailed look at the astonishing developments in museum building in the United Arab Emirates see http://universes-in-universe.org/eng/islamic_world/articles/2007/abu_dhabi_culture_boom.
" After two years closed the Casula Powerhouse near Sydney reopens on 5 April with the addition of a theatre, climate control, studios and masses of new space for collections.
" Artsource has launched a new space for international and other artists in residence – the Henderson Street Cottage near Fremantle markets with work/residential space suitable for a family.
" The Art Vault is a new privately owned art gallery, with 10 studio spaces and two artist in residence apartments and a printmaking workshop in the Mildura region. www.theartvault.com.au
" Gallery Barry Keldoulis has moved to new Young Street premises (between McEvoy and Powell Streets) in Waterloo.
" Michael Nagy Fine Art (Woolhara) has closed after two decades selling contemporary art.
" The first LUMAS Editions Gallery to open in Australia is at 362 Little Collins St, Melbourne, offering art photographic works in editions of 75 – 150 making them more affordable. LUMAS was founded in 2004 in Berlin. www.lumas.com.au.
Private museum boom in Tasmania
" The Museum of Old and New Art at Moorilla Estate near Hobart is under construction and due to launch in late 2009. For some years David Walsh, a reclusive art-lover/philanthropist with massive resources has been warehousing an extraordinary collection from around the world with an emphasis on Australia. (In a spirit of sharing, he has already provided the funds for the Tasmanian Museum and Art Gallery to buy a unique collection of colonial-era huon pine furniture from private collector George Burrows.) The building, budgeted at $55m and likely to exceed this, is by Melbourne architects Fender Katsalidis. Neck and neck with this is another grand private art museum project for Hobart, construction for which starts soon. Owned by wealthy new media collector and patron Penny Clive, the museum will focus exclusively on new media art. Tasmanians can't believe their luck and the government is rubbing its hands in glee.
People
" Russell Storer, previously at Sydney's MCA, is new Curator of Contemporary Asian art at the Queensland Art Gallery.
" Maurice O'Riordan is the new editor of 'Art Monthly Australia'.
" Craig Judd has left TMAG in Hobart where he was chief curator and taken up the position of CEO-Director of Wollongong City Gallery.
" Lesley Alway has left her position as Director of Heide Museum of Modern Art to become the Head of Sothebys Australia.
" Charles Merewether is Deputy Director, Tourist Development & Investment, Abu Dhabi. He was previously consultant to the Emirates Foundation in the UAE and Artistic Director of the 2006 Sydney Biennale.
" Dawn Casey has been appointed Director of the Powerhouse Museum of Applied Arts and Sciences.
" Paul Grabowsky, composer, pianist and founder of the Australian Art Orchestra is the Director of the 2010 Adelaide Festival.
" Brett Sheehy is the Artistic Director for the 2009 and 2010 Melbourne Festivals.
Awards
" James Guppy won the inaugural $20,000 acquisitive Stan and Maureen Duke Gold Coast Art Prize for 2007 with 'Smoke Signals'.
" Janet Fieldhouse won the inaugural $15,000 Indigenous Ceramic Art Award.
" The National Portrait Gallery's inaugural $25,000 National Photographic Portrait Prize sponsored by VISA International has gone to Robert Scott-Mitchell for 'Lindy Lee - Birth and Death'. See the exhibition of seventy-five portraits until 23 March 2008.
" Samstag Scholarship winners for the upcoming year are Tracy Cornish, Hayden Fowler, Giles Ryder, Simon Terrill, and Joshua Webb.
" Robyn Stewart won the 2007 Epson SA Professional Photographer of the Year Award for the fifth time.
" WA artists Poets of the Machine (aka Koral and Stripe) have won the Artsource 2008 Basel Residency.

Upcoming biennales
" 5 April -(15 June 5th Berlin Biennale, Curators: Adam Szymczyk, Elena Filipovic
" 5 April -(1 June 1st Asia Triennial Manchester UK.
" 9 May -(9 June Dak'Art 2008(Dakar, Senegal General Secretary: Yacouba Konaté.
" 23 May -(21 June 3rd Bucharest Biennale(Romania Curators: Jan-Erick Lundström, Johan Sjöström.
" 3 May 2008 -(11 January 2009 55th Carnegie International(Pittsburgh, USA Curators: Douglas Fogle, Heather Pesanti.
" 22 - 31 May 13th Biennial of Young Artists from Europe and the Mediterranean,(Puglia, Italy.
Deaths
" John Stringer celebrated curator of the Kerry Stokes collection, died in Perth in November 2007 aged just 70. Universally revered for his generosity, kindness, huge talent, vision and striped stovepipes, he raised the consciousness of West Australian artists by collecting their work, as well as curating major exhibitions which were beacons to generations of artists and others. See Daniel Thomas' tribute 'Curator helped us get over the cringe' at http://johnstringer.com.au/?p=21
" Fred Forbes, Aboriginal artist and oldest surviving Ngaanyatjarra man, died on the Ngaanyatjarra Lands in the Western Desert in December 2007 aged 84. One of the Papulankutja Art Centre's most significant artists, Forbes was also a cultural leader for both the community and the emerging generation of Aboriginal artists. Art Centre Manager Ms Dianna Isgar said: 'He was a gentle and great man and artist, yet most of the world never had the privilege of his company& Often singing while he painted, his loose gestures overlaid a strong sense of design which recalls the spaces and tracks and richness of his home country'.
" The collector William Bowmore, one of the greatest benefactors, died in January aged 98. His gifts helped establish the only gallery of Islamic art in an Australian state gallery as well as a collection of Rodin bronzes for the Art Gallery of SA's
Legs rule
Forget portraits and busts. According to the email from Yevgeny Yukhnytsya, poet-owner of the 700 year old Château des Réaux in the Loire Valley, he is setting up a gallery in the castle on the theme 'Woman's and Man's Legs in the Art of the Beginning of the Third Millennium 'and seeking original paintings from around the world. Categories are: 'Classical delightful Woman's legs of the 3rd Mllnm', 'Humoristic or Satirical view on Modern Legs', 'Man's Legs evolved till Present', and 'Your View on Four Legs of two Persons in one work'. Works will be accepted for selection until 30 June 2008, you cede your copyright and get paid a nominal sum. Pull the other one? Judge for yourself at www.chateaudesreaux.fr