Queensland University of Technology (QUT) Art Museum, Brisbane
28 September – 24 November 2013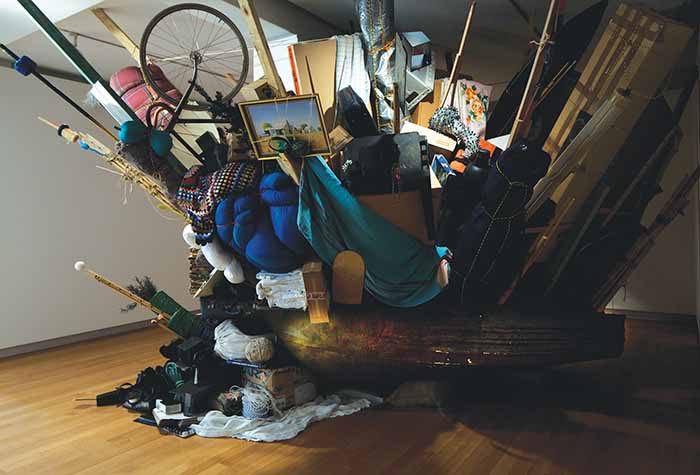 Armed with the rifle of media saturation and fitted with a bayonet of dogmatic eugenics, Western popular culture seems to seep into any crack it can find. Cultural colonisation has never been so subtle; lines of difference are becoming increasingly blurred and endemic with ambiguities. Provoked by these intersections of fragmentation, Alfredo and Isabel Aquilizan delve into the subjective to explore themes of community, migration, adaptation and resilience. Fragments: Another Country is the first major survey of this husband and wife team's work.
Like any comprehensive survey there is a lot to take in. First impressions are overwhelming but with persistence the cohesive inclusivity of the exhibition becomes apparent. Past installations are recontextualised to provide a retrospective framework for reviewing the work and the inclusion of preliminary sketches provides an unprecedented insight into the couple's creative processes. Yet the presence of these key fragmentary objects does not merely genuflect to a simple reverence for making. They are presented adjacent and as equal to other works, thus creating a dialogue between the process of creation and the act of presenting an art object, an integral component when considering the Aquilizans' work.
In one end of the gallery, placed in grid formation and serenaded by the brass band from the video component of adjacent installation In God We Trust, resides Fragments from In-Flight: Project: Another Country. The didactic confirms this installation of objects as formal deconstructions from a work that began in 2007, thus rendering the curation of this particular room as a somewhat poetic reprisal. A sensibility to appreciate the conjunctions and synergies between the microscopic and the macroscopic, the un-monumental and the monumental and the individual's role within community is activated by the addition of Wing After In-Flight: Project: Another Country from 2012.
Presented for the first time as a wallpiece, this cardboard construction immediately resonates as a possible reference to Picasso's guitars. However this work is much more than a nod to history, here ideologies associated with modernism are employed as a platform for revision. The materials used allude to more than stark formal integrity; they speak of the throw-away values of contemporary life in relation to ideas of travel and containment. Filipinos are nothing if not resilient; a sensibility of "making do" is something the Aquilizans identify with and this informs their selection of materials. Cardboard, a domestic and relatively inexpensive material, is awarded the full weighty aura of institutional museology.
The new work Settlement invites audiences to contemplate their own theoretical migration through the act of constructing objects from cardboard and tape. As part of this interaction an empathetic sense of community is orchestrated, as all participants must make do with the same materials. In turn, these objects become a new installation and a document of what has taken place. In Alfredo's words: "The art is hidden behind the installation, and it remains unseen."
Realisation through audience participation only constitutes some works in the Aquilizans' long and extensive career. Collaborations with local Filipino artisans and craftsmen have also resulted in the fabrication of many art objects, fuelling both the couple's desire for communal interaction and sustaining local cultural sustenance. In God We Trust and Crowns 1–5 are monuments to such collaborative processes and confront issues of post-colonial identity in the key of hybridisation as rebellion. Rife with religious, historical and consumer imagery, converted US Jeeps known as jeepneys are paid homage in a fully functional vehicle that has been transformed into a singular museum icon. Crowns 1–5 speak more of the role of the artisan-as-alchemist and the imposition of Western paradigms onto local cultural practices. From diamond-encrusted gold to tin-can packaging, this poignant symbol for monarchy or religion is stripped naked, its context revealed and implications exposed.
Following their participation in the 50th Venice Biennale in 2003 and the couple's migration to Australia in 2006 the Aquilizans have continued to show in a variety of spaces including artist run organisations and academic institutions in between being participants in the world's leading international biennales. Both artists hold dual citizenships and their next flight is always imminent as they continuously tour the international exhibition circuit. If their peripatetic lifestyle is any evidence, the Aquilizans' ongoing theme of a search for home may well be where the the heART is.
Tristan Stonhill is an artist and independent writer based in Brisbane.