Aboriginal super-curator Djon Mundine, who travelled to Europe in 1994 as touring curator with the significant exhibition Aratjara: art of the first Australians, looks back at the genesis and reception of that exhibition. He asks where is the political impetus evident in Aratjara today and where is the Aboriginal input into the development of national survey exhibitions.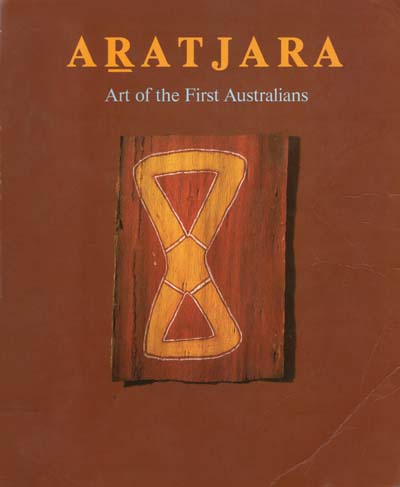 Over 1993/4 a large exhibition of Aboriginal art called Aratjara: art of the first Australians (Aratjara means the messenger) toured three 'cutting edge' contemporary art venues in Europe, the Kunstsammlung in Düsseldorf, the Hayward Gallery in London, and the Louisiana Museum in Denmark. Over one hundred artists were represented, and around one hundred and fifty contemporary and historical artworks from across the continent and islands of Australia travelled to Europe.
It was the result of nearly ten years work by Swiss-born Bernhard Lüthi on one side of the world and, on the other, Aboriginal activists Gary Foley and Charles (Chicka) Dixon and Aboriginal artist Lin Onus. The latter trio ran the Aboriginal and Torres Straits islander Arts Board of the Australia Council (ATSIAB) from the mid-1980s. Their strategy was to push the concept of Aboriginal society as a form of sovereign people by shunning the bicentennial celebrations in Australia but taking ATSI art exhibitions overseas to speak directly to the world. Their contracts were not renewed even before 1988 came and their plan lost momentum. Foley and Dixon's successors in ATSIAB supported the exhibition when it took form in 1993-94; in total they funded the travel of seventy artists, performers and artworkers2 to attend at least one of its venues.
Aratjara may well be the only exhibition of its kind initiated and controlled by Aboriginal people. There have been large touring exhibitions before, and since, however these were either initiated, and controlled by non-Aboriginal people; what could be called "state/national" or embassy shows, or those beholden to mining companies and other commercial interests. I was lucky to be chosen to travel with Aratjara as "Touring Curator". An advisory committee of Aboriginal and non-Aboriginal artworkers and artists was formed, auspiced by the Power Gallery at Sydney University in the late 1980s. It was originally in response to an invitation from Jean-Hubert Martin, Director of the Centre Georges Pompidou, to participate in the French bicentenary (Magicians of the Earth) exhibition in Paris (1989). Bernhardt Lüthi continued to consult with Gary Foley within this group and saw the Paris event as a tool to meet other significant influential art directors and patrons to bring Aratjara into being. During this time the newly formed Boomalli Aboriginal Artists Cooperative interacted with the planning panel to ensure they retained the urban south-east population within their selection and planning.
During this process and the next step of bringing Aratjara into being, certain ideological lines became more evident inside the group and, it could be said, relationships with some other government institutions were a little uncomfortable. In Germany Lüthi raised nearly two million Deutschmarks in 1992 from German sources, and the backing and interest of significant contemporary art institutions, while Lufthansa sponsored the freight to Europe and back.
Aratjara was very successful in terms of attendances and press interest. Over 250,000 people saw it and, in Germany and the UK, articles appeared in the papers practically every day. Danish press and television also responded enthusiastically. More than 10,000 copies of the 380 page catalogue (printed in both German and English versions) were sold during the exhibition. In fact, the English-language version sold out both in Düsseldorf and in London weeks before the show closed at those venues and it is now impossible to obtain a copy. In Denmark, the Louisiana Museum published 50,000 copies of its own Danish-language magazine-format catalogue Louisiana Revy, which also sold out weeks before the show finished. Considering the status of the fine art venues and the critical reaction, this was one of the most acclaimed showings of art to have ever left Australian shores.
Responses in the European press followed several patterns. Common were the exotic travelogues of the Australian landscape and its inhabitants, motivated by a romantic perception of Australia as clean and pure in comparison with Europe's ravaged social and political environment. A few had obliquely referenced looks at primitive art and a few others attempted the difficult task of describing to European viewers this new and incredibly complex form of painting and sculpture.
Really, a new meta-language still needs to be developed, beyond the merely descriptive, of explaining this new art scenario. In Australia, art writers have struggled with this as well. At the time the Australia Council and others, quoting Homi Bhabha's 1994 The Location of Culture, tried to use the pejorative and problematic term hybridity to incorporate or accommodate the different meanings and function of Aboriginal art. Surprisingly (if not a little patronisingly but importantly) German critics took the important political message of the exhibition to heart and ran a large number of articles on it, despite the fact that they were a distance removed from the problems involved.
Each country visited had its own issues with a minority underclass population that seemed to be brought into focus around the exhibition. Germany was undergoing a debate concerning the social and civil position of East Germans and a significant Turkish migrant worker population, some of whom had lived there for generations. In the UK the debate and public discussion over non-white immigrants from the former colonies had been an active ongoing public debate item for decades.
Popularity breeds contempt. Boy George, 1993.3
In London the critics were more harsh, partly due to colonial arrogance. With their high population of 'other' artists from Africa, the Caribbean, India and Pakistan, they had a slight 'seen it all before' response. Nevertheless, the coverage was still very positive in the main.
One day as we passed Trafalgar Square, I noticed the large lion statues and asked a host curator when the last native lion was at large in the English countryside. After some thought, he shame-facedly replied that as far as he knew there had never been lions in England; the nearest would have lived in Spain a long time ago. The lion, I was told, came from Richard the Lion Heart, a king of England who had three lions as his standard - a symbol of strength. He spent most of his life out of the country and, even more curiously, hardly spoke English at all. So this symbol of the English nation was, in a way, a fraud, an adoption of a foreign concept or fashion. In Europe there is an over-emphasis on the authentic, when really there was none. When applied as a criteria it was always to others and never to themselves. When visitors to the Hayward Gallery questioned my authenticity (and, by reference, that of the exhibition) I remarked that in all my time in London I had seen very few men in bowler hats and black umbrellas.
In Germany, where citizenship is still largely determined by blood-line, there is a Pizza Hut in nearly every major town, including one in the Aldstadt (old town) in Düsseldorf, near the Kunstsammlung where the show was displayed. There I was able to buy a curried chicken pizza, which is certainly not German – nor Italian – and shouldn't exist if we apply the criteria of cultural authenticity. Yet German visitors asked why, if I was a real Aboriginal, was I wearing European clothes and speaking English. How many of them were blue-eyed blondes with plaited pigtails, black lederhosen and long white socks?
This question of identity and authenticity is not only for us, the Auslanders, but one that Europeans are also struggling with.
The curators tried to hang the exhibition in a modernist fashion – to give each piece a lot of space so viewers could concentrate on its individual attributes. The labeling was minimal – name of work, artist, date, country and materials – just as would be the case with any other contemporary art. But this was greeted with dismay. How could viewers understand the work without extended labels and photographs (despite the generous catalogue, an acousti-guide and several informative handouts)? In London, such comments were especially common, although nobody seemed to be making the same demands of twenty-or-so pure white on white 'untitled' canvases by Robert Ryman in a nearby commercial gallery. The underlying contradiction remains: for contemporary art anything goes, for ethnographica the viewer expects a didactic experience.
Aratjara was hung as a visual art show, not a book. It was supposed to generate a visual-emotional response; to engage the senses and the imagination and to counter the commonplace approach to art of this type (especially in Europe) with its overkill of didactic wall text. Visitors to the Western Desert room would ask what the circles joined by lines represented, even though they had used a similar conceptual map of circles joined by lines in their subway trip to get to the show.
These comments highlight the hypocrisy of so-called art history that has ignored the work of artists outside Europe and the United States.
There is a saying: "Don't shoot the messenger". Unfortunately, after such a successful tour, the exhibition came to a sad end when the Australian venue cancelled out. So Aratjara wasn't seen in its country of origin.
Twenty years on, what is its legacy?
In 1995 a broad selection of art from the Robert Holmes à Court Collection was shown in four major cities in Germany.4 Also that year David Malangi appeared in Jean-Hubert Martin's Galerie des cinq continents, National Museum of the Art of Africa and Oceania, Paris. In Fluent, Emily Kame Kngwarreye, Yvonne Koolmatrie and Judy Watson represented Australia at Venice in 1997. In 1999 The Aboriginal Memorial en-route to The Hermitage in St Petersburg, was installed at The Olympic Museum in Lausanne before closing the year at the Sprengel Museum in Hannover. In that year the foundation for the Aboriginal Art Museum Utrecht was established and it opened in 2001. That year The Native Born (originating from the MCA, Sydney) was also shown in Hannover. In 2004 Karlheinz Essl exhibited his recent Aboriginal art acquisitions in Spirit and Vision outside Vienna, Austria.
Besides the above there have been other exhibitions of Aboriginal art in Europe but in Aratjara the involvement of the artists was seen to be important, and not just a token appearance. In 2010 the Remembering Forward exhibition was mounted at Museum Ludwig, Cologne, Germany. At the forum for the exhibition some 25 non-Aboriginal 'experts' presented their opinions but only two non-artist Aboriginal speakers – what has happened?
Two movements within Aboriginal and Torres Strait Islander art over the last 25 years have been the major commercialisation-commodification of the art itself, and the production of national representation survey exhibitions with little political effect.

1 The title of this article refers to "Ich bin ein Berliner", a famous quotation from a June 26, 1963 speech by U.S. President John F. Kennedy in West Berlin. A Berliner is a jelly doughnut bun not a resident of Berlin.
2 In Düsseldorf, Gordon Bennett, Dhuwarrwarr Marika, Leslie Fogarty, Dollie Granites, John Mawundjurl, Tom Mosby, Judy Watson and Lin Onus attended. There was an Australia Studies Literary Conference that included the late David Mowaldjarli and Lionel Fogarty; and a WA dance group performed. In London Wayne Bergman, Fiona Foley, Dolly Granites, Ron Hurley, Tom Mosby, Michael Riley, Ginger Riley and Richard Walley attended. There were artist talks with a live to air satellite link-up with Yuendumu. The concurrent Corroboree Sights and Sounds of the First Australians Festival at South Bank included Bangarra Dance Theatre , Kev Carmody, Alan Dargin, Lionel Fogarty, Roger Knox, the Mills Sisters, Mixed Relations, Archie Roach – Ruby Hunter, Tiddas, Maureen Watson, and Yothu Yindi. In Denmark Richard Bell, Gary Foley, Tom Mosby, Jeffrey Samuels and Dorethea Randell attended.
3 The phrase "popularity breeds contempt" was used as the opening line on the beginning of the 1993 greatest hits album At Worst: The Best of Boy George and Culture Club.
4 Stories: Eine Reise zu den großen Dingen, Elf Künstler der australischen Aborigines, 1995, Sprengel Museum, Hannover; Museum für Völkerkunde zu Leipzig; Haus der Kulturen der Welt, Berlin; Ludwig-Forum für Internationale Kunst, Aachen, Germany.

An earlier version of this essay was published in Art Monthly, Issue 75, November, 1994.