Curator: Rusaila Bazlamit Casula Powerhouse Arts Centre 12 May – 18 July 2012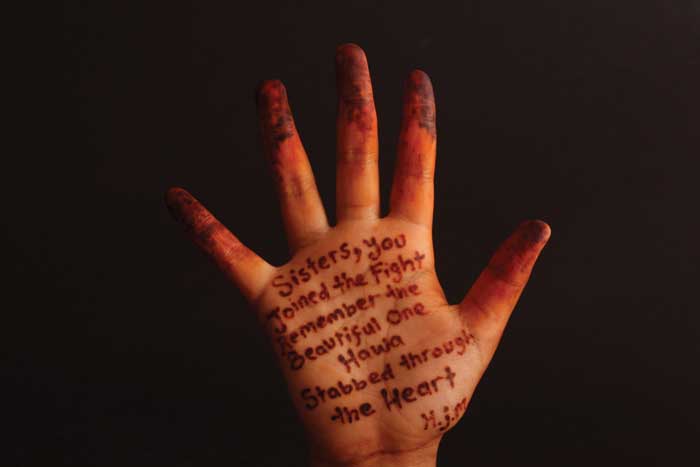 When the Australian Muslim Women's Art project gained funding approval, a Memorandum of Understanding was established between its two main sponsors: the Australian Human Rights Commission and the Australia Council. The memorandum was to ensure that the project was to focus on "arts projects that build self-esteem and capacity in diverse Muslim groups".
The result of the project, a series of national engagement workshops held over two years, is the exhibition No Added Sugar: Engagement and Self-determination, held at the Casula Powerhouse Arts Centre. When given the task of producing an exhibition based on a religion or culture, more often than not it can become an idealised or historical commentary, rather than a dialogue with viewers. Given the relationship with the Australian Human Rights Commission, No Added Sugar was encouraged to concentrate on the development of cultural sensibilities through an active relationship with the community, rather than retreat into a history lesson.
Curated by Rusaila Bazlamit, a Jordanian expatriate of Palestinian and Macedonian heritage, along with Creative Producer, Alissa Chidiac, the exhibition presents artworks made from a wide selection of media: painting, sculpture, video, audio, textiles, craft and photography. The eight artists chosen to participate in the project - Idil Abdullahi, Resala Alazzawi, Marwa Charmand, Asiya Sian Davidson, Zeina Iaali, Mehwish Iqbal, Fatima Killeen and the Crooked Rib Art collective - have explored multiple issues of being Australian, of being of Muslim faith and of being female, but most significantly, have succeeded in providing a familiarity in their works to a community comprised of multiple cultures.
Elysia Flynn, a Muslim woman with an Aboriginal father and a Malaysian-Chinese mother, contributes a poem, The Grounding, to the exhibition. Towering over the main floor of the Casula Powerhouse Arts Centre, her words work to instruct the viewer on what they are about to see:
And can I take your hand, dear friend?
Lead you on this journey together
Show you inspiration on these walls
Imagination despite enclosure
The enclosure in this instance takes the form of the struggle of self-identity in a country with a melting pot of cultures, and having a religion which suffers from public intolerance. It is the loss of tradition that underscores most of the artworks in the exhibition – the constant fear of losing the fundamentals of religion and culture while trying to integrate into a society which, on the surface, is stark in contrast.
Throughout the works, it is the written word, in both Arabic and English, which is used to connect and converse with the viewers. Idil Abdullahi's Erased, a series of 16 photographs, depicts the struggle to retain the memory of culture.
Sisters, you
Joined the Fight
Remember the
Beautiful one
Hawa
Stabbed through
the Heart
H.j.m
With each photograph, this poem by Hawa Jibril, written onto a hand in henna, slowly fades and with it, not the memory, but the hope of remembering. The "beautiful one" being Hawa Osman Taako, a woman killed during a Somali Youth League demonstration that turned violent.
Asiya Sian Davidson, uses her first foray into video installation with a piece entitled, There is no reality but the Reality. In a small enclosed room with a single light, she paints repeatedly in Arabic, "there is no god but god". The room is covered from floor to ceiling with these repeated words until there is a break in the video, and she dances, repeating an old song lyric "release the bats". The constant repetition of image and words reflects the anxiety that rings true for all immigrants to Australia: the fear of forgetting, or more correctly, of stripping away the layers of their tradition in favour of a veil tolerated by their adopted country.
It is not surprising then that this project was conceived and exhibited at the Casula Powerhouse Arts Centre. With its rich history of creating exhibitions that strike a chord with its local, multicultural community – Viet Nam Voices being its most successful touring exhibition – it is consistently active in producing exhibitions and programs that are able to engage visitors on a variety of levels.
The artists of No Added Sugar are able to overcome the pressures of succumbing to the labels that are easily placed upon them. True to the words in Flynn's poem, they understand all too well that "Identity is not by others granted".
Julie Lien