Curator: Carly Lane National Gallery of Australia, Canberra 11 May – 22 July 2012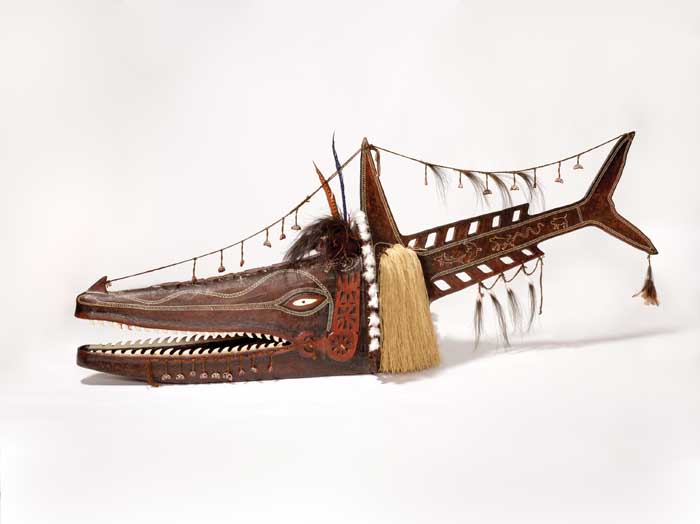 unDisclosed, curated by guest curator Carly Lane, positions itself as an exhibition that, in her words, "alludes to the spoken and unspoken, the known and the unknown, what can be revealed and what cannot". With this in mind I entered the exhibition space and wondered what would and what would not be revealed, what would and what would not be spoken. The space contained five galleries each allotted a theme - 'Family, Ritual and Country'; 'Invisibility, Silence and Memory'; 'Belonging'; 'Manifesting Presence' and finally 'Revelation'.
Lorraine Connelly-Northey's massive Three Rivers Country (2010) is a huge work of found and reclaimed rusting tin, iron, mesh and wire that sits comfortably within the 'Family, Ritual and Country' theme as it posits itself as a homage to her mother's knowledge of the freshwater rivers of the artists country, that being Waradgerie (also spelled Wiradjuri) country of NSW. This work, 3.27 high by 7.7 metres wide, screams at you, disclosing everything, hiding nothing. There is nothing subtle about it. The artist is demanding you pay attention and understand a way of seeing a river system that she herself is intimate with.
After the 'shock of the huge' has subsided you can move into the first room where the theme of 'Family, Ritual and Country' continues. In this space, Lane presents us with Alick Tipoti's six giant and imposing fibreglass masks, Naata Nugurrayi's four synthetic polymer painted dot-worked canvases, Maria Josette Orsto's three incredibly detailed and finely executed paintings and Adelaide-based Nici Cumpston's four hauntingly beautiful hand-coloured black and white photographs of Nookamka (or Lake Bonney as it is also known). These images – created between 2007 and 2009 – tell the story of a decaying river system. They talk of the heartache of the now and remind us of a beautiful past where once a system of waterways was allowed to flow its natural course. These works are surprisingly small (at 22 x 206 cm each). They could have been double or triple in size and still would have sat quietly in this room. As small as they are, they act as a antidote to Connelly-Northey's work at the entrance. They are quietly telling you stories of the river systems where Connelly-Northey screams her tales. The spoken and the unspoken in the same space.
Moving into Room 2, themed 'Invisibility, Silence and Memory', Lane presents us with the work of Mirdidingkingathi Juwarnda Sally Gabori, Michael Cook, Fiona Foley and Vernon Ah Kee. The works of Foley have long been considered some of the most well-conceived and thoroughly researched pieces of any artist working today. Her work for this show, Let a Hundred Flowers Bloom (2010) comprising 34 white framed inkjet prints of opium poppies, three opium pipes, a stool, a display case, some fabric, a sketchbook, and 36 brass opium poppy sculptures, references her earlier video work Bliss - each exposing the legislated practice of paying Queensland Aboriginal workers with opium rather than cash, thus keeping a whole group of people literally doped to their eyeballs making for a very malleable workforce amongst other sinister 'reasons'.
Ah Kee's work tall man (2010) comprises a text from Shakespeare's Macbeth, a large finely drawn portrait of Ah Kee's relative Lex Wotton and a four-channel video installation of different perspectives that surrounded one event on one day on Palm Island in Queensland. That day was the day the death in custody victim Mulrunji Doomadgee's preliminary autopsy results were disclosed to the island's residents that resulted in Wotton calling for action. By the end of that day the police station – the symbol of the Islanders' oppression was burnt down. Wotton was tried and convicted of inciting a riot. Although now free of his prison sentence he is currently under a gag order and cannot speak. Ah Kee's work speaks for him. Gabori's and Cook's work in this room share an uncomfortable space with the other two works. Gabori's expressionist-style paintings and Cook's oddly conceived fashion-style photographs are simply out of place alongside the masters of the truth.
In room 3, 'Belonging', Jonathan Jones and Lindsay Harris share the space with Julie Gough. Gough's work, much like Foley's, is anchored in forensic-like research, incorporating her own family stories into the greater hidden narratives of Tasmania's past. Her achingly sad She was sold for one guinea (2007) and Some Tasmanian Aboriginal children living with non-Aboriginal people before 1840 (2008) are expertly executed testaments to this research. This work could have very happily sat alongside that of Foley and Ah Kee –perhaps more so than in the room Gough shared with Jones and Harris.
One is trained these days, when hearing the word 'presence' to expect works such as dot paintings, bark paintings or sculptural objects made from natural materials to be the manifestation of an Aboriginal presence. 'Manifesting Presence' in Room 4 fulfils this expectation with the sculptural works of Bob Burruwal and Lena Yarinkura, the dotted paintings of Daniel Walbidi and the barks of Gunybi Ganambarr. What one does not expect in this mix are the drawings of Danie Mellor. His works from 2009 and 2010 with his signature 'China blue' coloured dreamlike landscapes of other-worldly (European) monuments, ships and mythological beings are juxtaposed with Indigenous Australian flora, fauna and humanity. The placement of Mellor's work here creates a paradox. How does one understand this work in the context of the theme of 'Manifesting Presence'? It remains a puzzle that I am not sure I can solve.
In amongst this conundrum Ah Kee's soundscape from Room 2 punctuates the space and at times occupies the mind. At the same time the sound of Christian Thompson's three channel video installation in Room 5 seductively calls. Entering the space where Thompson's Heat (2010) is situated provides momentary relief from the rest of the exhibition. Here the imagery of three young Aboriginal women confronts you. They watch you, sure and secure in their skin. Expressionless, their beauty becomes the very thing that confronts. Room 5 has the theme of 'Revelation'. Thompson is placed with Nyapanyapa Yunupingu and Tony Albert.
Albert's work Pay Attention is a work that packs a punch. At first you only see his reference to Bruce Nauman's 1973 lithograph of the same name, and then you actually pay attention and see that Albert has used many of the kitsch 'Aboriginalia' imagery to paint each letter (25 in all as the work extends from its title to read "Pay Attention Mother Fuckers") and in its mirrored image he has asked 25 Aboriginal artists to each paint a letter. The message here is clear. We are not the Aboriginals of Brownie Downing's or the Florenz pottery studio's imaginings. Most of us look nothing like the oft-repeated image of 'One Pound Jimmy'. Albert makes sure that the difference between how we are viewed and who we are is delivered and understood. Yunupingu's barks are perhaps the most surprising of all the works in this room. Used to seeing more 'traditional' imagery and iconography on eucalypt barks, here her paintings talk of the contemporary Aboriginal experience with the stand-out painting titled Sydney hotel (2010) showing in 'bark painting style' a hotel room interior. A revelation to be sure.
unDisclosed is a calm, cool and at times confusing exhibition. For curator Carly Lane it is a triumph, showing that with careful planning in the very short amount of time provided she produced an exhibition that should be talked about, and should be patronised. And it will be, as it embarks on its national tour. It is an exhibition that should be discussed in terms of its achievements, its shortcomings and the legacies it will leave.