Kellie McClusky is an artist, writer and Head Girl of the celebrated PVI Collective in Perth. She describes their new work 'deviator' and some of the experimental thinking and working processes of PVI including a wiki-map of connections.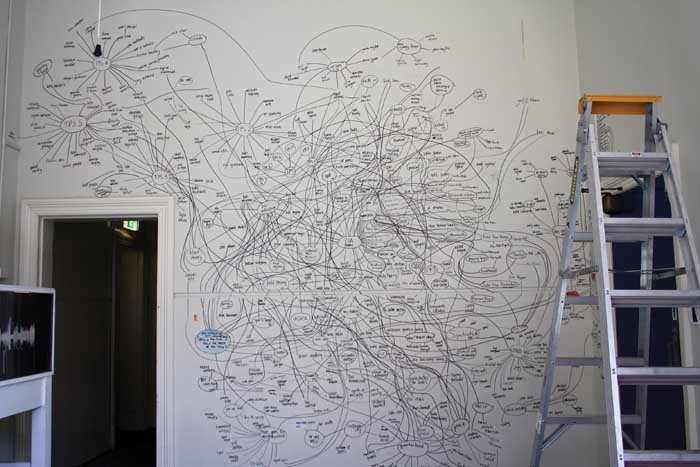 Welcome to the city formerly known as Glasgow. We have re-mapped it, renamed it and reclaimed our streets for play and revolutionary fun.
- deviator voiceover, Glasgow, 2012
It took us a while to realise that maps were not neutral accessories. They are selective about what they represent, they can provoke new understandings of networks, shape our beliefs about people, and shift our perceptions of place and power relations. Maps are as much political agents as they are locative reference tools.
Since the phenomenal rise of social media, geo-tagging and (military-incubated) GPS capabilities, our smartphone devices now gather unprecedented amounts of location-based data, making latitude and longitude co-ordinates a part of our cultural vernacular. Locative media is now one of the fastest growing areas in digital technology, and with it comes an emerging generation of artists employing it to establish complex relationships between physical and virtual spaces – experimenting with new forms of interactive and distributed art-making. It has also generated a heightened awareness of orienteering ourselves in relation to others. Spatial navigation appears increasingly central to our contemporary engagements with each other. It seems we all know where we are, whom we are with, where we are going and, more curiously, we want others to know about it.
When the pvi collective started developing two projects last year, deviator and the cia wiki, we'd already had a taste of the potential of locative media to establish temporal situations whereby an artistic experience is interwoven within the fabric of the everyday. As a mixed reality work that showcased as part of the 17th Biennale of Sydney, transumer invited participants to roam the streets with smartphone in hand and place augmented markers around The Rocks, identifying alternative uses of those sites in relation to an imagined revolution. The markers, as graffiti-style tags overlaid on top of the work, were as much an experiment with the technology as they were an attempt to plot a fictional map full of ideas for creative disruption in public spaces. It didn't quite work, in all honesty. The 'revolutionary map' was invisible to almost everyone other than players who saw the city through the screen of our phones, and as soon as the server dropped out it disappeared completely. Some experiments are destined to fail, and that's the creative risk you take when you play with the unknown. But the failure also pointed us towards new ways of thinking about the digital journeys we can create while our feet are firmly planted in the physical world.
pvi's new work, deviator, has a more direct use of mapping technology. As a locative media artwork that can be downloaded onto any 3G device, the work is an open challenge to temporarily transform a city into a playground by deviating from familiar social codes in public. Using a hacked Google map of each city as your guide, deviator appropriates traditional children's games, inviting players to locate hidden audio instructions in the city that are triggered by scanning QR (Quick Response) codes mounted on walls, bus stops and urban debris. With activities such as Guerilla Pole Dancing, Kiss Chasey, Spin The Bottle, and Follow The Leader, each game encourages a physical and seemingly harmless disruption of that site. The notion of 'play' is explicit in the work and is deliberately used as a tactical device to allow players to reject traditional narratives of place, temporarily throwing them aside in favour of a new 'normal'. After navigating your way through the streets for 45 minutes, and hopefully working up a sweat in order to become the 'best deviator', you are offered a dérive of your journey, which comes in the form of a simple line drawing that has plotted your GPS co-ordinates from the time you entered the work. This map is unique to each participant and can be emailed directly to you as a memento of your deviation within the cityscape. What I love about this aspect of the work is the use of the map to express the personal cartography of the experience. We shift the map away from being a navigational tool to an abstract visualisation of each person's trajectory within the work, hoping that the memory of his or her journey can be triggered and reconstructed by reading between those lines.
The simplicity of basic mark-making to map out an idea was where the cia interdisciplinary arts wiki began. With permanent markers in hand, and facing a 10-metre white wall in the cia studios, our artist-run space in Perth, we started an experiment to see how collaboration is informing new modes of practice. In 2011, pvi had the privilege of being awarded two 'Geeks-in-Residence' for an entire year at cia studios courtesy of Australia Council's Digital Culture Fund. What transpired from the initial provocation – "how do we strengthen connections with our peers, outside of the confines of the building we inhabit?" – became a much broader enquiry into the landscape of interdisciplinary art in Australia. Over the course of a few months, our scribbles transformed into a giant map, connecting artists and groups who were working with hybrid art forms in Australia.
The map attempted to visualise which peers and groups we are connected to and, in turn, track those connections and the new relationships or collaborations that were forged as a result. The only (loose) rule was that it was to remain artist-focused, so venues and festivals were omitted at first. After going through a dozen black marker pens, and dragging in stepladders to assist with the spidering lines linking artists, groups and events, we realised the wall wasn't going to be big enough. So with the guidance of our geeks, we shifted to a digital architecture. Through this process, we became acutely aware of how interdisciplinary practice relies heavily on collaboration in order to form new ideas and creative explorations.
The cia wiki is still growing on the walls, and each artist who visits us is invited to pick up a pen and track their journey. We are still using that data to inform the online version, which is becoming more of a storytelling tool, as opposed to a clinical database of names and events. Even though we're not quite sure where it's headed – and it has been a very intuitive process so far – for us the wiki is really an opportunity to acknowledge that interdisciplinarity is founded on the simple premise of connecting out beyond familiar pathways. Like the wayfarers of the Middle Ages, or more recently the Situationists with their psychogeography investigations, we just feel our way and allow the agenda to follow.
Kellie McClusky is an artist and the Head Girl of the celebrated PVI Collective in Perth. She is a writer and creative producer.