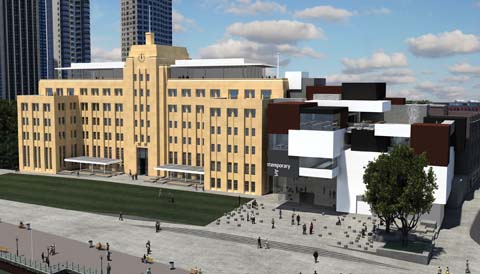 The content or the container
The artworld and increasingly the ordinary visitor have learned to expect extravagant architectural statements in new or redeveloped art museums or at the very least marble floors and awe-inspiring heights, which may explain the sense of let-down expressed by so many at the reopening of the Museum of Contemporary Art in Sydney in late March with its new wing MCA 2. Instead they were greeted with concrete finishes, museum standard ceiling heights (5.3m) and a modestly sized two-way entry linking Circular Quay and George St, with a reception desk and a straightforward glass-enclosed bookshop. Nothing to ooh and ah over, no magnificent doors covered in gold leaf as in the NGA, no glassy atriums as in GOMA, no cathedral heights as in NGV Federation Square. The roof-top café has been described as IKEA, and there is a distinct sense of umbrage being taken by those who feel out of place on a plywood chair and a laminex table eating food priced in similar non-fancy vein. The exterior - a geometric arrangement of lightweight glass reinforced concrete panels – has been called lego-land, and clearly not up to scratch. No reflections of the Quay on curtain walls for the delectation of photographers. Definitely lacking in magic.

But there is joy and it is elsewhere. The joy of walking into a museum and getting straight to what you want to do – see the art, and at the end have a good coffee or bite to eat and enjoy one of the best views in the world. The circulation is a dream – the two roomy lifts are right next to the stairs and the floors are clearly marked with huge numbers. A big piece of the fun is the way the building is connected not just throughout all the places and spaces, but to the world. Talks can be held in which students in classrooms nationwide can participate. The new Education section of MCA 2 represents 25% of the floorspace. The digital classroom and the seminar rooms have the stunning views across Sydney Harbour, while the galleries tend inwards to the art. There are functioning art studios where people of all ages can participate in workshops. The non-gallery areas are visible – not behind closed doors. All of the staff work from an open space office with workstations right next to the modestly proportioned office of the Director Liz Ann McGregor. Possibly the most democratic top museum director in the world, it is her vision that has ensured the priorities that are manifest in the new building. An innovative seawater heat exchange climate control system that is 30% cheaper to run than the standard one. A friendly café with excellent and affordable food, and one of the best views on the planet. A generous embrace of a national charter which includes students from every school in the country. An excellent website that engages and informs. A really good bookshop. The MCA's keen, young and well-informed gallery attendants have been a point of difference from almost every other museum I have ever visited (none of your silent guards pacing the block waiting for their tea break). The architect Sam Marshall, who worked with the NSW Government Architect, ensured that on the inside the new building joins invisibly with the old art deco Maritime Services building but on the outside offers a smaller, lower block shape which asserts its own character in a self-confident kind of way. What most visitors will not be aware of are the two extra and separately serviced levels set back above the museum floors with the views to die for. These spaces for hire are a very smart and non-intrusive way of assisting the financial viability of the MCA in our private-philanthropy-poor culture.
The choice of time as a theme for the reopening show was inspired by Christian Marclay's The Clock which was sited in a large cinema-like space at entry level. For Marking Time, Rachel Kent, senior curator at MCA, commissioned and gathered a series of works by eleven artists from around the world, introducing us to new artists whose attitudes to time hint at their cultural origins while also being universal. Tom Nicholson has covered a long wall with handwritten records of when and how national borders have been adjusted – an exercise that induces a vision of a time-lapse graphic of a global map which never rests. Tatsuo Miyajima's Death Clock uses 500 black and white photographs taken of people in 2011-12 showing the date which each person nominated for their death. Elisa Sighicelli's video evoked the death of stars and galaxies through fireworks played backwards, while Rivane Neuenschwander's Continent-Cloud was a room for lying down in and watching the movement of matter blowing across a translucent ceiling. This was a major work of curating and one that required time to absorb and study. Something that the MCA has been good at doing in the past and will continue to do. Christian Marclay's The Clock has been purchased jointly by the Israel Museum, the Tate and the Centre Pompidou.

Which Asian Century?
• Finding a place on the Asian Stage is the rallying call by Alison Carroll and Carrillo Gantner on Australia's record in exporting performing arts to Asia. Kevin Rudd launched their Currency House Platform Paper #13 at Asialink recently, endorsing the authors' point that as a nation our knowledge of Asian culture and languages, after some exciting advances in the nineties has slumped to a dismal level and that we are squandering unique opportunities to take our best work there. We should have moved well beyond relying on embassy staff to facilitate contacts and provide translators. The discussion for the visual arts would be similar but the mostly smaller scale nature of residencies and exhibitions plus the effect of the Asia-Pacific Triennial has meant that visual artists and managers have been educated in Asian cultures for longer and more directly.

Hong Kong Run Run
Not Yet It's Difficult, the Australian new media group was at the Grand Opening of the Run Run Shaw Creative Media Centre at Hong Kong's City University designed by architect Daniel Libeskind, and the new home for Australia's own Jeffrey Shaw, a leading figure in new media art and interactive cinema and a long-time artistic collaborator of NYID, (Eavesdrop , UnmakeableLove). NYID Artistic Director David Pledger visited the Centre which combines an academic facility with a public outreach program forging links with industry and community. It features dedicated spaces for interactive and immersive technology research, media art exhibitions and new media theatrical production and is envisaged as a creative nexus for Hong Kong and a forum for local and international exchange.
Abu Dhabi lucrative opportunity for WA artists??
Caspar Fairhall's sculpture Folded Cosmos was one of five large-scale installations shipped to Abu Dhabi, as part of a commission managed by Artsource in WA and Cox Howlett & Bailey Woodland Architects. It uses Islamic geometric patterns, star motifs and the kite and dart tiling patterns described by 1970s mathematician Roger Penrose, and sits in the entrance foyer of the grand Al Bustan Complex, amongst other public artworks by fellow Western Australian artists Stuart Green, Jo Darbyshire, Tom Muller and Jon Tarry.?In late 2009, Artsource won a contract to provide these site-specific commissions and close to 1,200 other artworks to the value of around $1million.

Islamic Museum getting closer
The Islamic Museum of Australia will showcase the artistic heritage and historical contributions of Muslims in Australia and abroad. The fundraising sand-clock on their website shows that they are within $2 million of their $10m target to open the doors, in Melbourne. Moustafa Fahour, the founder and director of the IMA, recently spoke about a suite of portraits exploring cross-cultural identity by Abdul Abdullah showing at Fehily Art in Melbourne. www.islamicmuseum.org.au

New art hot spots
• Rozelle Sydney College of the Arts at The University of Sydney (SCA), dLux Media Arts, Artereal Gallery and Paper Plane Gallery have joined forces to create the Rozelle Contemporary Art precinct (RCAP) in which the existing energy of large numbers of emerging artists doing street art, site specific installation and sculpture, performance, video and new media art will become better known.
• The MCA Artbar is the smartest place to have end of the week drinks, last Friday of every month from 7-11pm. Audi has sponsored these intense contemporary art social events each curated by a different guest artist and occupying the whole of the new wing with music, performance, multimedia and design.
Publishing
• The Journal of Curatorial Studies is new, international and peer-reviewed. It explores how curating has moved on from the connoisseurship model to encompass performative, virtual and interventionist strategies. The first issue contains The Accidental Exhibition: Chance as Curatorial Critique and Opportunity. Editors Jim Drobnick and Jennifer Fisher.
http://www.intellectbooks.co.uk/journals/view-Journal,id=205/view,page=0/
• Craft Australia closed its doors at the end of April 2012 due to funding being withdrawn after 41 years. But the craft + design enquiry journal, a platform for research, will continue with new hosts the ANU School of Art. The next volume, CDE#4, is due to be published by ANU E-Press July 2012 on the theme Relational Craft and Design.
• Art Almanac has gone digital in a big way. Last November It was acquired by NextMedia, who own Artist Profile magazine, but is maintaining the much cherished print version. Owen Craven replaces Helen McCulloch as Editor ending a long McCulloch family connection.
Events festivals
• Documenta in Kassel (9 June – 16 Sept) includes the work of Australian artist Khadim Ali which was previewed at Cross Art Projects in Sydney in May. Adelaide's Fiona Hall is also in Documenta.
• The Melbourne Art Fair 2012 runs 1 – 5 August, with 70 selected national and international galleries plus Project Rooms.
• A new biennial art fair Sydney Contemporary kicks off in April 2013 run by Tim Etchells of SME London Ltd who founded ART Hong Kong. He will be working with the Melbourne Art Foundation to manage the Melbourne Art Fair as well from 2014 onwards.
• Byron Shire's upper limit of 5000 attendees at festivals has made Rhoda Roberts' proposal to run an Indigenous Festival in Byron Bay financially unviable.
Oz art overseas
• Australian art historian Alex J. Taylor, a doctoral candidate at Oxford University, and research fellow at the Smithsonian Institution in Washington curated 12 Australian artists into Lie of the Land: New Australian Landscapes, which opened in February 2012 at the gallery in the Australian Embassy in Washington DC. By chance the opening coincided with Kevin Rudd's fateful visit to Washington and his resignation as Foreign Minister so Ambassador Kim Beazley didn't get to open the show as planned. 60 works by a selection of younger artists were shipped to the US challenging the clichés of Australian landscape and art as diplomacy. The 48 page catalogue with Taylor's essay Gumtree Diplomats is lively and well-produced. The prestigious Aspen Institute homed in on the importance of Taylor's show by bringing a seminar event on cultural diplomacy to the gallery, but a quick web search reveals not one review or comment in the US press or blogosphere on the show, which closed on 13 April, and only one on the home front (The Australian). The silence on Australian art overseas continues to be deafening. Perhaps the fact that this large and important exhibition was only open Monday – Friday between 10am and 2pm might have had something to do with it.
• Tracey Moffat's retrospective of her films was held at the Museum of Modern Art, New York, 4-13 May 2012.
• Gosia Wlodarczak's animation film/sound-drawing The Train Trip (2010), was screened at Drawing Now Paris, an annual art fair devoted to contemporary drawing held in Paris at Carrousel du Louvre in March.
• Simryn Gill curated by Catherine de Zegher, will represent Australia at the 55th Venice Biennale in 2013 in the new Australian Pavilion.
• Alexander Seton showed his suite Elegy on Resistance – marble hoodies with connotations to both the benevolent hoods of monks and malevolent hoodlums at ArtHK12 in May.
People
• Pierre Arpin was appointed as Director of MAGNT last year.
• Christine Morrow succeeds Domenico de Clario as the Director of the Australian Experimental Art Foundation.
• David Sefton is the annual Adelaide Festival artistic director for 2013, 2014 and 2015 and Karen Bryant is its new Chief Executive.
• Bec Carey-Grieve is the new General Manager of the Footscray Community Arts Centre.
• Ben Quilty won the 2012 Redlands Westpac Art Prize ($20,000), and Kelly Doley won the emerging artist award ($10,000).
• American artist Mike Kelly died at age 57 after a severe depression.
Real Estate
• Fontanelle, the brainchild of freelance artworker Brigid Noone, is a brand new 1200 sq ft artist-run complex in Bowden in Adelaide on the site of the former Clipsal Electrical factory. An spinoff from Ianto Ware's Renew Adelaide movement which brokers agreements between landlords, local government and artists for temporary use of empty buildings, Fontanelle has been given a 3-year term pending redevelopment of the site. The impressive complex has 21 studios, a gallery, workshop and dark-room and is already fully occupied.
• Galerie pompom is a new commercial gallery space, in Abercrombie Rd, Chippendale, Sydney directed by Ron and George Adams of MOP Projects.
December diary APT7
A trip to Brisbane is de rigueur for artlovers this summer. The 7th Asia Pacific Triennial at the Queensland Art Gallery/GOMA will feature work by over 140 artists from 25 countries across the region, including Papua New Guinea; new painting, installation, sculpture and photography by Indigenous Australian artists; by young artists from Indonesia and Vietnam; and a special focus on West Asia –Turkey through the Middle East to Iran and Central Asia. Participating artists will be announced progressively in the lead up to the exhibition. It is 20 years since the first APT in 1993.
8 December 2012 - 14 April 2013, Gallery of Modern Art and Queensland Art Gallery.
Knee jerk Premier
The moment Cameron Newman, Queensland's new Premier, came into office in March he cancelled the Premier's Literary Award and the David Unaipon Award. No surprises there. Perhaps he will find something else he would rather support. Coal, the Musical?
Keith Haring: street battle
A petition has been going the rounds about a 1986 mural made by Keith Haring on what used to be an art school in Collingwood, Melbourne soon to be the home of Circus Oz. The mural which was listed as a Heritage site many years ago, is falling off the wall, and there are some who want an expensive conservation operation on it ('the hand of the artist') while those who know the late artist Haring's mindset know that he would have wanted it simply repainted. The Keith Haring Foundation in the US recognise it as essentially a graphic image approved for reproduction/ repainting and gifted to a local community. Managers are up against Arts Victoria and the Heritage Council who can't judge when the standard conservation approaches are not the answer.
Google and Art
Six Australian museums are now participating in the Google Art project which allows free online browsing of the collections at incredibly high resolution. They are the National Gallery of Australia, the Art Gallery of New South Wales, the Museum of Contemporary Art, the National Gallery of Victoria, the Melbourne Museum and Griffith University's Rock Art Research Centre. Democratically increasing access to museum holdings really does seem to be one of the better things that Google has done in the arts – free from the suspicion that they might be ripping some creator off (or is there something we don't know yet...) www.googleartproject.com/
A 'digitising art budget' 2012
Fans of the Google art project will be pleased that the Treasurer's Budget announcement of $64 million for various arts and cultural purposes includes $39 million over four years to the major national collecting institutions towards the digitisation of their collections which will also support the new national arts curriculum for schools. But as NAVA and Artspeak spokespeople have said, it would be even better if a similar form of assistance were provided to all the small to medium arts organisations to help them keep pace with technological change. And 1% of the NBN's budget could be allocated to training content providers to feed the hungry beast. And talking of hungry, artists won't have to pay tax on income below $18,000.
Apology
We apologise for any unintended slight to any galleries in Perth, current or past, in Darren Jorgensen's review of Revealed in our March issue.