Curator: Rodney James Mornington Peninsula Regional Gallery 16 February - 26 April 2011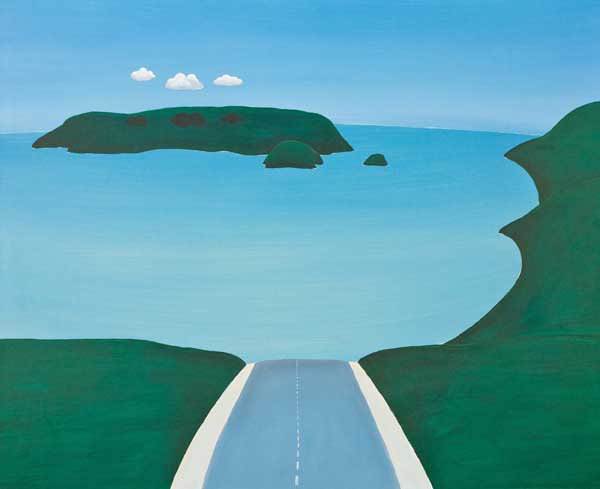 Senior MPRG curator Rodney James has arranged all 29 similar-sized Ivan Durrant paintings evenly around one large room. He also presented an informative introductory essay, transcriptions of relevant 1970s newspaper critiques and best of all, some personal statements by the artist placed alongside each of the related artworks.
Painted about forty years ago, this selection records the artist's style and concerns of a period in 1970-72, when Durrant lived for eighteen months near Flinders village at the very southernmost tip of the Mornington Peninsula. These poetic visions of crazy horses and tortured cypresses were applauded when first exhibited at the Tolarno Galleries in Melbourne during 1972. Patrick McCaughey astutely observed that this collection "represents a third stage or version of primitivism - a sophisticated manipulation of 20th century naïve painting for witty or parodic ends" (The Age 22/3/1972).
On first impact a folksy boldness confronts the viewer. Squarish rectangles (no Golden Mean here!) are surrounded by sombre black frames, filled with either simplified animal portraits or empty landscapes. Painted mostly in very dark tones, bold horse-images are set before lighter skyscapes. Where no animals exist, the two-dimensional vistas generally include a dramatic block of dark trees or just an empty, featureless horizon with occasional tiny sheep or flying cattle.
Repeat appearances of blue skies joining the flat sea or landline suggest an infinity lying beyond Durrant's weird animal shapes. The central images often appear solid black, though a closer look can reveal subtle textures and colours. Details of hair, wiggly whiskers and shades of umber, olive greens or ultramarine emerge to replace broad enamelled black surfaces elsewhere.
Alternating menace with comedy, Durrant invites the viewer to change opinions with each whimsical canvas. Overall the ambiguity of this artist's intentions gives a teasing edge to the Flinders series. At the head of the gallery, a dominating image The Colt was selected for the focal panel. Ears flattened like small horns and bared teeth threatening, it diabolically challenges all-comers entering the gallery. On the reverse of this focal panel is Flinders Horse - an iconic portrait of Durrant's own racehorse Gadshill that looks rather inscrutable. As Dan Rule observed this racehorse
"... grins maniacally, his teeth sharp and dangerous" ('Unholy cows to horses for courses' The Age 15/2/2011).
These works are plainly not just about literal visual representation - obsessive patternmaking such as on the neck of The Colt and simplified flat shapes in shallow space are like the cut-out caricature style of early naïve artists like Le Douanier Rousseau. His 1970s style also adopts ungainly mannerisms that famous predecessors such as Sidney Nolan successfully utilised in the 1950s and 60s.
Unlike Nolan's historical representations, Horse Training has a bizarre, memorable distortion more like Salvador Dali's fluid solids. This mix of fun, fear and Durrant's playful respect for animals is reflected in these monstrous horses with their teeth bared. He wittily transforms groups of horses or even carrots into lunar real-estate like Bumscape or in inventing a totally surreal environment called Flight.
Such delightful dreamscapes of the 1970s may not be recognised by hordes of summer tourists. They rarely experience the secret coves and hills of Flinders when Western Port is redecorated by winter gales. At the teacher preview Durrant mentioned that he felt isolated after moving with his pregnant wife to this strange seacoast region: "The lovely scenery could be threatening or serene according to seasons or the time of day".
Durrant's reputation as an 'enfant terrible' was generated by grisly animal rights 'happenings' soon after these paintings were finished and he'd moved back to Melbourne. Today he paints on larger formats in a modified photo-realist style. This enjoyable show benefited richly by having so eloquent and good-humoured a painter (now in his sixties) discussing his early artwork at teacher previews and other social events in Mornington Gallery. In my opinion Landscapes and Horses should be toured widely.
Tom McCullough