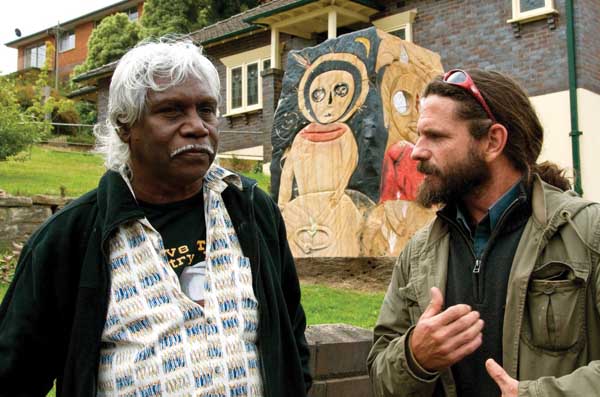 Ai Weiwei, China's best known contemporary artist, is still in detention at the time of writing. AVAAZ has mounted a global campaign to the artworld to boycott Chinese events and partnerships in China until he is freed. Through his art, Ai Weiwei has been critical of the Chinese government in many oblique ways, none of which have escaped the notice of the authorities, including censorship of the shoddy school building standards exposed after the Sichuan earthquake. He has defied various attempts to silence him, including a beating resulting in a cerebral haemorrhage, but it may be his latest visual pun, a semi-nude photograph of himself with a toy horse covering his genitals which implies that the central party should fuck their mothers, that has given them a perfect excuse to arrest him. The government has removed all references to him on the internet in an attempt to 'disappear' him.
Patricia Piccinini is supporting the Centre for Contemporary Photography (CCP) with a fundraiser whereby the CCP offers for sale a new series of photographs in limited editions of six for which the artist only takes 20%.
Previous artists who have given work include Bill Henson, Anne Zahalka,
Bill Henson and Simryn Gill. The CCP is celebrating its 25th anniversary this year.
Monika Tichacek's drawings and live performance work To all my relations, the result of several years spent in isolation in the jungles and deserts in South America, were at Karen Woodbury Gallery in Melbourne in May. In contrast to the confrontingly painful physical nature of her previous performance and video art she has now turned her attention to an intricate representation of flora and fauna pointing to the transitory nature of our existence in relation to nature.
Judging: Winners of the Western Australian Indigenous Art Awards, the richest of its kind, totalling $65,000 in prizes, will be announced at the opening event on 12 August 2011. Two Indigenous curators Tina Baum, and Glenn Iseger-Pilkington, a curator of contemporary Australian art, Robert Cook and author and anthropologist, Professor Howard Morphy are judging the 16 finalists.
WAH Symposium: This year NAVA has a special focus on Artist Run Initiatives and their associated emerging artists. In collaboration with Sydney ARI, 'First Draft' the national 'We Are Here - WAH' symposium will explore the future of ARIs, the space they occupy in contemporary art and the practical management issues facing them on a national level. The symposium in August/September 2011 will offer guest speaker presentations, panel discussions, round table facilitated discussion sessions, Q&As and workshops. SB

Wandjinas under assault
The Wandjina is the creation spirit sacred to the Worrora, Wunumbal and Ngarinyin Aboriginal peoples of the Western Kimberley. Its depictions in ancient rock art are not considered 'paintings' as such but living sentient spirits fixed in the rock. Representations of Wandjina in contemporary Aboriginal art are painted only by members of the three custodial groups and in accordance with traditional law.
Against that background, it is not difficult to understand why the erection during 2010 of a large stone sculpture by a non-Indigenous artist outside a gallery in Katoomba, near Sydney, purporting to depict the Wandjina spirit, the concurrent opening at the gallery of an exhibition of paintings of Wandjina by a white artist and the publication of a book by the gallery owner illustrated by such paintings and arguing that Australia's Aboriginal peoples are in spiritual decline, caused ripples of outrage and consternation that have grown in volume and intensity ever since.
Although the paintings and sculpture are clearly intended to depict Wandjina, they are not copies of particular contemporary artworks and no complaint about infringement of copyright law can be made. Mowanjum Artists represents artists from each of the three Aboriginal language groups for whom the Wandjina is sacred. Manager Jenny Wright observes that "while it's not covered by white copyright law, its use is fundamentally disrespectful and just another rip-off of Indigenous culture."
Donny Woolagoodja, Worrorra elder and chairman of Mowanjum Artists is shocked and offended by this blatant disregard of his culture, "the Wandjina is the supreme creator, the maker of the earth and all upon it . . . Wandjina imagery is sacred - it cannot be used even by us for unapproved purposes." He is mystified that Australian law seems to have no solution to prevent such derogatory treatment of sacred religious imagery. This is despite the Federal government's acceptance of the International Declaration of the Rights of Indigenous People and lobbying by the Arts Law Centre of Australia for legislative reform.
In the meantime, the Blue Mountains City Council has refused to grant planning permission for the placement of the sculpture on the verge outside the gallery. That decision has been appealed.
Delwyn Everard, Senior Solicitor, Arts Law Centre of Australia