Hall of Mirrors: Anne Zahalka Portraits 1987 – 2007 Gippsland Art Gallery, Sale Curator: Karra Rees 30 January - 28 February 2010 Aehee Park: Caring for Aehee Gippsland Art Gallery, Sale 6 February - 14 March 2010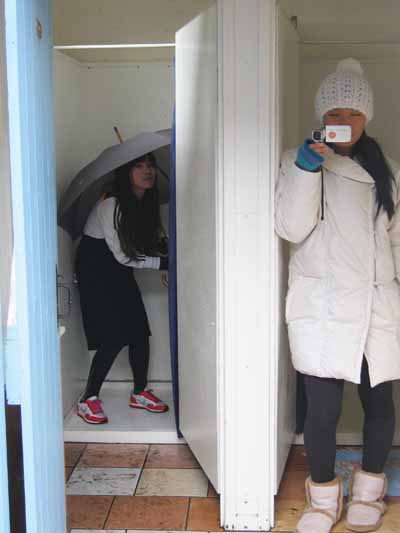 Many of the innovations that made the 1980s a lodestone for subsequent practice are articulated within Anne Zahalka's photographs. They are driven by narrative, art history and post modernism, intellectually complex in subject matter and above all image-based rather than painterly. Zahalka's visible personal identity as a feminist and second generation new Australian is also a constant given in the work, shaping both the content and context of audience reaction. As a representative figure, she stands for a number of formerly marginalised subgroups that finally began to make a clear and lasting impact on arts practice in the 1980s.
As many portraits in this survey document important artist peers, who share Zahalka's cultural and intellectual concerns, the memorialising of historic moments of Australian art practice is further emphasised. State Libraries and Universities collect Zahalka's portraits as tangible evidence of outstanding creatives, thus documenting, but also in turn shaping, public memory and the culture of honouring the new immortals. The circuitous nature and closed loop of the elite of culture-making in Australia has rarely been presented in such a beguiling manner.
The show does not fail the artist insofar as it provides a tangible demonstration of her abilities and confirms her significance for understanding the recent past. Yet despite the professional, well-researched path charted through Zahalka's various phases, the exhibition lacks the final dazzling immersive quality that a full-scale monograph retrospective should have, or that Zahalka's intellectual and formal rigour could well support. When an artist presents work frequently in linked sequences, the result of picking the eyes out of those sub-collections gives the show the character of a memo. Even so there are still a couple of less familiar images for this reviewer. The 'Woven Threads' series taken in the Philippines in 1997 literally refracts the same image through different ideological and aesthetic filters, indicating how the interaction of colour and framing in photography impacts upon the socio-political intent of communication.
In light of the logistical demands of a touring show with mostly regional venues (which explains the concise nature of selection) the assembled works perform well as curatorial 'product'. The thorough, if self-conscious, competence of Zahalka's technical and formal skills as a photographer, the cinematic glamour of her sets, the appealing gestural clarity of her subjects, the lush authority of her large scale glossy prints combines with an unmistakable intellectuality and opens up major cultural shifts to a diffused, non-metropolitan audience. The work offers an entrée into the international debate that has occurred in the last three decades around communication, representation, image and narrative. It engages with massive recent cultural shifts around Australian citizenship and society, yet the images, whilst packing an intellectual punch, neither preach nor alienate. For regional secondary school students she offers an image of art as a serious career option for a professional woman and as a commitment to public ideas. Art here is at no times relegated to the margins of fandom or train spotting, but takes its place as a significant repository for ideas and as a medium for social communication. Perhaps it is in this sense that the images rightfully belong to the intellectual currents of their era, as much as the legible quotations of lighting, gesture and props, that facilitate their continuity with the art of the Renaissance and the Baroque. Photography is a halfway station where a popular audience can easily read the visual image, yet is bound by fewer inhibitions when offering interpretation and comment.
The Gippsland Art Gallery must be all too briefly commended for its effective curatorial partnering of the Zahalka survey with visiting Korean artist, Aehee Park, a recent resident at the Cowwarr Art Space located north of Sale. Like the Kellerberrin Art Space in West Australia Cowwarr transplants cosmopolitan urban artists into an immersive and sometimes sparsely resourced rural environment. At first glance Park's practice frankly looked shrill and narcissistic outside of Korea and the artist floundered without language skills, car or cultural context in a relatively isolated community. Park appeared set to demonstrate the complexities of these infusions of situational practices into 'the regions', but by happenstance she alighted upon the well- known rituals of portrayed and portrayer in photography as a way to drive new work. If Zahalka represents the formal centred stasis of Vermeer and Holbein, representation as a sign of power and privilege, then Park plays with the camp auteur of fashion photography, memories of all bad bio-pics of Van Gogh and Toulouse Lautrec and that modern heroine Coco Chanel, the mobile, slippery, trivial, self-making world of home movies and phone videos, the collusion of non-innocent, mutual benefit between subject and artist. Together the shows emphasise the liveness of portraiture as politics within a diffused transnational popular imagination.