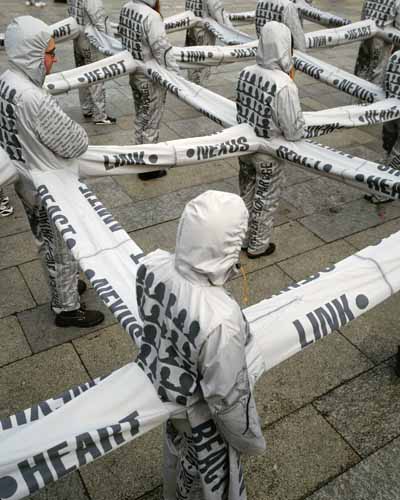 Selling out the resales
Granted, Minister Peter Garrett got visual arts resale royalties legislation through the Parliament, even if the end result is a sad compromise between the demands of the art auction houses and the interests of the creators. His department has disappointed the arts community again in the unfathomable decision to award the licence for collecting the new royalty not to Viscopy, the specialist visual arts copyright collecting agency that had led the uphill battle for fifteen years to bring resale royalties into law, and whose CEO has spent many years in the UK running their scheme, but to the much larger CAL, well known as a collector of authors' rights.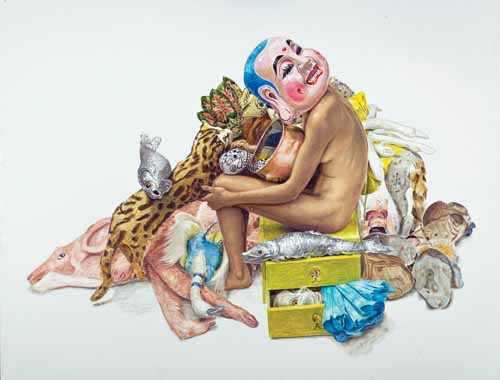 Artists' Week
There is nothing quite like Artists' Week. Biennales wax and wane, gigantic vernissages with free booze bring in the crowds, but when the family wants to talk they head to Adelaide every two years. This year all the rellies were there, the aunties and uncles, the young uns, and all their friends. Not a lot of partying at the very well-wired Alan Scott Auditorium, but a great deal of very classy chat in and out of the wireless mikes and good coffee when you needed it. Brains putting the well-shaped pieces together were Victoria Lynn and Nikos Papastergiadis hosted by the University of SA + the Adelaide Festival. A distant vista from the 3rd floor of the Hawke Building might include a glimpse of the Adelaide Rowing Club where it all started in 1982, with a young firebrand Marcia Langton laying it on the line.
Artists' Week 2010 was four solid days, but nicely paced, with the heavy wordage at the start grading off to a soft ending with some thoughts on twilight. Visitors from Austria, Paris and the Netherlands were skilfully mixed and matched with presenters, respondents and chairs from our region, mostly academics with several notable artists or artist-academics.
Titled 'Art in the Global Present' the week drilled down into the current condition of art practice beyond the spectacular, probing the marrow and occasionally hitting a nerve, exposing the neurological pathways that so many in the world are following. Gerald Raunig (Austria) talked in words that were too often needlessly obscure (a translation problem?) about how post-industrial time is differently shaped and surfaced, no longer 'striated' with defined lines between work and non-work, but 'smooth' and continuous, where work happens at all hours and all places, and how this well known condition affects art and artists. As the possibility of dissent inexorably diminishes so the gospel of 'Creative Industries' as a favoured tool of state cultural agencies takes over. He says the 'fog machines of creativity' are simply propaganda tools, emerging during Neo-Liberal regimes in the noughties and consolidating to the 'creative sheep' position, where everybody is an artist, and a mobile, self-employed, self-exploiting one at that. Richard Florida, the patron saint of Creative Cities, is written off as a pseudo-scientist basking in a love affair with web developers and fashion designers. Despite the generally precarious nature of employment now, and the likelihood of people having time on their hands, this time tends not to be time out or time off in which collective thinking and reconfiguring takes place.
Sarah Miller, chairing the session by Lucy Orta (France) noted that a recent poll in the US showed that 90% of respondents mistrust anything that is perceived to emanate from the educated classes - including artists. Lucy Orta, in her content-packed presentation on the last 25 years of her work with partner Jorge has also come up against the Fear of Art. Notwithstanding the impeccable design values of their well known hybrids of tent, overalls, rucksack, parachute etc it would be hard to find an art practice that was more determinedly community based, workshopped and exposed to view, and in that sense the least likely to induce nervousness or suspicion. Objectively, the Orta brand has been devised, designed, fabricated and publicly enjoyed in a myriad of guises and contexts worldwide in public squares, markets, canals, villages, townships, even in Antarctica – and on occasion in the white cube and on the fashion runway. (Lucy is a Professor at the London College of Fashion, recruited as a strategy to knock some social awareness into the heads of aspiring fashionistas).
The Ortas are political in the sense that they are informed about the vast gamut of human rights abuses that most of us ignore, and that they translate this awareness into action which, though it cannot be said to achieve or even aspire to political change, does set out to create a chain reaction in those communities where their work is seen and made. This in turn contributes to the growing global wave of revulsion against the horrifying realities of child slavery, homelessness, conflict over water and a growing tsunami of refugees. As Sarah Miller said: 'Artists can be paralysed by doubt, and Lucy and Jorge's work offers some hope beyond the apocalyptic narratives surrounding us.'
Ten years into a socially networked century, the domination of Web 2.0 and Google's ownership of YouTube, together with the increasingly understood tactics of Facebook's business model are coming under scrutiny. Jean Burgess (Qld) deftly analysed the strategies of these gigantic entities to know everything about us and sell us stuff, while Melinda Rackham (SA) unpicked the intricate mesh of software designed to hook us in and keep us there. When a group of 12 anti-social networkers formed to collectively close down their Facebook accounts, they set up a special method of committing Seppuku (ritual suicide) to help network-weary people jump. The strategy was prompted by the massive pressure exerted by Facebook offering countless reasons why you will really regret your decision. What followed was that Facebook blocked the Seppuku and threatened legal action. Rackham also noted the current battle for a two-tier internet – a corporate one and a people-centred one, prefiguring a post-network age.
Geert Lovink (Netherlands) noted that people are starting to consider the insidious long term effect of Google on the human brain, (pointing to a new common 'language of search') with newspaper editors confessing to being hopelessly overwhelmed by information and Wikipedia being criticised for dumbing down. Then there is 'Comment Culture', the rise of extreme opinions on the net.
On the vexed question of internet censorship he cited 'filter failure' as one possible cause, but predicted that soon the bots will take over and make the decisions anyway. The internet is already censored it seems, and we are fast approaching the condition of China. On privacy he cited the doco I Love Alaska which shows how a woman in Austin, Texas was profiled down to the fine detail purely from tracking her internet searches for a month in 2006. Re Web 2.0 structuring our social lives, he showed tragic YouTube videos of people working from their geographically pinpointed homes, isolated, dancing alone in front of the bedroom mirror, cut off from contact with fellow human beings. Here the virtual and the real are collapsed as never before. Re the internet as a tool for activists to connect and stage real life protests without being tracked down, he warns that the powers that be are only a few steps behind best efforts to elude their attention, and things like a misspelling generator have a short life before the police hackers have their number.
Content was rich and thought-provoking in relation to the open studio model. Two artists committed to collaborative practice presented their modus operandi, the rewards and the vicissitudes.
Kelli McCluskey is a key member of the Perth-based PVI collective whose carefully staged events sending up corporate and state rituals of PR and Security have now been seen nationally. The events involve the willing participation of the public, and this led to the formation of The Loyal Citizens Underground, a vigilante moral 'taskforce' involving extreme politeness, in which passers-by become complicit, presenting them with the dilemma of not intervening in a live event on the streets at night.
Deborah Kelly is a founder of boatpeople.org who projected an image of a Tallship captioned 'BOATPEOPLE' on the Sydney Opera House. The members create graphic images and insert them wherever possible into large scale popular events to counter xenophobic mythology about asylum seekers. Their incentives/rewards to work together can be as simple as dinner or a few drinks. Kelly used the iconic footage of the Tiananmen Square 'Tank Man' as the basis of a dance which is now being done in city squares, railway stations, and streets by self-organised groups all over the world. All you need is the choreographic sequence and some plastic bags.
Other highlights included a session with the Martumili artists (WA) telling the history of their large canvas 'Ngaryarta Kujarra (Lake Dora)' which hung in the Adelaide Biennial. If even a fragment of this information could have been added to the wall caption at the Art Gallery of SA, the experience of viewers would have been enhanced.
Looking at the relation between cinema and video art, Adrian Martin declared that it was a non-relation, that there is now a return to editing, actors, story, sound, music and that artworks are becoming an extension of cinema. Several videos were shown including a 7 minute film 'The World's Knowledge' by Nina Fischer and Maroan el Sani made in the temple-like Reading Room of the Bibliotheque Nationale in Paris, currently deserted, with all the books and magazines removed from the shelves. A thrilling sense of emptiness and loss is created through slow tracking and double projection techniques, telling a story without the use of dialogue or narrative. The debate continues.
Asialink founder on the move
Alison Carroll who founded Asialink at least 20 years ago has resigned as its Arts Director to live in the UK part of the year. She will continue to work on Asialink projects three months of the year, and the rest of the time will work on self-generated exhibition and book projects. Her contribution to Asia-Australia relations has been unsurpassed in the arts arena and hers will be an incredibly hard act to follow. The visionary and generous Carroll has been a frequent and crucial contributor and advisor to Artlink since the beginning and we hope it will continue that way.
Winners
• Hany Armanious has been selected to represent Australia at the Venice Biennale in 2011 and Michael Parekowhai will represent New Zealand.
• Danie Mellor has won the $15,000 Adelaide Perry Prize for Drawing with his diptych 'The Offerings (A Custom Ritual)'.
• The winner of the new $20,000 Doctor Harold Schenberg Art Prize for the Hatched National Graduate Show is Andrew Varano, a new graduate of the Curtin University of Technology.
• Lynne Roberts-Goodwin's 'nineWONDERS –lunacrater #4' is the winner of the 2010 Josephine Ulrick and Win Schubert Photography Award.
Real Estate
• Melbourne International Fine Art (MiFA) a new space for Asia Pacific art opened in April at level 1, 278 Collins St, directors Bryan Collie and Mikala Tai.www.mifa.com.au
• Sarah Scout Presents is a new artist-run gallery upstairs at 1a Crossley St, just off Collins St, Melbourne.www.sarahscoutpresents.com
Events calendar 2010
• Melbourne Art Fair runs 4 – 8 August at the Royal Exhibition Buildings in Carlton and will represent over 78 galleries. Its special commissions program continues, courtesy of support from Marilyn and Gordon Darling.
• Biennale of Sydney continues to 1 August.
• Darwin Art Fair opens 12 August.
• The Telstra Aboriginal and Torres Strait Islander Art Award opens 13 August at the Museum and Art Gallery of the Northern Territory, Darwin.
• Cairns Indigenous Art Fair opens 20 August.
• The 6th SCAPE Biennial of Public art, Christchurch runs 24 Sept - 7 November.
Art at school
The NSW Government has released over $261,000 to bring school students up against the arts in an education package which subsidises visits to visual arts and performing arts venues all over the state. In partnership with the Australia Council it will also fund nine artists in residence in schools.
The View of Self: Blak on blak
is the title of the forum held on 30 May at the AAMU Aboriginal Art Museum in Utrecht on the occasion of Artlink's celebratory launch of its Blak on blak issue in Europe. Speakers from Australia: Margo Neale, Daniel Browning, Gordon Hookey and Tess Allas joined artists from the Netherlands to debate the view of Indigenous art in the northern hemisphere. The issue is to be launched by Dr Gloria Wekker of the University of Utrecht.
Obituary
Remembering Judith Hoffberg 1934-2009
Judith Hoffberg wrote of her last visit to Adelaide in 2002 as one of 'Paradise regained' after a family bereavement and exhaustion immediately following 9/11 which she witnessed firsthand. This extraordinary woman, a distinguished scholar, librarian, archivist, lecturer, curator, was founder, editor and publisher from 1978-2008 of the unique 'Umbrella' magazine. The international development of artists' books owed much to the single-handed efforts of this dynamic and tireless connector of people, politics and alternative art over five decades. An expert on the work of Len Lye, she fell in love with Australia and New Zealand during an initial lecture tour in 1982 and after a number of return visits, she accepted a keynote invitation at the 2002 Adelaide Festival Artists' Week talkfest. Typically generous, she offered her air mile credits, stayed with friends and catalysed artists' responses to 9/11 throughout the Antipodes.
She was, we thought, unstoppable in her relentless hunger for information and its dissemination. Pre-internet the effort this involved was staggering – physically, emotionally, and economically – with towers of vigilantly scrutinised newspapers piled up throughout her Pasadena loft. Judith's passionate promotion of mail art, Fluxus events and alternative publishing established 'Umbrella' as a vital source of global connectivity and 'the best art gossip in the western world' . From the 1950s her indomitable advocacy of contemporary art transformed library collection systems to include artists' books.
In creating a vast international community, Judith's work also transformed thousands of lives. And then, it was stopped by cancer on 16 January 2009. Thankfully, her relentless drive for democratisation and documentation ensured that 31 years of 'Umbrella' and her artists' book and 'umbrelliana' collections were safely deposited or digitised in major US institutions. http://indiamond6.ulib.iupui.edu/Umbrella/
It was only recently that I learned of Judith's death after coming across an Umbrella, entry of her 2002 visit 'down under'. I was deeply moved by these memories and the privilege of knowing this formidable and feisty woman whose work was such a positive force; she created so many imaginative possibilities for so many with so few resources. Tributes to Judith Hoffberg's work continue with a 2010 memorial exhibition.http://www.artslant.com/la/events/show/100956-international-mail-art-exhibition-in-honor-and-memory-of-judith-a-hoffberg. For those whose lives have been touched by Judith, it will be a nice opportunity to send her one last postcard.