BeginningMiddleEnd ANU School of Art Gallery, Canberra Curator: Lucien Leon 18 - 24 September 2009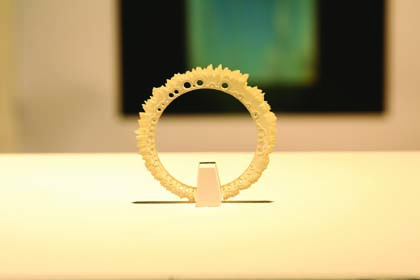 An exciting showcase of research-led digital media practice BeginningMiddleEnd was a loosely curated exhibition of work by some of Australia's leading academics in the field and some of their students and recent graduates. It was supported by a series of performance, screen, and sound events.
The curatorial premise was catholic, embracing installations familiar to galleries and museums as well as the work of poets, self-styled gaming poets, researchers like Torben Sko who is exploring human-computer interaction and Ryszard Dabek who lectures in Film and Digital Art at Sydney College of the Arts. Jonathon McCabe is a Systems Engineer working with the ANU Supercomputer Facility on the statistical properties of images with what he describes as a serious ink habit as he uses mathematical modelling to produce new types of images. The entire exhibition was truly inter-disciplinary; many hierarchies of information and art were collapsed. Curator Lucien Leon's own work as an animator sits on the borderline between art and information manipulation in political cartooning.
Several large themes emerged and an important meeting point was the idea of technological research as a platform for new interactions and experiences. The focus was on new relationships especially the potential for new personal relationships with the viewer as facilitated by new technologies. Jason Nelson exhibited an "interactive digital poem" which he describes as "game levels built on screen-shots from influential community based websites and portals". This is overwritten with idiosyncratic layers of drawing, text and multi-media to create a meta-narrative/game. Poetic in an entirely different way are Dan Torre's Stilted life: Animated Photographs. The poetics of these images is contemplative rather than vigorously interactive. Torre digitally animates objects peripheral to the nominal subject of his black and white photographs of early childhood. Cars slide into the picture frame, wind and light subtly animate trees and water energising these images in subtle but startling ways. For Torre movement is essential to memory and the stillness of the image is strangely enhanced by his animations.
An interesting intervention was the conceptualisation of the raw material for a work of art as data, and conceiving the challenge of the creation of a work of art in terms of data communication and interaction. Mitchell Whitelaw's Weather Ring makes data material. The object - a nylon print - represents 365 days of local weather data three-dimensionally - reflecting on the subjective and objective experience of information systems. It is an interesting conjunction to Christopher Fulham's Runners 2009 where the data set of joggers is narrowed to the point where they are tightly framed in time, space and action. What is left is the inherent random nature of individual movement and the subject's relation to the observer - prompting the observation that the more precise the original data set the more variables are represented. Anna Madeleine's work Why read the book when you can watch the movie? exploded the idea of a limited data set to invoke the multiple engaging relationships between reality and the imaginary life invoked by text. Images provoked by the text rise up from the pages, penetrate and infuse the physical form of the book dragging a Kentridge-like trail of erasures. This is exciting work and participates in the equally exciting field of how and where we now experience art.

For further images of BeginningMiddleEnd see www.bmefestival.com.